Get out of the wind and into DC3 Library! We have some great new books coming out, plus a couple of movies. Stop by and see us!
Americanized by Sara Saedi Only two years old when her parents fled Iran, she didn't learn of her "illegal immigrant" status until her older sister wanted to apply for an after-school job, but couldn't because she didn't have a Social Security number.
Fear of deportation kept Sara up at night, but it didn't keep her from being a teenager. She desperately wanted a green card, along with clear skin, her own car, and a boyfriend.
Americanized follows Sara's progress toward getting her green card, but that's only a portion of her experiences as an Iranian-"American" teenager. From discovering that her parents secretly divorced to facilitate her mother's green card application to learning how to tame her unibrow, Sara pivots gracefully from the terrifying prospect that she might be kicked out of the country at any time to the almost-as-terrifying possibility that she might be the only one of her friends without a date to the prom. This moving, often hilarious story is for anyone who has ever shared either fear.
Ink by Alice Broadway From the moment you're born, every achievement, every failing, and every significant moment are all immortalized on your skin. There are honorable marks that let people know you're trustworthy. And shameful tattoos that announce you as a traitor.
After her father dies, Leora finds solace in the fact that his skin tells a wonderful story. That is, until she glimpses a mark on the back of his neck . . . the symbol of the worst crime a person can commit in Saintstone. Leora knows it has to be a mistake, but before she can do anything about it, the horrifying secret gets out, jeopardizing her father's legacy . . . and Leora's life.
In her startlingly prescient debut, Alice Boradway shines a light on the dangerous lengths we go to make our world feel orderly – even when the truth refuses to stay within the lines. This rich, lyrical fantasy with echoes of Orwell is unlike anything you've ever read, a tale guaranteed to get under your skin . . .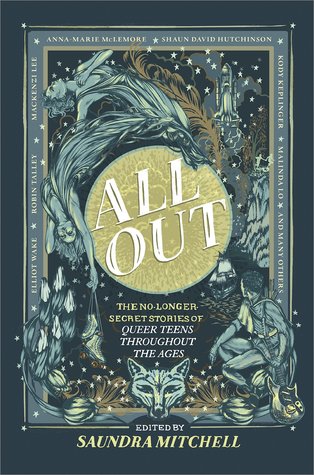 All Out by Saundra Mitchell From a retelling of Little Red Riding Hood set in war-torn 1870s Mexico featuring a transgender soldier, to two girls falling in love while mourning the death of Kurt Cobain, forbidden love in a sixteenth-century Spanish convent or an asexual girl discovering her identity amid the 1970s roller-disco scene, All Out tells a diverse range of stories across cultures, time periods and identities, shedding light on an area of history often ignored or forgotten.
Immortal Reign by Morgan Rhodes The Kindred have been unleashed.
Now earth and fire are on a path of destruction. The air god is trapped inside Taran, and the water goddess has found its host in Cleo. Their strength is waning, and they must find a way to control the magic before it controls them.
Jonas and Lucia join Cleo, Taran, and King Gaius at the Paelsian palace with new baby Lyssa in tow. But Magnus is nowhere to be found. Lucia musters all the magic she has left to perform a location spell. Her vision is clear: Magnus died at the hands of Lord Kurtis. Defeated and devastated, the group heads to Auranos, seeking revenge.
Unbeknownst to them, Magnus struggles to free himself from Kurtis's deadly trap. But is he strong enough to escape? While the others formulate a plan to defeat the Kindred, an intruder breaks into the compound and steals a precious something that will change everything.
Meanwhile, across the sea in Kraeshia, Amara questions which kind of leader she is destined to be – the ruthless, sinister dictator her grandmother wishes her to be or the just and fair ruler she knows is within her. She must discover her identity soon. Grandma Cortas's plan is even more sinister than she imagined. 
The final fight to save Mytica isn't a fight at all – it's war.
Someone to Love by Melissa de la Cruz Olivia "Liv" Blakely knows how important it is to look good. Her father is running for governor, and Liv will be making public appearances with her family. Liv has an image to uphold 0 to her maybe boyfriend, to the new friends who suddenly welcome her into their circle and to the public, who love to find fault on social media.
Liv's sunny, charming facade hides a dark inner voice that will settle for nothing less than perfection. No matter who she has to give up to get there. No matter what she has to lose to do it. Live is working for the day when what she sees in the mirror is worthy . . . worth of confidence. Worthy of success. Worthy of love. But as the high price of perfection takes a toll, placing her body and soul at risk, Liv herself has to realize what she has to live for.
Star Wars: The Last Jedi by Jason Fry Written with input from director Rian Johnson, this thrilling adaptation of Star Wars: The Last Jedi expands on the film to include scenes from alternate versions of the script and other additional content.
From the ashes of the Empire has arisen another threat to the galaxy's freedom: the ruthless First Order. Fortunately, new heroes have emerged to take up arms – and perhaps lay down their lives – for the cause. Rey, the orphan strong in the Force; Finn, the ex-stormtrooper who stands against his former masters; and Poe Dameron, the fearless X-wing pilot, have been drawn together to fight side-by-side with General Leia Organa and the Resistance. But the First Order's Supreme Leader Snoke and his merciless enforcer Kylo Ren are adversaries with superior numbers and devastating firepower at their command. Against this enemy, the champions of light may finally be facing their extinction. Their only hope rests with a lost legend: Jedi Master Luke Skywalker.
Where the action of Star Wars:  The Force Awakens ended, Star Wars: The Last Jedi begins, as the battle between light and dark climbs to astonishing new heights.
MOVIES:
We'll see you soon! 🙂