Welcome back, DC3! We hope you all had a fun and relaxing break. We're kicking off Spring semester with some great new materials! Stop by the Library and let us help you find what you're looking for.
Turtles All the Way Down by John Green Sixteen-year-old Aza never intended to pursue the mystery of fugitive billionaire Russell Pickett, but there's a hundred-thousand-dollar reward at stake and her Best and Most Fearless Friend, Daisy, is eager to investigate. So together, they navigate the short distance and broad divides that separate them from Russell Pickett's son, Davis.
Aza is trying. She is trying to be a good daughter, a good friend, a good student, and maybe even a good detective, while also living within the ever-tightening spiral of her own thoughts.
In his long-awaited return, John Green, the acclaimed, award-winning author of Looking for Alaska and The Fault in Our Stars, shares Aza's story with shattering, unflinching clarity in this  brilliant novel of love, resilience, and the power of lifelong friendship.
Year One by Nora Roberts It began on New Year's Eve. 
The sickness came on suddenly and spread quickly. The fear spread even faster. Within weeks, everything people counted on began to fail them. The electrical grid sputtered; law and government collapsed – and more than half of the world's population was decimated.
Where there had been order, there was now chaos. And as the power of science and technology receded, magick rose up in its place. Some of it is good, like the witchcraft worked by Lana Bingham, practicing in the loft apartment she shares with her lover, Max. Some of it is unimaginably evil, and it can lurk anywhere, around a corner, in fetid tunnels beneath the river – or in the ones you know and love the most.
As word spreads that neither the immune nor the gifted are safe from the authorities who patrol the ravaged streets, and with nothing left to count on but each other, Lana and Max make their way out of a wrecked New York City. At the same time, other travelers are heading west, too, into a new frontier. Chuck, a tech genius trying to hack his way through a world gone offline. Arlys, a journalist who has lost her audience bu uses pen and paper to record the truth. Fred, her young colleague, possessed of burgeoning abilities and an optimism that seems out of place in this bleak landscape. And Rachel and Jonah, a resourceful doctor and a paramedic who fend off despair with their determination to keep a young mother and three infants in their care alive.
In a world of survivors where every stranger encountered could be either a savage or a savior, none of them knows exactly where they are heading, or why. But a purpose awaits them that will shape their lives and the lives of all those who remain.
The end has come. The beginning comes next.
The Doomsday Machine by Daniel Ellsberg Here, for the first time, former high-level defense analyst Daniel Ellsberg reveals his shocking firsthand account of America's nuclear program in the 1960s. From the remotest air bases in the Pacific Command, where he discovered that the authority to initiate use of nuclear weapons was widely delegated, to the secret plans for general nuclear war under Eisenhower, which, if executed, would cause the near-extinction of humanity, Ellsberg shows that the legacy of this most dangerous arms buildup in the history of civilization – and its proposed renewal under the Trump administration – threatens our very survival. No other insider with high-level access has written so candidly of the nuclear strategy of the late Eisenhower and early Kennedy years, and nothing has fundamentally changed since that era. 
Framed as a memoir – a chronicle of madness in which Ellsberg acknowledges participating – this gripping expose reads like a thriller and offers feasibile steps we can take to dismantle the existing "doomsday machine" and avoid nuclear catastrophe, returning Ellsberg to his role as whistle-blower. The Doomsday Machine is thus a real-life Dr. Strangelove story and an ultimately hopeful – and powerfully important – book about not just our country, but the future of the world.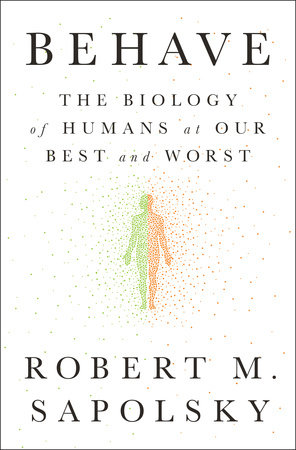 Behave by Robert M. Sapolsky More than a decade in the making, this game-changing book is Robert Sapolsky's genre-shattering attempt to answer that question as fully as perhaps only he could, looking at it from every angle. Sapolsky's storytelling concept is delightful but it also has a powerful intrinsic logic: he starts by looking at the factors that bear on a person's reaction in the precise moment a behavior occurs, and ten hops back in time from there, in stages, ultimately ending up at the deep history of our species and its evolutionary legacy.
And so the first category of explanation is the neurobiological one. A behavior occurs – whether an example of humans at our best, worst, or somewhere in between. What went on in a person's brain a second before the behavior happened? Then Sapolsky pulls out to a slightly larger field of vision, a little earlier in time: What sight, sound, or smell caused the nervous system to produce that behavior? And then, what hormones acted hours to days earlier to change how responsive that individual was to the stimuli that triggered the nervous system? By now he has increased our field of vision so that we are thinking about neurobiology and the sensory world of our environment and endocrinology in trying to explain what happened.
Sapolsky keeps going: How was that behavior influenced by structural changes in the nervous system over the preceding months, by that person's adolescence, childhood, fetal life, and then back to his or her genetic makeup? Finally, he expands the view to encompass factors larger than that one individual. How did culture shape that individual's group, what ecological factors millennia old formed that culture? And on and on, back to evolutionary factors millions of years old.
The result is one of the most dazzling tours d'horizon of the science of human behavior ever attempted, a majestic synthesis that harvests cutting-edge research across a range of disciplines to provide a subtle and nuanced perspective on why we ultimately do the things we do . . . for good and for ill. Sapolsky builds on this understanding to wrestle with some of our deepest and thorniest questions relating to tribalism and xenophobia, hierarchy and competition, morality and free will, and war and peace. Wise, humane, often very funny, Behave is a towering achievement, powerfully humanizing, and downright heroic in its own right.
The Psychopath Inside by James Fallon For the first fifty-eight years of his life, James Fallon was by all appearances a normal guy. A successful neuroscientist and medical school professor, he'd been raised in a loving, supportive family; married his high school sweetheart; and had three kids and lots of friends.
Then he learned a shocking truth that would not only disrupt his personal and professional life, but also would lead him to question the very nature of his own identity.
The Psychopath Inside tells the fascinating story of Fallon's reaction to the discovery that he has the brain of a psychopath. While researching serial murderers, he uncovered a distinct neurological pattern in their brain scans that helped explain their cold and violent behavior. A few months later he learned that he was descended from a family with a long line of murderers, which hinted that Fallon's own brain pattern wasn't a fluke.
This is Fallon's account of coming to grips with this discovery and its implications, especially the fact that humans are even more complex than we can imagine.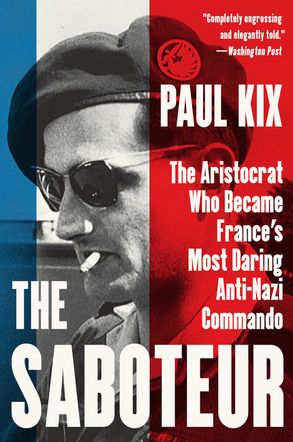 The Saboteur by Paul Kix A scion of one of the most storied families in France, Robert de La Rochefoucauld was raised in a magnificent chateaux and educated in Europe's finest schools. When the Nazis invaded and imprisoned his father, La Rochefoucauld escaped to England and learned the dark arts of anarchy and combat – cracking safes and planting bombs and killing with his bare hands – from a collection of British spies, beloved by Winston Churchill, who altered the war in Europe with their covert tactics. With his newfound skills, La Rochefoucauld returned to France and organized Resistance cells, blew up fortified compounds and munitions factories, interfered with Germany's wartime missions, and executed Nazi officers. Caught by the Germans, La Rochefoucauld withstood months of torture and escaped his own death sentence, not once but twice.
More than just a fast-paced, real-life thriller, The Saboteur is also a deep dive into an endlessly fascinating historical moment, revealing the previously untold story of a network of commandos who battled evil, bravely worked to change the course of history, and helped inspire the creation of America's own Central Intelligence Agency.
Prairie Fires by Caroline Fraser Millions of readers of Little House on the Prairie believe they know Laura Ingalls – the pioneer girl who survived blizzards and near-starvation on the Great Plains and the woman who wrote the famous autobiographical books. But the true saga of her life has never been fully told. Now, drawing on unpublished manuscripts, letters, diaries, and land and financial records, Caroline Fraser – the editor of the Library of America edition of the Little House series – masterfully fills in the gaps in Wilder's biography. Revealing the grown-up story behind the most influential childhood epic of pioneer life, she also chronicles Wilder's tumultuous relationship with her journalist daughter, Rose Wilder Lane, setting the record straight regarding charges of ghostwriting that have swirled around the books.
The Little House books, for all the hardships they describe, are paeans to the pioneer spirit, portraying it as triumphant against all odds. But Wilder's real life was harder and grittier than that, a story of relentless struggle, rootlessness, and poverty. It was only in her sixties, after losing nearly everything in the Great Depression, that she turned to children's books, recasting her hardscrabble childhood as a celebratory vision of homesteading – and achieving fame and fortune in the process, in one  of the most astonishing rags-to-riches episodes in American letters.
Spanning nearly a century of epochal change, from the Indian Wars to the Dust Bowl, Wilder's dramatic life provides a unique perspective on American history and our national mythology of self-reliance. With fresh insights and new discoveries, Prairie Fires reveals the complex woman whose classic stories grip us to this day.
The Clayton Chronicles by Edwin Stark It's the summer of 1971, and strange events are taking place in the small East coast town of Nosfort, Massachusetts. A corpse turns up with strange marks on its neck, key people in the town are disappearing – and who are those pale, sharp-toothed strangers the townsfolk can't seem to see?
For Sheriff Clayton Harris, there can be only one possible conclusion. But how can one lone lawman take on the nest of bloodsuckers that has taken root in his town? With the help of an undead sidekick, of course!
Come inside and meet Sheriff Harris and Sherwin Williams, the sheriff/vampire duo that joins efforts to save the imperiled town of Nosfort from its impending doom!
Cuentos by Edwin Stark A doomed vampire hunter. A kid trapped in the sewers with an undead thing. A town that could be yours . . . but hides a terrible, dark secret. A scary cosmic balance. A dead brother and his revenge beyond the grave.
An unspeakable future and three eerie girls: all these elements lurk within Cuentos, this collection of eight short stories and two short novellas that may make you reconsider how you contemplate darkness . . . after you're finished reading it.
Blood Fever by Simone Beaudelaire It is the spring of 1945 and the War in Europe is ending, but the sultry nights of New Orleans's French Quarter conceal a danger even greater to the future of humanity. Standing alone against this ancient, bloodthirsty evil, scientist Philippe Dumont races against time to cure a disease that resembles yellow fever . . . but is not.
Budding researcher Daphne Delaney joins Philippe in hopes of preventing an undead despot from launching his own quest for global dominance. Daunting though the task may seem, neither Daphne nor Philippe can grasp the scope of the danger they face, nor of the passion they will find in each other.
From urban New Orleans to the depths of the bayou, Philippe must chase the monster who terrorized his youth to save the woman he loves. But the Vampire King will not rest until both lovers belong to him . . . for all eternity.
Polar Heart by Simone Beaudelaire Polar bear shapeshifter Russell Tadzea is content with his rather isolated life in a small central Alaskan town. He has friends, work, and a congenial, yet cautious relationship with his family.
That is until the arrival of a kindergarten teacher from the lower 48 blows Russell's comfortable world to pieces. One whiff of Riley Jenkins' compelling scent, and Russ is a goner.
But how can he explain all that he is to this innocent young woman? And will her own dark past interfere with their ability to turn a fated love into a happily-ever-after?
We'll see you soon! 🙂