We're over half-way through July, but it's still not too late to get started on some summer reading before the school year begins! We have some great new titles coming out (with more on the way, shortly). Stop by and see what's new! 🙂
The President is Missing by Bill Clinton and James Patterson The president disappears. The world is in shock. But the reasons he's missing is much worse than anyone can imagine. With details only a president could know, and the kind of suspense only James Patterson can deliver.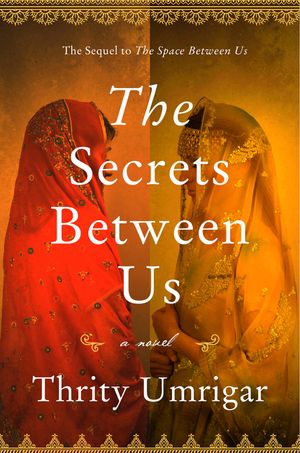 The Secrets Between Us Poor and illiterate, Bhima had faithfully worked for the Dubash family, an upper-middle-class Parsi household, for more than twenty years. Yet after courageously speaking the truth about a heinous crime perpetrated against her own family, the devoted servant was cruelly fired.The sting of that dismissal was even more painful coming from Sera Dubash, the temperamental employer who had long been Bhima's only confidante. A woman who has endured despair and loss with stoicism, Bhima must now find some other way to support herself and her granddaughter, Maya. 
Bhima's fortunes take an unexpected turn when her path intersects with Parvati, a bitter, taciturn older woman. The two acquaintances soon form a tentative business partnership, selling fruits and vegetables at the local market. As they work together, these two women seemingly bound by fate grow closer, confessing to each other the truth about their lives and the wounds that still haunt them. Discovering her first true friend, Bhima weaves a new life, and together the two women learn to stand on their own.
A dazzling story of gender, strength, friendship, and second chances, The Secrets Between Us is a powerful and perceptive novel that brilliantly evokes the complexities of life in modern India and the harsh realities faced by women born without privilege as they struggle to survive.
A Sin Such as This by Ellen Hopkins Tara thought she was finally settling down when she married the handsome Dr. Cavin Lattimore. But just as she was willing to overlook his gambling habits, she discovers his secret meetings with Sophia, his gorgeous ex-girlfriend who is now his son Eli's occasional  girlfriend. Life gets even more complicated when Tara's niece, Kayla, starts hooking up with Eli. In a matter of weeks, Tara has reluctantly gone from rich, single San Francisco professional to Lake Tahoe housewife managing her niece's whiplash moods, while resisting her stepson's tantalizing sexual advances.
Adding to the family drama is her younger sister, Melody, who's having a serious marital breakdown, which means she might know something about her husband and Tara's brief dalliance years ago. As Tara's fragile trust in her family teeters, times with the arrival of certain people from her past, she also can't shake the feeling that someone's watching her. Baiting her.
Furyborn by Claire Legrand When assassins ambush her best friend, the crown prince, Rielle Dardenne risks everything to save him, exposing her ability to perform all seven kinds of elemental magic. The only people who should possess this power are a pair of prophesied Queens: a queen of light and a queen of blood. To prove she is the Sun Queen, Rielle must endure seven trials to test her magic. If she fails, she will be executed . . . unless the trials destroy her first.
A thousand years later, the legend of Queen Rielle is a mere fairy tale to bounty hunter Eliana Ferracora. When the Undying Empire conquered her kingdom, she embraced violence to keep her family safe. Now, she believes herself untouchable – until her mother vanishes. To find her, Eliana joins a rebel captain on a dangerous mission and discovers that the evil at the heart of the empire is more terrible than she ever imagined.
As Rielle and Eliana fight in a cosmic war that spans millennia, their stories intersect, and the shocking connections between them will ultimately determine the fate of their world – and of each other.
Little Big Love by Katy Regan Ten-year-old Zac Hutchinson collects facts: Octopuses have three hearts. Usain Bolt is the fastest man on earth. But no one will tell him the one thing he wants to know most: who his father is and where he went.
When Zac's mother, Juliet, inadvertently admits that his dad is the only man she's ever loved, Zac decides he is going to find him and deliver his mom the happily ever after that she deserves.
But Liam Jones left for a reason, and as Zac searches for clues about his father, Juliet begins to rebuild what shattered on the day that was once the happiest and most heartbreaking of her life.
Told through the eyes of Zac, Juliet, and Zac's grandfather Mick, Little Big Love is a layered, heartfelt, utterly satisfying story about family, love, and the secrets that can define who we are.
Goodbye, Sweet Girl by Kelly Sundberg Kelly Sundberg's husband, Caleb, was a funny, warm, supportive man and a wonderful father to their little boy, Reed. He was also vengeful and violent. But Sundberg did not know this whens he fell in love. After Caleb's true nature was revealed,s he tried to convince herself he would get better. It took a decade for her to ultimately accept that the partnership she desired could not work with such a broken man. In her remarkable book, she offers an intimate record of the joys and terrors that accompanied her difficult awakening, and presents a haunting, heartbreaking glimpse into why women remain too long in dangerous relationships.
To understand herself and her violent marriage, Sundberg looks to her childhood in Salmon, Idaho, a small, isolated mountain community known as the most redneck town in the state. Like her marriage, Salmon is a place of deep contradictions, where Mormon ranchers and hippie back-to-landers live side by side; a place of magical beauty riven by secret brutality; a place that takes pride in its individualism and rugged self-sufficiency, yet is beholden to church and communal standards at all costs.
Mesmerizing and poetic, Goodbye, Sweet Girl is a harrowing, cautionary, and ultimately redemptive tale. It brilliantly illuminates one woman's transformation as she gradually rejects the painful reality of her violent life, begins to accept responsibility for herself, and learns to believe that she deserves better.
Formerly Known as Food by Kristin Lawless If you think buying organic is protecting you, you're wrong. Our food – even what we're told is good for us – has changed for the worse in the past one hundred years, it's nutritional content deteriorating due to industrial farming and its composition altered by the addition of thousands of chemicals, from pesticides to packaging. We simply no longer know what we're eating.
In Formerly Known as Food, Kristin Lawless argues that, because of the degradation of our diet, our bodies are literally changing from the inside out. The billion-dollar food industry is reshaping our food preferences, altering our brains, changing the composition of our microbiota, and even affecting the expression of our genes. Lawless chronicles how this is happening and what it means for our bodies, health, and survival.
An independent journalist and nutrition expert, Lawless is emerging as the voice of a new generation of food thinkers. After years of "eat this, not that" advice from doctors, journalists, and food faddists, she offers something completely different: a comprehensive explanation of the problem – going beyond nutrition to issues of food choice, class, race, and gender – and a sound and simple philosophy of eating that she calls the "Whole Egg Theory."
Formerly Known as Food is an urgent call to take our food back.
Spying on Whales by Nick Pyenson Whales are among the largest, most intelligent, deepest diving species ever to have lived on our planet. They evolved from land-roaming, dog-sized creatures into animals that move like fish, breathe like us, can grow to 300,000 pounds, live two hundred years, and travel entire ocean basins. Whales fill us with terror, awe, and affection – yet there is still so much we don't know about them. Why did it take whales over fifty million years to evolve to such big sizes, and how do they eat enough to stay that big? How did their ancestors return to the sea from land – and what can their lives tell us about evolution as a whole? Importantly, in the sweepstakes of human-driven habitat and climate change, will whales survive?
Nick Pyenson's research has given us the answers to some of our biggest questions about whales. He takes us deep inside the Smithsonian's unparalleled fossil collections, to frigid Antarctic waters, and to the arid desert in Chile, where scientists race against time to document the largest fossil whale site ever found. Full of rich storytelling and scientific discovery, Spying on Whales spans the ancient past to an uncertain future all to better understand the most enigmatic creatures on Earth.
She Has Her Mother's Laugh by Carl Zimmer Heredity has long defined us. Now we are defining it. A historic transofrmation in our understanding of life is taking place today. Carl Zimmer's masterwork She Has Her Mother's Laugh illuminates this transformation like no other book before.
In a narrative that reads like a sweeping novel, Zimmer weaves together tales of scientific advance and pseudoscientific poison, heroes and villains, reflections on being a father to two daughters, analyses of his own genome revealing curious distant ancestors, and investigative reporting into cutting-edge discoveries that will shape the lives of all children to come.
Zimmer shows how our concepts of heredity have long been a powerful force affecting all economies, politics, and cultures. Heredity determined how crowns and thrones were passed down through the generations. Genetics revealed in profound detail how diseases and traits like eye color and intelligence were influenced by heredity. But heredity flows through other channels as well – from cultural practices to the environments we build around ourselves and our descendants.
With a surprise on almost every page, from the first use of the Latin word hereditas by the Romans to Darwin's theory and Mendel's Law, to the deeply disturbing rise of eugenics in the twentieth century, to revelations regarding the microbiome and epigenetics, all the way to the rapid rise of CRISPR gene-editing technology, She Has Her Mother's Laugh is both a defining moment in biology and a work of wit and erudition poised for a transgenerational life in our cultural ecosystem.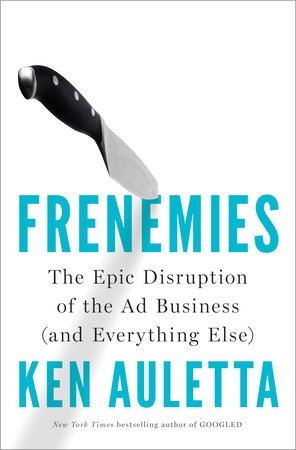 Frenemies by Ken Auletta Advertising and marketing touches on every corner of our lives, and is the invisible fuel powering almost all media. Complain about it though we might, and should, without it much of media and business would shrivel. THe disruption has been late in coming, but just as it struck the music, newspaper, magazine, and book businesses, today advertising and marketing are under assault. Good-bye, Don Draper. A Mad Men world has turned into a Math Men (and women – though too few) world, as engineers seek to transform an instinctual art into a science. The old lions and their kingdoms reel from fear, however bravely they might roar.
Frenemies is Ken Auletta's reckoning with an industry under existential assault. He enters the rooms of the ad world's most important players, some of them business partners, some adversaries, many "frenemies," a term whose ubiquitous use in this industry reveals the level of anxiety, as former allies become competitors and accusations of kickbacks and corruption swirl. We meet the old guard, including Sir Martin Sorrell, the legendary head of WPP, the world's largest ad agency holding company; while others play nice with Facebook and Google, he rants, critics say Lear-like, out on the heath. There is Irwin Gotlieb, maestro of GroupM, the most powerful media agency, but like all media agencies, it is staring into the headlights as ad buying is more and more done by machines and algorithms. We see the world from the vantage of its new stars, like Carolyn Everson, Facebook's head of sales. We visit other brash and scrappy creatives who are driving change, as millennials and others who disdain ads as an interruption employ technology to zap them, becoming advertising and marketing's most potent frenemies. We also peer into the future, looking at what is replacing traditional advertising. And throughout we follow the industry's Dolly Levi, its peerless match-maker, Michael Kassan, whose MediaLink company connects all these players together as he serves as the industry's foremost power broker.
Frenemies is essential reading, not simply because of what it says about this world, but because of the potential consequences: to the survival of media that depends on the money generated by advertising and marketing; to free television that would not be free without ads; to companies that would perish without a way to tell consumers of their products or sales; and to consumers who would be blind to new products.
Lincoln's Last Trial by Dan Abrams and David Fisher At the end of the summer of 1859, twenty-two-year-old Peachy Quinn Harrison went on trial fro murder in Springfield, Illinois. Abraham Lincoln, who had been involved in more than three thousand cases – including more than twenty-five murder trials – during his two-decades-long career, was hired to defend him. This was to be his last great case as a lawyer.
What normally would have been a local case took on momentous meaning. Lincoln's debates with Senator Stephen Douglas the previous fall had gained him a national following, transforming the little-known, self-taught lawyer into a respected politician. He was being urged to make a dark-horse run for the presidency in 1860. Taking this case involved great risk. His reputation was untarnished, but should he lose this trial, should Harrison be convicted of murder, the spotlight now focused so brightly on him might be dimmed. He had won his most recent murder trial with a daring and dramatic maneuver that had become a local legend, but another had ended with his client dangling from the end of a rope.
The case posed painful personal challenges for Lincoln. The murder victim had trained for the law in his office, and Lincoln had been his friend and his mentor. His accused killer, the young man Lincoln would defend, was the son of a close friend and loyal supporter. And to win this trial he would have to form an unholy allegiance with a longtime enemy, a revivalist preacher he had twice run against for political office – and who had bitterly slandered Lincoln as an "infidel . . . too lacking in faith" to be elected.
Lincoln's Last Trial captures the presidential hopeful's dramatic courtroom confrontations in vivid detail as he fights for his client – but also for his own blossoming political future. It is a moment in history that shines a light on our legal system, as in this case Lincoln fought a legal battle that remains incredibly relevant today.
We'll see you soon! 🙂