Spring Semester is coming to a close and that can mean only one thing: it's time to get started on your summer reading! We here at DC3 Library have just the list of new materials to get you started:
Bound By Flames by Jeaniene Frost Leila's years on the carnie circuit were certainly an education. What she didn't learn: how to be a vampire, or how to be married to the most famous vampire of them all. Adjusting to both has Leila teetering on a knife edge between passion and peril, and now the real danger is about to begin . . .
Vlad must battle with a centuries-old enemy whose reach stretches across continents and whose strength equals his own. It isn't like Vlad to feel fear, but he does . . . for Leila, because his enemy knows she is Vlad's greatest weakness. As friend and foe alike align against him – and his overprotectiveness drives Leila away – Vlad's love for his new bride could be the very thing that dooms them both . . .
Born Confused by Tanuja Desai Hidier Dimple Lala doesn't know what to think. She's spent her whole life resisting her parents' traditions. But now she's turning seventeen and things are more complicated than ever. She's still recovering from a year-old break-up and her best friend isn't around the way she used to be. Then, to make matters worse, her parents arrange for her to meet a "suitable boy." Of course, it doesn't go well . . . until Dimple goes to a club and finds him spinning a magical web of words and music. Suddenly, the suitable boy is suitable because of his sheer unsuitability. Complications ensue.
This is a story about finding yourself, finding your friends, finding love, and finding your culture – sometimes where you least expect it.
The Secret Speech by Tom Rob Smith Stalin is dead, and the brutal Soviet regime once held together by fear is beginning to unravel, leaving behind a society where the police are the bloodiest criminals of all.  Former Secret Police Officer Leo Demidov is struggling to put his former career behind him, to make a life for himself, his wife, Raisa, and the two young sisters they adopted. But will the mistrust and betrayals from Leo's own past shatter his family's ability to love and forgive – or destroy them in ways unimaginable?
The Norman Conquest by Marc Morris An upstart French duke who sets out to conquer the most powerful and unified kingdom in Christendom. And invasion force on a scale not seen since the days of the Romans. One of the bloodiest and most decisive battles ever fought.
Assessing the original evidence at every turn, Marc Morris goes beyond the familiar outline to explain why England was at once so powerful and yet so vulnerable to William the Conqueror's attack; why the Normans, in some respects less sophisticated, possessed the military cutting edge; how William's hopes of a united Anglo-Norman realm  unraveled, dashed by English rebellions, viking invasions, and the insatiable demands of his fellow conquerors.
B
lack Mass by Dick Lehr & Gerard O'Neill John Connolly and James "White" bulger grew up together on the tough streets of South Boston. Decades later, in the mid-1970's, they met again. By then, Connolly was a major figure in the Boston office of the Federal Bureau of Investigation and Bulger had become godfather of the local Irish0American mob. What happened next – a dirty deal to bring down the Italian-American mafia in exchange for protection for Bulger 0 would spiral out of control, leading to muirders, Bulger's takeover fo the neighborhood drug trade, rackteering indictments, and ultimately, the biggest informant scandal in the history of the FBI.
In this new edition of the New York Times and Boston Globe bestseller, Dick Lehr and Gerard O'Neill, the two former Boston Globe reporters who were on the case from the beginning, take us deep undercover, exposing one of the worst scandals in FBI history and the black hearts of two old friends who preferred the darkness of permanent midnight.
Superposition by David Walton Jacob Kelley's family is turned upside down when an old friend visits his home, waving a gun and convinced he's being chased by an alien quantum intelligence. The mystery deepens when the friend is found dead in an underground bunker . . . somehow murdered around the same time he was standing in Jacob's kitchen. Jacob is arrested for the murder and put on trial. As the details of the crime slowly come to light, the weave of reality becomes ever more tangled, twisted by a miraculous new technology and a quantum creature unconstrained by the normal limits of space and matter. With the help of his daughter, Alessandra, Jacob must find the true murderer before the creature destroys his family and everything he loves.
The Martian by Andy Weir Six days ago astronaut Mark Watney became one of the first people to walk on Mars.
Now he's sure he'll be the first person to die there.
After a dust storm forces his crew to evacuate the planet while thinking him dead, Mark finds himself stranded on Mars's surface, with no way to signal Earth that he's alive. And even if he could get word out, his supplies would be gone years before a rescue could arrive.
Chances are, though, Mark won't have time to starve to death. The damaged machinery, unforgiving environment, or plain old "human error' are much more likely to kill him first.
Armed with nothing but his ingenuity, his engineering skills – and  a gallows sense of humor that proves to be his greatest source of strength – Mark embarks on a dogged quest to stay alive. But will his resourcefulness be enough to overcome the impossible odds against him?
One Thousand White Women: The Journals of May Dodd by Jim Fergus One Thousand White Women begins with May Dodd's journey west into the unknown. Yet the unknown is a far better fate than the life she left behind. Committed to an insane asylum by her blue-blood family for the crime of loving a man beneath her station, May finds that her only hope of freedom is to participate in a secret government program whereby women from the "civilized" world become the brides of Cheyenne warriors. What follows is the story of May's breathtaking adventures: her brief, passionate romance with the gallant young army captain John Bourke; her marriage to the great Chief Little Wolf; and her conflict of being caught between two worlds, loving two men, living two lives.
So vividly has Jim Fergus depicted the American West that May Dodd's journals are like a capsule in time.
Founding Myths by Ray Raphael First published ten years ago to universal acclaim, award-winning historian Ray Raphael's trademark wit and flair, Founding Myths exposed the errors and inventions that permeate Amercia's most cherished tales, from Paul Revere's famous ride to Patrick Henry's "Liberty or Death" speech. In illuminating the fascinating genesis of long celebrated stories, Founding Myths dispelled historical illusions about our nation's struggle for independence and provided an uncompromising and multilayered rendition of those heady days.
In this revised tenth-anniversary edition, Raphael revisits the original myths and further explores their evolution over time, uncovering new stories and peeling back new layers of misinformation. For each myth, the author offers an alternative version, one that is both more historically accurate and more in tune with our nation's democratic ideals. Exploring the dynamic intersection between history-making and story-making, this new edition examines the highly politicized debates over America's past, as well as how our approach to history in school reinforces rather than corrects historical mistakes.
An inspiring and boldly provocative book that "explores the truth behind the stories of the making of our nation" (National Public Radio), this revised edition of Founding Myths will be a vital resource for anyone seeking to separate historical fact from fiction.
Far From the Madding Crowd by Thomas Hardy Independent and spirited Bathsheba Everdene has come to Weatherbury to take up her position as a farmer on the largest estate in the area. Her confident presence draws three very different suitors: The gentleman-farmer Boldwood, the soldier-seducer Sergeant Troy and the devoted shepherd Gabriel Oak. Each, in contrasting ways, unsettles her decisions and complicates her life, and when tragedy ensues, the stability of the whole community is threatened. Thomas Hardy's novel of swift passion and slow courtship is imbued with his evocative descriptions of rural life and landscapes, and with unflinching honesty about sexual relationships.
This edition, based on Hardy's original 1874 manuscript, is the complete novel he never saw published, and restores its full candour and innovation. Rosemarie Morgan's introduction discusses the history of its publication, and the biblical and classical allusions that permeate the novel.
Ready Player One by Ernest Cline In the year 2044, reality is an ugly place. The only time teenage Wade Watts really feels alive is when he's jacked into the virtual utopia known as the OASIS. Wade's devoted his life to studying the puzzles hidden within this world's digital confines – puzzles that are based on their creator's obsession with the pop culture of decades past and that promise massive power and fortune to whoever can unlock them. 
But whne Wade stumbles upon the first clue, he finds himself beset by player willing to kill to take this ultimate prize. The race is on, and if Wade's going to survive, he'll have to win – and confront the real world he's always been so desperate to escape.
Red Rising by Pierce Brown His wife taken. His people enslaved. Driven by a longing for justice and the memory of lost love, Darrow will stop at nothing to bring down his enemies . . . even if he must become one of them to do so.
For the first time, Red will rise.
The Plantagenets by Dan Jones The first Plantagenet kings inherited a blood-soaked realm from the Normans and transformed it into an empire that stretched at its peak from Scotland to Jerusalem. In this epic narrative history of courage, treachery, ambition, and deception, Dan Jones resurrects the unruly royal dynasty that preceded the Tudors. They produced England's best and worst kings: Henry II and his wife Eleanor of Aquitaine, twice a queen and the most famous woman in Christendom; their son Richard the Lionheart, who fought Saladin in the Third Crusade; and his conniving brother King John, who was forced to grant his people new rights under the Magna Carta, the basis for our own bill of rights. Combining the latest academic research with a gift for storytelling, Jones vividly re-creates the great battles of Bannockburn, Crecy, and Sluys and reveals how the maligned kings Edward II and Richard II met their downfalls. This is the era of chivalry and the Black Death, the Knights Templar, the founding of parliament, and the Hundred Years' War, when England's national identity was forged by the sword.
Out of the Dust by Karen Hesse Critics have called Karen Hesse's writing "as moving as a sonnet," "unforgettable," "dazzling." Now, with Out of the Dust, winner of the 1998 Newbery Award and the Scott O'Dell award for Historical Fiction, Hesse has secured a place in American literature as a writer whose work speaks to us all.
Told in free verse in the spare and haunting voice of 14-year-old Billie Jo Kelby, Out of the Dust is a journey into the heart of a family caught in the Oklahoma dust-bowl. It is the story of Ma, who sees her idea of herself burn away with every parched day, until she herself is consumed by fire. It is the story of Bayard, her husband, who cannot come to terms with his failure to produce, to provide. But most of all, it is the story of Billie Jo, who must find a way to get out of the dust, even if it means leaving behind everything she has ever loved. 
Resonant with hope, shimmering with feeling, this stunning, lyrical novel is a new classic by a poet and novelist whose voice needs to be heard. 
Very Good Lives by J.K. Rowling When J.K. Rowling was invited to deliver the commencement address at Harvard University, she chose to speak to speak the graduating class about two topics very close to her heart: the benefits of failure and the importance of imagination. Having the courage to fail, she said, is as vital to a good life as any conventional measure of success; imagining ourselves into the place of another – particularly someone less fortunate than ourselves – is a uniquely human quality to be nurtured at all costs.
The stories Rowling shared and the provocative questions she asked of those young graduates have since inspired countless others to consider what it means to live a "good life." Now in print for the first time, her words serve as both a comfort and a call to arms for anyone – of any age – who finds themselves at a turning point. In daring to take a risk, and perhaps fail, and by harnessing the power of our imaginations, we can all begin to live less cautiously and, in doing so, become more open to the opportunities life has to offer.
Information Doesn't Want to Be Free by Cory Doctorow Information Doesn't Want to be Free is a book about the pitfalls, and the opportunities, creative industries (and individuals) are confronting today – about how the old models have failed or found new footing, and about what might soon replace them. An essential read for anyone with a stake in the future of the arts, Information offers a vivid guide to the ways creativity and the Internet interact today, and to what might be coming next. 
A Fifty-Year Silence In 1948, after surviving World War II by escaping Nazi-occupied France for refugee camps in Switzerland, the author's grandparents, Anna and Armand, bought an old stone house in a remote, picturesque village in the South of France. Five years later, Anna packed her bags and walked out on Armand, taking the typewriter and their children. Aside from one brief encounter, the two never saw or spoke to each other again, never remarried, and never revealed what had divided them forever.
A Fifty-Year Silence is the deeply involving account of Miranda Richmond Mouillot's journey to find out what happened between her grandmother, a physician, and her grandfather, an interpreter at the Nuremberg Trials, who refused to utter his wife's name aloud after she left him. To discover the roots of their embittered and entrenched silence, Miranda abandons her plans for the future and moves to their stone house, now a crumbling ruin; immerses herself in letters, archival materials, and declining, grandparents. As she reconstructs how Anna and Armand braved overwhelming odds and how the knowledge her grandfather acquired at Nuremberg destroyed their relationship, Miranda wrestles with the legacy of trauma, the burden of history, and the complexities of memory. She also finds herself learning how not only to survive but to thrive – making a home in the village and falling in love.
With warmth, humor, and rich, evocative details that bring her grandparents' outsize characters and their daily struggles vividly to life, A Fifty-Year Silence is a heartbreaking, uplifting love story spanning two continents and three generations.
Station Eleven by Emily St. John Mandel An audacious, darkly glittering novel set in the eerie days of civilization's collapse, Station Eleven tells the spellbinding story of a Hollywood star; his would-be savior, and a nomadic group of actors roaming the scattered outposts of the Great Lakes region, risking everything for art and humanity.
One snowy night Arthur Leander, a famous actor, has a heart attack onstage during a production of King Lear. Jeevan Chaudhary, a paparazzo-turned EMT, is in the audience and leaps to his aid. A child actress named Kirsten Raymonde watches in horror as Jeevan performs CPR, pumping Arthur's chest as the curtain drops, but Artur is dead. That same night, as Jeevan walks home from the theater, a terrible flu begins to spread. Hospitals are flooded, and Jeevan and his brother barricade themselves inside an apartment, watching out the window as cars clog the highways, gunshots ring out, and life disintegrates around them.
Fifteen years later, Kirsten is an actress with the Traveling Symphony. Together, this small troupe moves between the settlements of an altered world, performing Shakespeare and music for scattered communities of survivors. Written on their caravan, and tattooed on Kirsten's arm, is a line from Star Trek: "Because survival is insufficient." But when they arrive in St. Deborah by the Water, they encounter a violent prophet who digs graves for anyone who dares to leave.
Spanning decades, moving back and forth in time, and vividly depicting life before and after the pandemic, this suspenseful, elegiac novel is rife with beauty. As Arthur falls in and out of love, as Jeevan watches the newscasters say their final good-byes, and as Kirsten finds herself caught in the crosshairs of the prophet, we see the strange twists of fate that connect them all. A novel of art, memory, and ambition, Station Eleven tells a story about the relationships that sustain us, the ephemeral nature of fame, and the beauty of the world as we know it.
A Storm of Witchcraft by Emerson W. Baker In January 1692, strange things started happening in the Massachusetts Bay colony. In Salem Village, young women began suffering from torments, causing them to shriek and contort their bodies, they complained of pins being stuck into their flesh and of harassment by specters. As more villagers fell victim to these startling and inexplicable symptoms, the community became convinced that it was in the throes of a massive outbreak – a veritable storm – of witchcraft. The authorieities, responding to accusations and pushed into action, began to hunt down and prosecute those believed responsible for the demonic work. The resulting Salem witch trials, in which more than 150 individuals were accused of witchcraft , shook the colony and resulted in the deaths of 25 people, 19 of whom were executed.
Emerson Baker explores the rich catalog of explanations that have been put forward over the years to explain the mystery of what happened in 1692 – such as hysteria brought on by ergot poisoning or encephalitis – but ultimately shows that there was no single factor. Rather, behind the events in Salem and surrounding towns was a unique convergence of conditions, including a new charter and government, a grim and bloody frontier war in Maine, and sectarian and political power-struggles. Focusing on the key players in the outbreak 0 the accused witches and the people they allegedly bewitched, as well as the judges and government officials who prosecuted them – Baker illuminates why the Salem tragedy unfolded as it did. He also shows how the Puritan government's attempts to suppress what had taken place only fueled the popular imagination and established the trials as a turning point from Puritan communalism to Yankee independence. 
Authoritative, immersive, and compulsively readable, A Storm of Witchcraft guides us through the archival evidence and books that have built up over the centuries on Salem and locates the essential points. It also sets the trials in the broader context of American history from the 1620's up through the present, and reveals the ways their legacy remains with us. Most of all, it provides a vivid narrative of one of the most harrowing and haunting episodes in American history.
A Wicked Thing by Rhiannon Thomas One hundred years after falling asleep, Princess Aurora wakes up to the kiss of a handsome prince and a broken kingdom that has been dreaming of her return. All the books say that she should be living happily ever after. But as Aurora understands all too well, the truth is nothing like the fairy tale.
Her family is long dead. Her "true love" is a kind stranger. And her whole life has been planned out by political foes while she slept. Everyone expects Aurora to marry her betrothed and restore magic and peace to the kingdom before revolution tears it apart. But after  a lifetime spent locked in a tower for her own safety, Aurora longs for the freedom to make her own choices. When she meets a handsome rebel, she is tempted to abandon everything for a different kind of life.
As Aurora struggles to make sense of her new world, she begins to fear that the curse has left its mark on her, a fiery and dangerous thing that might be as wicked as the witch who once ensnared her. With her wedding day drawing near, Aurora must make the ultimate decision on how to save her kingdom: marry the prince or run. 
A Wicked Thing is a surprising, spellbinding reimagining of what happens after happily ever after.
Seeker by Arwen Elys Dayton The night Quin Kincaid takes her Oath, she will become what she has trained to be her entire life. She will become a Seeker. This is her legacy, and it is an honor.
As a Seeker, Quin will fight beside her two closest companions, Shinobu and John, to protect the weak and the wronged. Together they will stand for light in a shadowy world. 
And she'll be with the boy she loves – who's also her best friend.
But the night Quin takes her Oath, everything changes.
Being a Seeker is not what she thought. Her family is not what she thought. Even the boy she loves is not who she thought. 
And now it's too late to walk away.
How to Be a Victorian Beginning at dawn with the sharp rapping of a "knocker-upper" man at the window, How to Be a Victorian is a remarkably intimate journey back in time. Immersing her readers in the details of a typical day, Ruth Goodman serves as our industrious and ebullient guide to the astonishing, if sometimes gruesome eccentricities and practicalities of Victorian life.
As we know from its unmatched legacy, the Victorian era was one of rapid transformation. Innovations in scientific thought and technology unimaginable only a generation before led to almost unfathomable social, political, and cultural changes from one decade to the next. While the experience of everyday life for lords and ladies has been exhaustively chronicles, life for the common family amid this flux has been relatively ignored. Goodman examines the overlooked majority, unearthing a trove of memorable minutiae. 
Particularly remarkable about Goodman's lively work is that she draws on her own adventures living in re-created Victorian conditions, thus lending her book a unique immediacy. She drinks beer for breakfast and brushes her teeth with a mixture of cuttlefish and soot. She navigates the difficulties of an unpredictable crinoline skirt and shimmies in and out of several different styles of corset. Goodman endures each task with the critical gaze of a skilled historian and the cheerful vigor of a true enthusiast.
Combining these hard-earned discoveries with her peerless grasp of Victorian mores, Goodman paints a spectacularly vivid portrait of Victorian life. From the dreadfully thick, thief-laden "pea-souper" smog of Dickensian London to the particular dangers of ungainly machinery and flammable petticoats, from feeding opiate-laced serums to children to advocating "a lighter diet and less mental exertion" as a cure for baldness, every detail enriches this enchanting guide to the most perennially fascinating era of British history. With a refreshingly frank and amusing perspective, How to Be a Victorian celebrates the ordinary lives of those who loved, labored, and simply endured through the Victorian age.
The Amazons by Adrienne Mayor Amazons – fierce warrior women dwelling on the fringes of the known world – were the mythic archenemies of the ancient Greeks. Heracles and Achilles displayed their valor in duels with Amazon queens, and the Athenians reveled in their victory over a powerful Amazon army. In historical times, Cyrus of Persia, Alexander the Great, and the Roman general Pompey tangled with Amazons.
But just who were these bold barbarian archers on horseback who gloried in fighting, hunting, and sexual freedom? Were Amazons real? In this deeply researched, wide-ranging, and lavishly illustrated book, National Book Award finalist Adrienne Mayor presents the Amazons as they have never been seen before. This is the first comprehensive account of warrior women in myth and history across the ancient world, from the Mediterranean Sea to the Great Wall of China.
Mayor tells how amazing new archaeological discoveries of battle-scarred female skeletons buried with their weapons prove that women warriors were not merely figments of the Greek imagination. Combing classical myth and art, nomad traditions, and scientific archaeology, she reveals intimate, surprising details and original insights about the lives and legends of the women known as Amazons. Provocatively arguing that a timeless search for balance between the sexes explains the allure of the Amazons, Mayor reminds us that there were as many Amazon love stories as there were war stories. The Greeks were not the only people enchanted by Amazons – Mayor shows that warlike women of nomadic cultures inspired exciting tales in ancient Egypt, Persia, India, Central Asia, and China. 
Driven by a detective's curiosity, Mayor unearths long-buried evidence and sifts fact from fiction to show how flesh-and-blood women of the Eurasian steppes were mythologized as Amazons, the equals of men. The result is likely to become a classic.
Legends & Lies by Bill O'Reilly How did Davy Crockett save President Jackson's life only to end up dying at the Alamo? Was the Lone Ranger based on a real lawman – and was he African American? What amazing detective work led to the capture of Black Bart, the "gentleman bandit" and one of the West's most famous stagecoach robbers? Did Butch Cassidy and the Sundance Kid really die in a hail of bullets in South America? Generations of Americans have grown up on TV shows, movies, and books about these western icons. But what really happened in the Wild West? All the stories you think you know, and others that will astonish you, are here – some heroic, some brutal and bloody, all riveting. Included are the ten legends featured in Bill O'Reilly's Legends and Lies docuseries – from Kit Carson to Jesse James, Wild Bill Hickok to Doc Holliday – accompanied by two bonus chapters on Daniel Boone and Buffalo Bill and Annie Oakley.
Frontier America was a place where instinct mattered more than education and courage was necessary for survival. It was a place where luck made a difference and legends were made. Heavily illustrated with spectacular artwork that further brings this history to life and told in a  fast-paced, immersive narrative, Legends and Lies is an irresistible, adventure-packed ride back into one of the most storied eras of our nation's rich history.
A Dark History: The Kings & Queens of Europe by Brenda Ralph Lewis Beneath the splendor and sophistication of the monarchies of continental Europe are tales of scandal, mystery, and skullduggery. A Dark History: The Kings & Queens of Europe peels away the glitz to take a wry look at what really happened in the corridors, bedrooms, and dungeons of European power, from the Middle ages to the present day.
Spanning the whole of mainland continental Europe, this history includes the burning of the Knights Templar, Vlad the Impaler's stakes, Elizabeth Bathory's blooodbaths, Louis XV's womanizing, the mystery of the Man in the Iron Mask, King Ludwig I's doomed love affair, the suicide pact of Austro-Hungary's Crown Prince Rudolph, and the troubled life and tragic death of Princess Grace of Monaco.
Tales of murder, insanity, obsessive love, and horrific torture illuminate the troubles of royal dynasties, inter-breeding and empire, with examples drawn from Spain, Belgium, Romania, Sweden, the Netherlands, Austro-Hungary, Germany, and France. Illustrated throughout with contemporary paintings and engravings alongside modern photography, A Dark History: The Kings and Queens of Europe offers a fascinating portrait of the dark side of European monarchy.
The Wars of the Roses by Dan Jones The Crown of England changed hands five times over the course of the fifteenth century as warring branches of the Plantagenet dynasty fought to the death for the right to rule. In this riveting follow-up to The Plantagenets, Dan Jones describes how the longest reigning British royal family tore itself apart in a  brutal blood feud and succumbed to the unlikely Tudors.
Some of the great heroes and villains of history were thrown together in these turbulent times, from Henry V, whose victory at Agincourt and prudent rule marked the high point of the medieval monarchy, to Richard III, who murdered his own nephews in a desperate bid to secure his stolen crown. Treachery and intrigue ruled the land. While Richard duke of York, Warwick the Kingmaker and Edward IV rounded up armies and sent those who betrayed them to the scaffold, Catherine of Valois, Margaret of Anjou and the beautiful, twice-married Elizabeth Woodville secretly schemed to secure the throne for their progeny.
This was the high point in the age of chivalry, when the printing press arrived, the Renaissance began to flourish and the first modern voyages from Europe to the Americas were undertaken. Yet it was also an age of chaoes and brutality. With vivid descriptions of the battles of Twoton, where twent0eight thousand mden died in a single morning, and Bosworth, a bold and dramatic narrative history for fans of Game of Thrones and The White Queen.
It offers up a cautionary tale, reminding us of what can happen to even the most prosperous realm when its leader is weak and indecisive and those around him begin to doubt his capacity to rule. A long-overdue corrective to Tudor propaganda, it dismantles their self-serving account of what they called the War of the Roses.
A Higher Form of Killing by Diana Preston Between April 22 and May 30, 1915, Western civilization was shocked. World War I was already appalling in its brutality, but it had until then been fought on the battlefield and by rules long agreed by convention. Suddenly those rules were abandoned when Germany forever altered the way war would be fought.
On April 22, at Ypres, German canisters spewed poison gas at French and Canadian soldiers in their trenches; on May 7, the German submarine U-20, without warning, torpedoed the passenger liner Lusitania, killing 1,198 civilians; and on May 31, a German zeppelin began the first aerial bombardment of London and its inhabitants. Each of these actions violated rules of war carefully agreed to at the Hague Conventions of 1898 and 1907 and were deliberately breached by Germany in an attempt to spread terror and force the Allies to surrender. While that failed, the psychological damage caused by these attacks far outweighed the casualties. The era of weapons of mass destruction had dawned.
While each of these momentous events has been chronicled in histories of the war, celebrated historian Diana Preston links them for the first time, revealing the dramatic stories and the personalities behind them through the eyes of thos who were there 0 whether making the decisions to use the weapons or experiencing their horrifying effect in the trenches, on board the Lusitania or on the streets of London. Placing the attacks in the context of the centuries-old debate over what constitutes as "just war," Preston shows how, in their aftermath, the other combatants felt the necessity to develop extreme weapons of their own. In our current time of terror, when weapons of mass destruction are once again implemented and threatened and wartime atrocities abound in a very different kind of conflict, the vivid story of their birth is of great relevance.
The Age of the Vikings by Anders Winroth The Vikings maintain their grip on our imagination, but their image is too often distroted by medieval and modern myth. It is more true that they pillaged, looted, and enslaved. But they also settled peacefully and developed a vast trading network. They traveled far from their homelands in swift and sturdy ships, not only to raid, but also to explore. Despite their fearsome reputation, the Vikings didn't wear horned helmets, and even the infamous berserkers were far from invincible. 
By dismantling the myths, The Age of the Vikings allows the full story of this period in medieval history to be told. By exploring every major facet of this exciting age, Anders Winroth captures the innovation and pure daring of the Vikings without glossing over their destructive heritage. 
He not only explains the Viking attacks, but also looks at Viking endeavors in commerce, politics, discovery, and colonization, and reveals how Viking arts, literature, and religious thought evolved in ways unequaled in the rest of Europe. He shows how the Vikings seized on the boundless opportunities made possible by the invention of the longship, using it to venture to Europe for plunder, to open new trade routes, and to settle in lands as distant a Russia, Greenland, and the Byzantine Empire. Challenging the image of the Vikings that comes so easily to mind, Winroth argues that Viking chieftains were no more violent than men like Charlemagne, who committed atrocities on a far greater scale than the northern raiders. 
Drawing on a wealth of written, visual, and archaeological evidence, The Age of the Vikings sheds new light on the complex society and culture of these legendary seafarers.
Give Me Liberty by Christopher L. Webber "Give me liberty," demanded Patrick Henry, "or give me death!" Henry's words continue to echo over the course of American history, and that quote – and the speech it comes from – remains one of the two or three known to almost every American. Other speeches that have become part of our American collective consciousness, from those given by Frederick Douglass and Elizabeth Cady Stanton to Martin Luther King, Jr., Ronald Reagan, and more – all have one theme in common: liberty. These feats of oration seem to trace the evolution of America's definition of liberty, and to whom it applies. But what exactly is liberty?
It is a term open to a broad range of opinion, and questions about freedom continue to arise almost daily in the news and in everyday life. In Christopher Webber's insightful new book, he looks at these great speeches and provides us with nuanced historical context, focusing on particular attention on these fascinating individuals who summed up the issues of their day in words that have never been forgotten. Give Me Liberty gleans lessons from the past centuries that will allow us to continue to strive for the ideals of liberty in the twenty-first century.
The Man Who Would Not Be Washington by: Jonathan Horn On the eve of the Civil War, one soldier embodied the legacy of George Washington and the hopes of leaders across a divided land. Both North and South knew Robert E. Lee as the son of Washinton's most famous eulogist and the son-in-law of Washington's adopted child. Each side sought his service for high command. Lee could choose only one.
In The Man Who Would Not Be Washington, former White House speechwriter Jonathan Horn reveals how the officer most associated with Washington went to war against the Union that Washington forged. This thoroughly researched and gracefully crafted biography follows Lee through married life, military glory, and misfortune. The story that emerges is more complicated, more tragic, and more illuminating than the familiar tale: more complicated because the unresolved question of slavery 0 the driver of disunion – was among the personal legacies that Lee inherited from Washington; more tragic because the Civil War destroyed the people and places connecting Lee to Washington in agonizing and astonishing ways; and more illuminating because the battle for Washington's legacy shaped the nation that America is today. As Washington was the man who would not be king, Lee was the man who would not be Washington. The choice was Lee's. The story is America's.
A must-read for those passionate about American history, The Man Who Would Not Be Washington introduces Jonathan Horn as a masterful popular historian.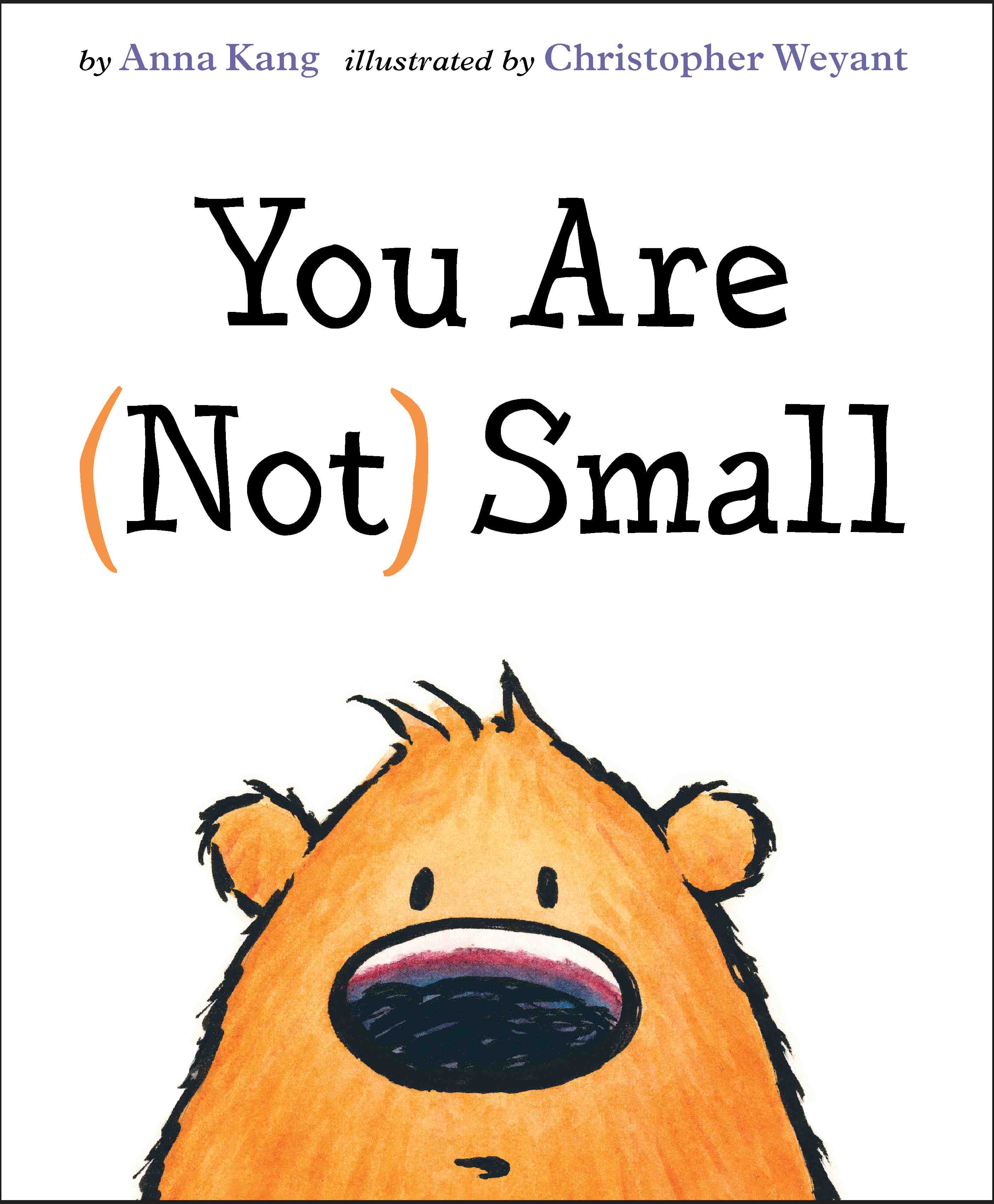 You Are (Not) Small by Anna Kang, illustrated by Christopher Weyant Two fuzzy creatures can't agree on who is small and who is big, until a couple of surprise guests show up, settling it once and for all!
The simple text of Anna Kang and bold illustrations of The New Yorker cartoonist Christopher Weyant tell an original and very funny story about size – it all depends on who's standing next to you.
Sweet Poison by David Gillespie David Gillespie was 6 stone overweight, lethargic and desperate to lose weight fast – but he'd failed every diet out there.
When David cut sugar from his diet he immediately started to lose weight and – more amazingly – kept it off. Now slim and with new reserves of energy, David set out to investigate the connection between sugar, our soaring obesity rates and some of the more worrying diseases of the twenty-first century. He discovered:
IT'S NOT OUR FAULT WE'RE FAT
Sugar was once such a rare resource that we haven't developed an off-switch – we can keep eating sugar without feeling full.
In the space of 150 years, we have gone from eating no added sugar to more than 2 pounds a week.
Eating that much sugar, you would need to run 4.5 miles every day of your life to not put on weight.
Food manufacturers exploit our sugar addiction by lacing it through 'non-sweet' products like bread, sauces and cereals.
Sweet Poison exposes one of the great health scourges of our time and offers a wealth of practical information on how to break your addiction to sugar.
Other new titles include: Flower Arranging edited by Malcolm Hillier; Transformational Tool Kit for Front Line Nurses edited by Francisca Cisneros Farrar, consulting editor Stephen D. Krau; Projects to Get You Off the Grid edited by Noah Weinstein; The Reference Shelf: The Supreme Court; Cathedral by David Macaulay; Castle by David Macaulay; Flower Arranging: Step-by-Step Instructions for Everyday Designs by Teresa P. Lanker; City: A Story of Roman Planning and Construction by David Macaulay; Mosque by David Macaulay; Mill by David Macaulay; Pyramid by David Macaulay
***We also have one new movie and it's a good one 🙂 :