If you're a fast reader and you've got some down time between the hustle and bustle of finals and preparing for the holidays, we have some great news! We've got some brand new titles in for you to enjoy while you de-stress. 🙂 Here are the handful that we have coming out, today:
Swiped by Adam Levin Increasingly, identity theft is a fact of life. We might once have hoped to protect ourselves from hackers with airtight passwords and aggressive spam filters, and those are good ideas as far as they go. But with the breaches of huge organizations like Target, AshleyMadison.com, JPMorgan Chase, Sony, Anthem, and even the US Office of Personnel Management, more than a billion personal records have already been stolen, and chances are good that you're already in harm's way.
This doesn't mean there's no hope. Your identity may get stolen, but it doesn't have to be a life-changing event. Adam Levin, a longtime consumer advocate and identity fraud expert, provides a method to help you keep hackers, phishers, and spammers from becoming your problem.
Levin has seen every scam under the sun: fake companies selling "credit card insurance"; criminal, medical, and child identity theft; emails that promise untold riches for some personal information; cat-phishers, tax fraud, fake debt collectors who threaten you with legal action to confirm your account numbers; and much more. As Levin shows, these folks get a lot less scary if you see them coming.
With a clearheaded, practical approach, Swiped is your guide to surviving the indentity theft epidemic. Even if you've already become a victim, this strategic book will help you protect yourself, your identity, and your sanity.
Commander in Chief by Tom Clancy When Russian president Valeri Volodin's ambitions are foiled in Dagestan, he faces a difficult choice. The oligarchs who support him expect a constant flow of graft, but with energy prices cratering, the Russian economy sputters to a virtual halt. Unable to grow the Russian market at home, he relies on expansion abroad to hold on to his power – a plan that has been thwarted by the United Sates in the past.
But this time Volodin has determined that an indirect approach is best. A floating natural gas facility in Lithuania is blown up. A Venezuelan prosecutor is assassinated. A devastating attack on a Russian troop train kills dozens. A chaotic world is the best camouflage for a series of seemingly unrelated attacks.
Only one man recognizes an ominous pattern in the reports of terror from around the globe. U.S. President Jack Ryan sees a guiding hand in the worldwide chaos, but before he can act he needs proof.
While his intelligence agencies race to uncover the truth behind the attacks, the president struggles to unite a fractious and distrustful coalition of Western nations against the schemes of the Russian dictator.
With fifty thousand Russian troops poised to invade a NATO nation, can Jack Ryan move swiftly enough to stop Volodin's grand plan of global conflict and conquest? Or will he succeed in changing the balance of world power forever?
Wyoming Rugged by Diana Palmer Billionaire aoilman Blair Coleman has always taken care of his business. After having been used and cast aside by a woman he thought he loved, his personal life is far from his first priority. He knows only one person has ever truly cared for him – but the irresistible blonde beauty is the daughter of his best friend.
Niki Ashton has seen her father's friend wounded and she's seen him fight. Blair is the strongest – and most stubborn – man she's ever known. That very heart and passion makes him the man of her dreams, but whenever they've been in danger of getting close, Blair has always pushed her away.
It takes a possible tragedy to strip away all of Blair's misgivings. Now it's all or nothing: Marriage, baby, family, forever. But will the choice be too much for Niki . . . or too late?
Unforgiven by Lauren Kate High school can be hell. Cam knows waht it's lifke to be haunted. He's spent more time in Hell than any angel ever should. And his freshest Hell is high school where Lilith, the girl he can't stop loving, is serving out a punishment for his crimes.
Cam made a bet with Lucifer: he has fifteen days to convince the only girl who really mateters to him to love him again. If he succeeds, Lilith will be allowed back into the world, and they can live their lives together. But if he fails. . . there's a special place in Hell just for him.
Tick-tock.
Spread your wings and cry as bad boy dark angel Cam finally reveals his anguished heart in the epic novel Unforgiven.
Precious Gifts by Danielle Steel Handsome, widowed, sophisticated utterly charming, Paul Parker won the heart of a wealthy young Frenchwoman – the daughter of an American financier, the granddaughter of a major French art dealer – as his second wife. In two marriages, he fathered a challenging son and three very different daughters. But as irresponsible as he was irresistible, he ultimately shrugged off the demands of marriage and parenting to pursue life as an international bon vivant.
Raised by their mother with all the care and resolve their father lacked, the three Parker sisters have become vibrant, self-reliant young women: Timmie, the oldest, a fiercely dedicated social worker in New York; sweet, nurturing Juliette, proprietor of a fledgling bakery in Brooklyn; and their younger sister, Joy, who is struggling to build an acting career in Los Angeles. While they love their mostly absent, glamorous father, he has left them with a  legacy of impermanence and uncertainty in their own relationships with men. And with no strong role model to guide him, Paul's son has gone from one failure to another, even while his stepmother makes excuses for him, as he seethes with jealously of his younger sisters.
Now, after a long illness, Paul has slipped away peacefully in his sleep, and his family has gathered together to read his will. As his final wishes are revealed, his son is forced to face reality as an adult. And his daughters see a new side to their father – one that shows a caring man trying to redeem himself with a  different, lasting legacy. He has made a very personal bequest to each of his children, carefully designed to help them achieve their own unique dreams and find true happiness. But Paul has saved the biggest surprise for his ex-wife Veronique: a secret from the past that shakes her world and sets her free. He leaves her a fit that remained a mystery for their entire marriage, and she begins a search to discover its history and rightful owner.
The story of a man's last wish to make a difference and of the loved ones he leaves behind fulfilling their destinies at last – Precious Gifts is brusing with indelible characters and emotional complexity as it takes readers from New York and Los Angeles to the art capitals of Europe and the South of France. Inspiring and uplifting, it is a deeply moving exploration of the rich territory of loss, inheritance, and reawakening – Danielle Steel at the height of her literary prowess.
First Bite by Bee Wilson We are not born knowing what to eat; as ominvores it is something we each have to figure out for ourselves. From childhood onward, we learn how big a "portion" is and how sweet is too sweet. We learn to enjoy green vegetables – or not. But how does this education happen? What are the origins of taste?
In First Bite, award-winning food writer Bee Wilson draws on the latest research from food psychologists, neuroscientists, and nutritionists to reveal that our food habits are shaped by a whole host of factors; family and culture, memory and gender, hunger and love. Taking the reader on a journey across the globe, Wilson introduces us to people who can only eat foods of a certain color; prisoners of war whose deepest yearning is for mom's apple pie; a nine-year-old anosmia sufferer who has no memory of the flavor of her mother's cooking; toddlers who will eat nothing but hot dogs and grilled cheese sandwiches; and researchers and doctors who have pioneered effective ways to persuade children to try new vegetables. Wilson examines why the Japanese eat so healthily, whereas the vast majority of teenage boys in Kuwait have a weight problem – and what these facts can tell Americans about how to eat better.
The way we learn to eat holds the key to why food has gone so disastrously wrong for so many people. But Wilson also shows that both adults and children have immense potential for learning new, healthy eating habits. An exploration of the extraordinary and surprising roots of our tastes and eating habits, First Bite also shows us how we can change our palates to lead healthier, happier lives.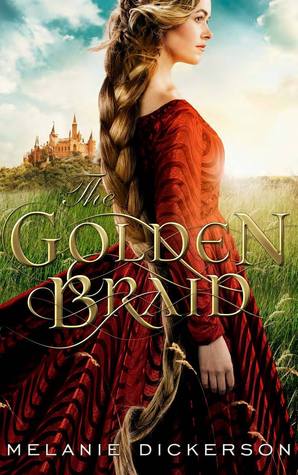 The Golden Braid by Melanie Dickerson Rapunzel can throw a knife better than any man. She paints beautiful flowering vines on the walls of her plaster houses. She sings so sweetly she can coax even a beast to sleep. But there are two things she is afraid her mother might never allow her to do: learn to read and marry.
Fiercely devoted to Rapunzel, her mother is suspicious of every man who so much as looks at her daughter and warns her that no man can be trusted. After a young village farmer asks for Rapunzel's hand in marriage, Mother decides to move them once again – this time, to the large city of Hagenheim.
The journey proves treacherous, and after being rescued by a knight – Sir Gerek – Rapunzel in turn rescues him farther down the road. As a result, Sir Gerek agrees to repay his debt to Rapunzel by teaching her to read. Could there be more to this knight than his arrogance and desire to marry for riches and position?
As Rapunzel acclimates to life in a  new city, she uncovers a mystery that will forever change her life. In this Rapunzel story unlike any other, a world of secrets and treachery is about to be revealed after seventeen years of lies. How will Rapunzel finally take control of her own destiny? And who will prove faithful to a lowly peasant girl with no one to turn to?
Ashley Bell by Dean Koontz Bibi Blair is a fierce, funny, dauntless young woman – whose doctor says she has one year to live.
She replies "We'll see."
Her sudden recovery astonishes medical science. 
An enigmatic woman convinces Bibi that she escaped death so that she can save someone else. Someone named Ashley Bell.
But save her from what, from whom? And who is Ashley Bell? Where is she?
Bibi's obsession with finding Ashley sends her on the run from threats both mystical and worldly, including a rich and charismatic cult leader with terrifying ambitions.
Here is an eloquent, riveting, brilliantly paced story with an exhilarating heroine and a twisting, ingenious plot filled with staggering surprises. Ashley Bell is a new milestone in literary suspense from the long-acclaimed master.
This will be our last "new materials" post for 2015! We wish you a joyous holiday season and a happy New Year!!
See you soon!! 🙂