We have some new books and a  video coming out, today! Browse our latest additions below and see if something grabs you:
BOOKS:
The Radiant Road by Katherine Catmull Clare Macleod has lived all her life with an awareness of the Strange, tales of fairies and magic-making told to her by her mother who died years ago. No longer a child, Clare has learned to suppress the magic that haunted the corners of her life, to say the word "fairy" with the appropriate disbelief. But after years of living in America, Clare and her father return to Ireland, to the house Clare was born in – a house built into a hillside with an ancient tree for a wall. For Clare, the house is not only full of memories of her mother, but of the Strange and mysterious boy with raven-dark hair and of dreamlike nights filled with stars and magic. In this place, magic – both bright and dark – will not sit quietly in a corner.
American Ace by Marilyn Nelson Connor's grandmother leaves his dad a letter when she dies, and the letter's confession shakes their tight-knit Italian American family: The man who raised Dad is not his birth father.
But the only clues to this birth father's identity are a class ring and a pair of pilot's wings. And so Connor takes it upon himself to investigate – a pursuit that becomes even more pressing when Dad is hospitalized after a stroke. What Connor discovers will lead him and his father to a new, richer understanding of race, identity, and each other.
In this eloquent first novel in verse by renowned poet Marilyn Nelson, she tells the story of a boy embracing his newfound genealogy and his surprising connection to American history.
Traveler by Arwen Elys Dayton Quin Kincaid is a Seeker. Her legacy is an honor, an ancient role passed down for generation. But what she learned on her oath night changed her world forever.
Quin pledged her life to deception. Her legacy as a Seeker is not noble but savage. She was trained to be an assassin. And the boy she once loved is out for vengeance, with her family in his sights.
Yet Quin is not alone. Shinobu, her oldest companion, might now be the only person she can trust. The only one who wants answers as desperately as she does.
But the deeper they dig into the past, the darker things become. There are long-vanished Seeker families, shadowy alliances, and something else: a sinister plan begun generations ago with the power to end the legacy forever. 
And it might destroy them all.
Finger Weaving: Indian Braiding by Alta R. Turner  Finger weaving, also called Indian braiding, dates back hundreds of years, but the designs you can create are as exciting and contemporary as you wish. And, all you need to weave these intricate designs is a short dowel, some vividly colored yarn, and your fingers!
Ms. Turner, an experienced teacher of finger weaving, first introduces you to the basic techniques and patterns of the North American Plains and Woodlands Indians – the diagonal, chevron, double chevron, diamond, double diamond, lightning, double lightning and arrow-head designs – the Peruvian rep braids and Peruvian cross rep braids.
In no longer than it takes you to follow the clear, completely diagrammed and illustrated directions (including 26 color photographs of completed projects), you will be able to create fabulous woven sashes, belts, collars, neck-ties, headbands, and bands for trimming or lengthening your clothes. With a little practice and not much more ingenuity, you can weave wider bands, combine or vary and adapt these basic patterns for original, expert-looking woven creations.
How to Draw Cool Stuff by Catherine V. Holmes How to Draw Cool Stuff shows simple step-by-step illustrations that make it easy for anyone to draw cool stuff with precision and confidence. These pages will guide you through the basic principles of illustration by concentrating on easy-to-learn shapes that build into complex drawings. With the step-by-step guidelines provided, anything can become easy to draw.
This book contains a series of fun, hands-on exercises that will help you see line, shape, space and other elements in everyday objects and turn them into detailed works of art in jut a few simple steps. The exercises in this book will help train your brain so you can visualize ordinary objects in a different manner, allowing you to see through the eyes of an artist.
From photorealistic faces to holiday themes and tattoo drawings, How to Draw Cool Stuff makes drawing easier than you would think and more fun than you ever imagined! Now is the time to learn how to draw the subjects and scenes you've always dreamt of drawing.
How to Draw Cool Stuff is suitable for artists of any age benefiting everyone from teachers and students to self-learners and hobbyists. How to Draw Cool Stuff will help you realize your artistic potential and expose you to the pure joy of drawing!
The Complete Book of Decorative Knots by Geoffrey Budworth All knots serve useful purposes, but many of the more complicated ones also create appealing shapes and interwoven textures. Knot tying is not just for those interested in sailing and other outdoor pursuits; many people find it as absorbing as solving a crossword puzzle or reading a good book. The Complete Book of Decorative Knots contains easy-to-follow expert instruction in how to tie over 80 elaborate knots, ranging from the simple to the more complex.
The book is divided into five sections of different elaborate knots – lanyard knots, button knots and globe knots, Turk's heads, mats and hitching, and chains and plaits. Every section contains background information on the history, lore and accreditation of the knots featured. Color illustrations guide you step-by-step through the stages of tying each knot. As well as being attractive, the knots featured have a wide variety of practical uses, such as for hammocks, door mats and bell pulls. A useful glossary explains the terms and techniques used in the world of rope and knot tying.
An invaluable sourcebook for both the novice knot tyer and those wishing to expand their expertise, this is the ideal reference for those who wish to pursue this pleasurable craft.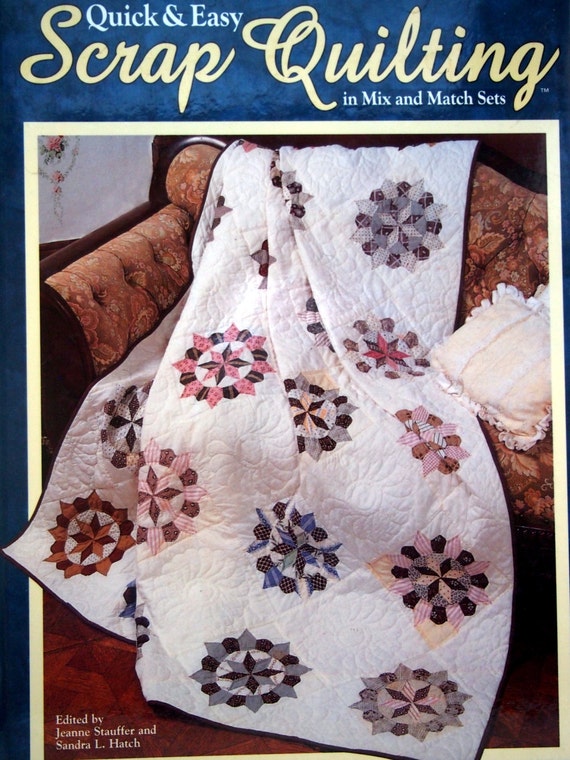 Quick & Easy Scrap Quilting in Mix and Match Sets Gather together all the fabric you've collected and get ready for a great time mixing and matching color and fabric! These creative quilting patterns are fun, quick to stitch and, best of all, scrappy!
*Also new: Pathophysiology and Care Protocols for Nursing Management, Edited by Lynn C. Parsons and Maria A. Revell
VIDEO:
Saw something you liked? Come in and check it out, today! Pick up a book or movie to enjoy over the weekend. 🙂 We'll see you soon! 🙂