Well, Memorial Day weekend is behind us and that means that it's time to break out those summer reading lists and get started! We have a great selection of new books to choose from. Stop by and browse these great new titles! While you're here, work on a knitting project with some 3D-printed needles, learn origami, or see what you can make out of a box of circuits and a booklet of ideas. There's always something new and fun to do at DC3 Library. Check us out today! 🙂
Queen of Hearts by Colleen Oakes This is not the story of the Wonderland we know. Alice has not fallen down a rabbit hole. There is no all-knowing cat with a taunting smile. This is a Wonderland where beneath each smile lies a secret, each tart comes with a demand, and only prisoners tell the truth.
Dinah is the princess who will one day reign over Wonderland. She has not yet seen the deark depths of her kingdom; she longs only for her father's approval and a future with the boy she loves. But when a betrayal breaks her heart and threatens her throne, she is launched into Wonderland's dangerous political game. Dinah must stay one step ahead of her cunning enemies or she'll lose not just the crown but her head.
Evil is brewing in Wonderland and maybe, most frighteningly, in Dinah herself.
The first novel in Colleen Oake's epic, imaginative series proves heroes can become villains and fairy tales can become nightmares. 
This is not a story of happily ever after.
This is the story of the Queen of Hearts.
First Dads by Joshua Kendall Every President has been a father. Of the forty-three men who have served in the nation's highest office, thirty-eight had biological children and the other five adopted children.
Whether nurturing, pushy, or preoccupied, each President's parenting style reveals much about this beliefs as well as his psychological makeup. You may be surprised to learn that James Garfield enjoyed jumping on the bed with his kids – even though our twentieth President lived during an era when distant, authoritarian parenting was the norm. FDR's children, on the other hand, had to make appointments if they wanted to speak with him. With keen insight into how each President's relationship with his children reflected his personality, Kendall draws fascinating parallels between presidential family life and national policy. For example, Calvin Coolidge's deep depression and withdrawal following the sudden death of his teenage son in 1924 may well have played a significant role in causing America's slide into the Great Depression.
In a lively narrative, peppered with compelling anecdotes drawn from personal interviews with many presidential scions as well as extensive archival research, Kendall shows presidential character in action. And he both suggests provocative conclusions about which type of parent might be best suited to leading the American people and demonstrates how the fathering experiences of our Presidents have forever changed the course of American history.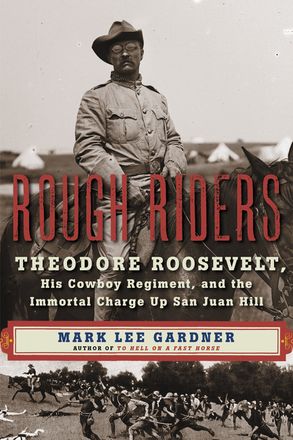 Rough Riders by Mark Lee Gardner The explosion of the USS Maine in Havana Harbor in February 1898 stunned the world and triggered a war between the United States and Spain. Congress authorized President McKinley to recruit a volunteer force to help drive the Spaniards out of Cuba, and from these men emerged the legendary Rough Riders, a mounted regiment drawn from America's western territories and led by the irrepressible Theodore Roosevelt. Its ranks included not only cowboys and other Westerners, but also several Ivy Leagurers and clubmen, many of them friends of "TR." American ruggedness, daring, and individualism. He led them to victory in the famed Battle of San Juan Hill, which made TR a national hero and cemented the Rough Riders' place in history.
Now Mark Lee Gardner synthesizes previously unknown primary accounts – private letters, diaries, and period newspaper reports from public and private archives in Arizona, Texas, Oklahoma, New Mexico, Massachusetts, New York, and Washingon, D.C. – to breathe fresh life inot the Rough Riders and pay tribute to their daring feats and indomitable leader. Gardner also explores lesser-known aspects of the story, including hte Rough Riders' relationship with the African Amervcain Buffalo Soldiers, with whom they fought side by side at San Juan Hill. 
Rich with action, violence, camaraderie, and courage, Rough Riders sheds new light on the Theodore Roosevelt saga – and on one of the most thrilling chapters in American history.
Ask Me How I Got Here by Christine Heppermann Addie has always been running. 
Running to beat the clock.
Running toward a college scholarship.
Running with her best friend, Claire.
Running into her boyfriend, Nick.
Until she gets pregnant.
Until she makes a choice.
Now is she running away?
Or is she simply standing still?
From the author of the acclaimed Poisoned Apples: Poems for You, My Pretty, an unflinching novel-in-verse about choice, faith, and self-discovery.
Valiant Ambition by Nathaniel Philbrick From the acclaimed author of Mayflower, In the Heart of the Sea, and Bunker Hill comes an engrossing new book about the American Revolution. Its focus: the relationship between Benedict Arnold and George Washington, and the four years that led to the notorious fall of one and the gradual emergence of the other as a true leader.
In the summer of 1776, Washington's army in Brooklyn and New York City faced one of the largest invading forces ever assembled by the British Empire. After suffering a series of devastating defeats, Washington's vulnerable and dejected troops were forced to evacuate the southern tip of Manhattan Island. Three weeks later, however, near the Canadian border, one of his favorite and most talented generals accomplished a tactical miracle by stalling the British advance in a viciously fought naval battle on Lake Champlain. An American defeat would have effectively ended the war, and it was Benedict Arnold who saved his young country from ruin,.
Nathanial Philbrick brings his mastery of narrative to a tumultuous time in the Revolution. Moving beyond the storied victories at Trenton and Princeton and the ordeal of the Continental army at Valley Forge, he shows how the injuries Arnold suffered at the Battle of Saratoga set Washington's greatest fighting general on the road to treason. Arnold was an impulsive but sympathetic hero whose misfortunes at the hands of self-serving politicians undermined his faith in the legitimacy of of the rebellion. By 1780, he had fled to the enemy after his failed attempt to surrender the American fortress at West Point to the British.
During the same period, Washington came to embrace the full scope of leadership. The book tracks the messy collision of military and political goals and shows how the deep divisions among the American people posed a greater threat to their cause than the British army. In a new country wary of tyrants, Washington's unmatched ability to rise above the petty politics of his time and enabled him to recognize the war that really mattered. In his treason, Arnold may actually have saved America.
Valiant Ambition crackles with urgency and human drama fueled by issues of loyalty and integrity. By intertwining the stories of Washington and Arnold, Philbrick has crafted a Shakespearean tragedy revealing the dark path American traveled during its revolution. This is a portrait of a people in crisis and the war that gave birth to a nation.
The Return of the Witch by Paula Brackston It has been five years since the dramatic events of Batchcombe woods – a battle between good and evil magic that saw ruthless warlock Gideon Masters defeated. Elizabeth Hawksmith, a witch who roamed the world for nearly four hundred years, finally faced the man who had stalked her for centuries and won victory at a high price. She was able to take him with her to the witches' heaven, the Summerlands, where she would stay and keep him captive so that he could do no more harm. 
But Gideon has found help of the most powerful kind. he has slipped the bonds of magic that held him prisoner and returned to tread the earth once more.
Elizabeth knows where he will go – straight for Tegan, her protegee and the closest thing she has to a daughter. Forfeiting her own place in the Summerlands forever, Elizabeth rushes to protect Tegan but, despite her best efforts, her worst fears are realized, and Gideon snatches the young woman away.
With the help of Time Stepper Erasmus Balmoral, Elizabeth begins to unravel Gideon's plans. Together they face a desperate race against time, following Gideon from Bathcombe during the heart of the English Civil War to the harsh reality of Victorian London. However, all is not lost. In Elizabeth's absence, Tegan has been training t become a powerful witch in her own right and now must draw on all the witchcraft she has learned if she is not to be consumed by Gideon's magic.
Five years in the Summerlands for Gideon, five years for readers waiting for the sequel to The Witch's Daughter. Now at last the story continues with The Return of the Witch.
It Wasn't Always Like This by Joy Preble In 1916, Emma O'Neill is frozen in time. After sampling an experimental polio vaccine brewed on a remote island off St. Augustine, Florida, she and her family stop aging, as do the Ryans, her family's business partners. In a way, this suits Emma fine because she's in love with Charlie Ryan. Being seventeen forever with him is a dream. But soon a group of religious fanatics, the Church of Light, takes note. Drinking the Elixir has made the O'Neills and Ryans impervious to aging, but not to murder – Emma and Charlie are the only ones who escape with their lives.
On the run, Emma is tragically separated from Charlie. For the next hundred years, she plays a cat-and-mouse game with the founding members of the Church of Light and their descendants. over the years, a series of murders – whose victims all bear more than a passing resemblance to her – indicate that her enemies are closing in. Yet as the danger grows, so does Emma's hope for finding the boy she's certain is still out there . . .
Stars Above by Marissa Meyer The universe of the Lunar Chronicles holds stories – and secrets – that are wondrous, vicious, and romantic. How did Cinder first arrive in New Beijing? How did the brooding soldier Wolf transform from young man to killer? When did Princess Winter and the palace guard Jacin realize their destinies?
With nine stories – five of which have never before been published – and a special bonus excerpt from Marissa Meyer's upcoming novel, Heartless, about the Queen of Hearts from Alice in Wonderland, Stars Above is essential for fans of the bestselling and beloved Lunar Chronicles.
No Safe Secret by Fern Michaels From her silver Mercedes to her designer kitchen, Molly's life is gleaming and beautiful – at least on the surface. Married to Tanner, a top cosmetic dentist, she has a wonderful daughter finishing high school and twin stepsons from Tanner's first marriage. no one in her exclusive neighborhood in Goldenhills, Massachusetts, knows what living with the demanding Tanner is really like. They know even less about the life she left behind in Florida almost two decades ago.
Back then, Molly was Maddy Carmichael, living with her twin brother and neglectful mother in a run-down trailer park amid the orange groves of Florida. After the terrible events of her high school prom night – and the act of vengeance that followed – she fled north and reinvented herself. But the veneer of Molly's polished existence is finally cracking.
As secrets old and new are revealed, Molly must face painful truths and the choices she made in their wake – and find the strength to become the woman she once hoped to be.
Longbow Girl by Linda Davies Brave and beautiful longbow girl Merry Owen is desperate for her family to stay on their struggling farm in the shadow of the Black Castle. Their aristocratic neighbors, the de Coureys, have been enemies of Merry's family for generations and are constantly conspiring to seize the Owens' property.
While out riding, Merry discovers a chest containing a mysterious text that leads her to the sixteenth century – a time filled with treasure, secrets, and untold danger. Once there, she finds that she must compete in a royal archery tournament to save her ancestors' land from the de Coureys. Will Merry be able to survive the past to save the future?
A gorgeously written tale that weaves together history, legend, adventure, and romance to explore the themes of who we are and who we can become when fighting for what we love.
Lady Midnight by Cassandra Clare In a secret world where half-angel warriors are sworn to fight demons, parabatai is a sacred word.
A parabatai is your partner in battle. A parabatai is your best friend. Parabatai can be everything to each other – but they can never fall in love.
Emma Carstairs is a warrior, a Shadowhunter, and the best in her generation. She lives for battle. Shoulder to shoulder with her parabatai, Julian Blackthorn, she patrols the streets of Los Angeles, where vampires party on the Sunset Strip, and faeries – the most powerful of supernatural creatures – teeter on the edge of open war with Shadwohunters. When the bodies of humans and faeries turn up murdered in the same way Emma's parents were when she was a child, an uneasy alliance is formed. This is Emma's chance for revenge – and Julian's chance to get back his brother Mark, who is being held prisoner by the faerie Courts. All Emma, Mark, and Julian have to do is solve the murders within two weeks . . . and before the murderer targets them.
Their search takes Emma from sea caves full of sorcery to a dark lottery where death is dispensed. And each clue she unravels uncovers more secrts. What has Julian been hiding from her all these years? Why does Shadowhunter Law forbid parabatai to fall in love? Who really killed her parents – and can she bear to know the truth?
The darkly magical world of Shadowhunters has captured the imaginations of milions of readers across the globe. Join the adventure in Lady Midnight, the long-awaited first volume of a new trilogy from Cassandra Clare.
Eligible by Curtis Sittenfeld From the "wickedly entertaining" Curtis Sittenfeld, New York Times bestselling author of Prep and American Wife, comes a modern retelling of Pride and Prejudice. Equal parts homage to Jane Austen and bold literary experiment, Eligible is a brilliant, playful, and delicious saga fro the twenty-first century.
This version of the Bennet family – and Mr. Darcy – is one that you have and haven't met before: Liz is a magazine writer in her late thirties who, like her yoga instructor older sister, Jane, lives in New York City. When their father has a health scare, they return to their childhood home in Cincinnati to help – and discover that the sprawling Tudor they grew up in is crumbling and the family is in disarray.
Youngest sisters Kitty and Lydia are too busy with their CrossFit workouts and Paleo diets to get jobs. Mary, the middle sister, is earning her third online master's degree and barely leaves her room, except for those mysterious Tuesday-night outings she won't discuss. And Mrs. Bennet has one thing on her mind: how to marry off her daughters, especially as Jane's fortieth birthday fast approaches.
Enter Chip Bingley, a handsome new-in-town doctor who recently appeared on the juggernaut reality TV dating show Eligible. At a Fourth of July barbecue, Chip takes an immediate interest in Jane, but Chip's friend neurosurgeon Fitzwilliam Darcy reveals himself to Liz to be much less charming . . .
And yet, first impressions can be deceiving.
Wonderfully tender and hilariously funny, Eligible both honors and updates Austen's beloved tale. Tackling gender, class, courtship, and family, Sittenfeld reaffirms herself as one of the most dazzling authors writing today.
Imbeciles by Adam Cohen In 1927, the Supreme Court handed down a ruling so disturbing, ignorant, and cruel that it stands as one of the great injustices in American history. In Imbeciles, bestselling author Adam Cohen exposes the court's decision to allow the sterilization of a young woman it wrongly thought to be "feebleminded" and to champion the mass eugenic sterilization of undesirable citizens for the greater good of the country. The 8-1 ruling was signed by some of the most revered figures in American law – including Chief Justice William Howard Taft, a former U.S. president; and Louis Brandeis, a progressive icon. Oliver Wendell Holmes, considered by many the greatest Supreme Court justice in history, wrote the majority opinion, including the court's famous declaration "Three generations of imbeciles are enough."
Imbeciles is the shocking story of Buck v. Bell, a legal case that challenges our faith in American justice. A gripping courtroom drama, it pits a helpless young woman against powerful scientists, lawyers, and judges who believed that eugenic measures were necessary to save the nation from being "swamped with incompetence." At the center was Carrie Buck, who was born into a poor family in Charlottesville, Virginia, and taken in by a foster family, until she became pregnant our of wedlock. She was then declared "feebleminded" and shipped off to the Colony for Epileptics and Feeble-Minded.
Buck v. Bell unfolded against the backdrop of a nation in the thrall of eugenics, which many Americans thought would uplift the human race. Congress embraced this fervor, enacting the first laws designed to prevent immigration by Italians, Jews, and other groups charged with being genetically inferior.
Cohen shows how Buck arrived at the colony at just the wrong time, when influential scientists and politicians were looking for a "test case" to determine whether Virginia's new eugenic sterilization law could withstand a legal challenge. A cabal of powerful men lined up against her, and no one stood up for her – not even her lawyer, who, it is now clear, was in collusion with those who wanted her sterilized.
In the end, Buck's case was heard by the supreme court, the institution established by the founders to ensure that justice would prevail. The court could have seen through the false claim that Buck was a trheat to the gene pool, or it could have found that forced sterilization was a violation of her rights. Instead, Holmes, a scion of several prominent Boston Brahmin families, who was raised to believe in the superiority of his own bloodlines, wrote a vicious, haunting decision upholding Buck's sterilization and imploring the nation to sterilize many more.
Holmes got his wish, and before the madness ended some sixty to seventy thousand Americans were sterilized. Cohen overturns cherished myths and demolishes lauded figures in relentless pursuit of the truth. With the intellectual force of a legal brief and the passion of a front-page exposee, Imbeciles is an ardent indictment of our champions of justice and our optimistic faith in progress, as well as a triumph of American legal and social history. 
United States of Jihad by Peter Bergen Since 9/11, more than three hundred Americans – born and raised in Minnesota, Alabama, New Jersey, and elsewhere – have been convicted of terrorism charges. Some have taken the fight abroad: an American was among those who planned the attacks in Mumbai, and more than eighty U.S. citizens have been charged with ISIS-related crimes. Others have acted on American soil, as with the attacks at Fort Hood, the Boston Marathon, and in Sand Bernardino. What motivates them, how are they trained, and what do we sacrifice in our efforts to track them?
Paced like a detective story, United States of Jihad tells the entwined stories of the key actors on the American front. Among the perpetrators are Anwar al-Awlaki, the New Mexico-born radical cleric who became the first American citizen killed by a CIA drone and who mentored the Charlie Hebdo shooters; Samir Khan, whose Inspire webzine has rallied terrorists around the world, including the Tsarnaev brothers; and Omar Hammami, an Alabama native and hip-hop fan who became a fixture in al-Shabaab's propaganda videos until fatally displeasing his superiors.
Drawing on his extensive network of intelligence contacts, from the National Counterterrorism Center and the FBI to the NYPD, Peter Bergen also offers an inside look at the controversial tactics of the agencies tracking potential terrorists, from infiltrating mosques to massive surveillance; at the bias experienced by innocent observant Muslims at the hands of law enforcement; at the critics and defenders of U.S. policies on terrorism; and at how social media has revolutionized terrorism.
Lucid and rigorously researched, United States of Jihad is an essential new analysis of the Americans who have embraced militant Islam both here and abroad.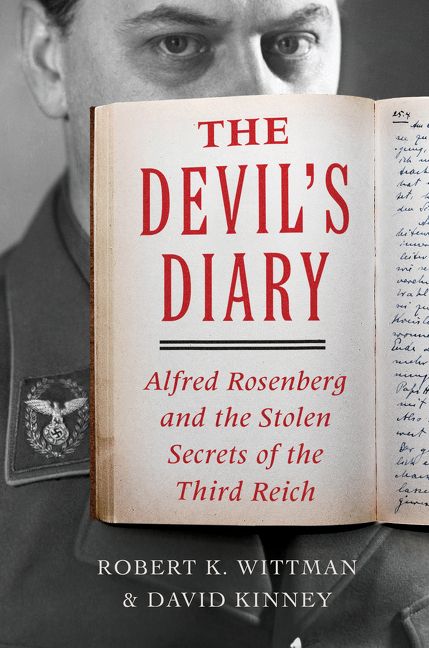 The Devil's Diary by Robert K. Wittman and David Kinney An influential figure in Adolf Hitler's inner circle from the start, Alfred Rosenberg made his name by spreading toxic ideas about the Jews throughout Germany. As the Third Reich dawned, his masterwork of racist philosophy became a national bestseller and a touchstone of Nazi thought.
Rosenberg's diary – five hundred pages offering a harrowing glimpse int the mid of the "intellectual high pries of the 'master race'" – was discovered in a Bavarian castle at war's end. Prosecutors examined it during the Nuremberg war crimes trial, but after Rosenberg was convicted, sentenced, and executed, it mysteriously vanished.
New York Times bestselling author Robert K. Wittman, who as an FBI agent and then as a private consultant specialized in recovering artifacts of historical significance, first learned of the diary in 2001, when the chief archivist for the United States Holocaust Memorial Museum contacted him to say that someone was trying to sell it for more than a million dollars. The phone call set off a decadelong hunt that took them on a twisting path involving a pair of octogenarian secretaries, an eccentric professor, and an opportunistic trash picker. From the crusading Nuremberg prosecutor who smuggled the diary out of Germany to the man who finally turned it over, everyone had reasons for hiding the truth.
Drawing on Rosenberg's entries about his role in the seizure of priceless artwork and the brutal occupation of the Soviet Union, his conversations with Hitler, and his endless rivalries with Goring, Goebbels, and Himmler, The Devil's Diary provides vital insight of unprecedented scope and intimacy into the innermost workings of the Nazi regime – and the psyche of the man whose radical vision gave rise to the Final Solution.
Tribe by Sebastian Junger Decades before the American Revolution, Benjamin Franklin lamented that English settlers were constantly fleeing over to the Indians – but Indians almost never did the same. Tribal society has been exerting an almost gravitational pull on Westerners for hundreds of years, and the reason lies deep in our evolutionary past as a communal species. The most recent example of that attraction is combat veterans who come home to find themselves missing the incredibly intimate bonds of platoon life. The loss of closeness that comes at the end of deployment may help explain the high rates of post-traumatic stress disorder suffered by military veterans today.
Combining history, psychology, and anthropology, TRIBE explores what we can learn from tribal societies about loyalty, belonging, and the external human quest for meaning. IT explains the irony that 0 for many veterans as well as civilians – war feels better than peace, adversity can turn out to be a blessing,a nd disasters are sometimes remembered more fondly than weddings or tropical vacations. TRIBE explains why we are stronger when we come together, and how that can be achieved even in today's divided world.
Colter's Journey by William W. Johnstone with J.A. Johnstone In this thrilling epic saga of the American West, bestselling authors William W. Johnstone and J.A. Johnstone capture the human side of the frontier experience in all its glory, grit, and grandeur – through the eyes of one remarkable teenage boy . . .
The year is 1845. Leaving their Pennsylvania home to forge a new life in the untamed Oregon Territory, the Colter family is ambushed by a kill crazy gang of cutthroats on the Oregon Trail. Fifteen-year-old Tim Colter manages to escape and hide – only to return and find his parents butchered, his sisters Nancy and Margaret missing, and one last killer waiting for his return.
Forced to fight for his life, the young Colter embarks on a perilous journey across a lawless wilderness, hoping to save his sisters and salvage the dream they lived for. But first, Tim has to figure out how to survive. Luckily, he finds a new friend in Jed Reno, a grizzled one-eyed trapper who's lived in the Rockies since the 1820's – and who was attacked by the same gang that ambushed Tim's family. Together, the mountain man and the greenhorn set out after the marauders, blazing a trail of vengeance that leads them to one of the deadliest men in the territory: the deranged half-breed Louis Jackatar who's hellbent on igniting a war between the white man and every Indian tribe in the west . . .
With danger at every turn, and death just a heartbeat away, Colter has no choice but to grow up fast, face his fears with bravery, and fight back with everything he's got – in this powerful and explosive tale of one young man's coming-of-age in the great but often brutally violent American West.
Blood Flag by Steve Martini When Emma Brauer is blamed in the mercy killing of her aged father, Robert Brauer, Paul Madriani and his partner, Henry Hinds, step in to defend her. Insisiting she's innocent, Emma tells Mardriani about a package sent to her father shortly before he entered the hospital. Bequeathed to him by a fellow World War II veteran, the box contains only a key and a slip of paper. Emma fears that this package is connected to her father's death and that his real killer still poses a threat.
Someone from Madriani's office goes missing, and he is blindsided by the realization that Emma's fears are well founded. Driven by the need to find the killer, Madriani digs into Robert Brauer's military history. He discovers that other members of Robert's army unit have also recently died- under suspicious circumstances.
Trying to make sense of the box sent to Brauer, Madriani uncovers a trail leading to a mysterious talisman – a feared Nazi relic known as the Blood Flag. Soaked in teh blood of a fallen Nazi follower, the flag was displayed by Hitler in ceremonies until it went missing at the end of the war, turning it into a historic prize sought by collectors and others with darker motives. Racing to locate the artifact before it falls into the wrong hands, Madriani is in for the fight of his life.
In one of his most perilous cases yet, with Emma's life on the line and his own safety in jeopardy, Madriani must uncover the truth before more people die in the struggle over the Blood Flag and its horrific legacy.
The Gene by Siddhartha Mukherjee The story of the gene begins in earnest in an obscure Augustinian abbey in Moravia in 1856 where Gregor Mendel, a monk working with pea plants, stumbles on the idea of a "unit of heredity." It intersects with Darwin's theory of evolution, and collides with the horrors of Nazi eugenics in the 1940's. The gene transforms postwar biology. It invades discourses concerning race and identity, and provides startling answers to some of the most potent questions coursing through our political and cultural realms. It reorganizes our understanding of sexuality, and free will, thus raising the most urgent questions affecting our personal realms. Above all, the story of the gene is driven by human ingenuity and obsessive minds – from Gregor Mendel and Charles Darwin to Francis Crick, James Watson, and Rosalind Franklin to the thousands of scientists working today to understand the code of codes.
Author of the Pulizer Prize-winning bestseller The Emporer of All Maladies, Mukherjee draws on his scientific knowledge and research to describe the magisterial history of a scientific idea. Woven through The Gene is the story of Mukherjee's own family and its recurring pattern of schizophrenia, a haunting reminder that the science of genetics is not confined to the laboratory but is vitally relevant to everyday lives. The moral complexity of genetics reverberates even more urgently today as we learn to "read" and "write" the human genome – unleashing the potential to change the fates and identities of our children and our children's children.
Bill O'Reilly's Legends and Lies: The Patriots written by David Fisher The American Revolution was not inevitable nor was it a unanimous cause. It pitted neighbors against one another, as loyalists and colonial rebels faced off for their lives and futures. These were the times that tried men's souls; no one was on stable ground and few could be trusted. Through the remarkable lives of the first Americans, Legends and Lies: The Patriots reveals the contentious arguments that turned friends into foes and the land into a war zone.
From the riots over a child's murder that led to the Boston Massacre, to the Continental Army's first victory under George Washington's leadership, tot he little-known southern guerilla campaign of "Swamp Fox" Francis Marion, to Benedict Arnold's audacious betrayal, David Fisher explores the amazing combination of resourcefulness, perseverance, strategy, and luck that resulted in the creation of a country that would go on to become the most powerful in the world.
Despite the casualty-riddled victory of the Revolution, the ruthless fight for democracy wasn't over. Moving from the combat zone to congress, it was a political battle as much as a physical one. With the patriots grappling to create a government, one for and by the people, the origin story of the United States of America was only starting to be written. Here, in the enthralling companion to the second season of Bill O'Reilly's historical docudrama TV series, Legends and Lies: The Patriots reveals the riveting truth behind the stories you think you know and others that will astonish you.
Heavily illustrated with spectacular artwork that further brings this vital history to life, and told in the same fast-paced, immersive narrative as the first Legends and Lies, The Patriots is an irresistible, adventure-packed journey into one of the most storied moments of our nation's rich history.
The Mark of Cain by Lindsy Barraclough In 1567, little Aprha is found among the reeds and rushes by two outcast witches, and even as an infant, her gifts in the dark craft are plain. But when her guardians succumb to an angry mob, Aphra is left to fend for herself. She is shunned and feared by everyone she encounters, except one man: the leper Long Lankin. Hounded and ostracized, the two find solace only in each other, but even this respite is doomed, and Aphra's bitterness poisons her entire being. Afflicted with leprosy, about to be burned as a witch, she manages one final enchantment – a curse on her tormentor's heirs. 
Now, in 1962, Cora and Mimi, the last of a cursed line, are trapped in an ancient home on a crumbling estate in deepest winter, menaced by a spirit bent on revenge.
Lindsey Barraclough's much-anticipated follow-up to Long Lankin is as richly imagined as it is profoundly chilling.
The Sleeping Prince by Melinda Salisbury Ever since her older brother Lief disappeared, Errin's life has gone from bad to worse. Not only must she care for her sick mother, she has to scrape together rent money by selling illegal herbal cures. But none of that compares to the threat of the vengeful Sleeping Prince, whom the queen just awoke from his enchanted sleep.
When her village is evacuated as part of the fight against the Sleeping Prince, Errin is left desperate and homeless. The only person she can turn to is the mysterious Silas, a young man who buys deadly poisons from Errin but won't reveal why he needs them. Silas promises to help her, but when he vanishes, Errin must journey across a kingdom on the brink of war to seek another way to save her mother and herself. Yet what she finds shatters everything she believed about her world, and with the Sleeping Prince drawing nearer, Errin must make a heartbreaking choice that could affect the whole kingdom.
We'll see you soon! 🙂