It's Monday and what better way to kick off the week than with some new books? We have some interesting new titles hitting the shelves, today. Come on over and have a look!
Grunt by Mary Roach Grunt tackles the science behind some of a soldier's most challenging adversaries – panic, exhaustion, heat, noise – and introduces us to the scientists who seek to conquer them. Mary Roach dodges hostile fire with the US Marine Corps Paintball Team as part of a study on hearing loss and survivability in combat. She visits the fashion design studio of US Army Natick Labs and learns why a zipper is a problem for a sniper. She visits a repurposed movie studio where amputee actors help prepare Marine Corps medics for the shock and gore of combat wounds. At Camp Lemonnier, Djibouti, in east Africa, we learn how diarrhea can be a threat to national security. The author samples caffeinated meat, sniffs an archival sample of a World War II stink bomb, and stays up all night with the crew tending the missiles on the nuclear submarine USS Tennessee. She answers questions not found in any other book on the military: Why is DARPA interested in ducks? How is a wedding gown like a bomb suit? Why are shrimp more dangerous to sailors than sharks? Take a tour of duty with Roach, and you'll never see our nation's defenders in the same way again.
Homegoing by Yaa Gyasi A novel of breathtaking sweep and emotional power that traces three hundred years in Ghana and along the way also becomes a truly great American novel. Extraordinary for its exquisite language, its implacable sorrow, its soaring beauty, and for its monumental portrait of the forces that shape families and nations, Homegoing heralds the arrival of a major new voice in contemporary fiction.
Two half sisters, Effia and Esi, are born into different villages in eighteenth-century Ghana. Effia is married off to an Englishman and lives in comfort in the palatial rooms of Cape Coast Castle. Unbeknownst to Effia, her sister, Esi, is imprisoned beneath her in the castle's dungeons, sold with slave trade, and shipped off to America, where her children and grandchildren will be raised in slavery. One thread of Homegoing follows Effia's descendants through centuries of warfare in Ghana, as the Fante and Asante nations wrestle with the slave trade and British colonization. The other thread follows Esi and her children into American. From the plantations of the South to the Civil War and the Great Migration, from the coal mines of Pratt City, Alabama, to the jazz clubs and dope houses of twentieth-century Harlem, right up through the present day, Homegoing makes history visceral, and captures, with singular and stunning immediacy, how the memory of captivity came to be inscribed in the soul of a nation.
Generation after generation, Yaa Gyasi's magisterial first novel sets the fate of the individual against the obliterating movements of time, delivering unforgettable characters whose lives were shaped by historical forces beyond their control. Homegoing is a tremendous reading experience, not to be missed, by an astonishingly gifted young writer.
End of Watch by Stephen King In Room 217 of the Lakes Region Traumatic Brain Injury clinic, something has awakened. Something evil. Brady Hartsfeld, perpetrator of the Mercedes Massacre, where eight people were killed and many more were badly injured, has been in the clinic for five years, in a vegetative state. According to his doctors, anything approaching a complete recovery is unlikely. But in possession of deadly new powers that allow him to wreak unimaginable havoc without ever leaving his hospital room.
Retired police detective Bill Hodges, the unlikely hero of Mr. Mercedes and Finders Keepers, now runs an investigation agency with his partner, Holly Gibney – the woman who delivered the blow to Hartsfield's head that put him on the brain injury ward. When Bill and Holly are called to a suicide scene with ties to the Mercedes Massacre, they find themselves pulled into their most dangerous case yet, one that will put their lives at risk, as well as those of Bill's heroic young friend Jerome Robinson and his teenage sister, Barbara. Brady Hartsfield is back, and planning revenge, not just on Hodges and his friends, but on an entire city. With End of Watch Stephen King brings the Hodges trilogy to a sublimely terrifying conclusion, combining the detective fiction of Mr. Mercedes and Finders Keepers with the heart-pounding, supernatural suspense that has been his bestselling trademark. The result is an unnerving look at human vulnerability and chilling suspense. No one does it better than King.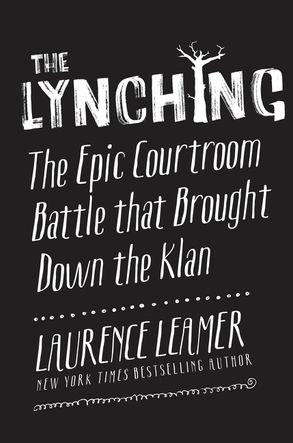 The Lynching by Laurence Leamer The Lynching is the powerful, spellbinding true story of a brutal race-based killing in 1981 and the dramatic two trials during which the United Klans of America, the largest and most dangerous Klan organization in America, is exposed for the evil it represents. New York Times bestselling author Laurence Leamer tells a gripping story, weaving in such figures as legendary civil rights lawyer Morris Dees, Alabama governor George Wallace, and Klan Imperial Wizard Robert Shelton, and describes the Klan's lingering effect on race relations in America today.
The story begins in March 1981, when Henry Hays and James Knowles, members of Klavern 900 of the UKA, picked up nineteen-year-old Michael Donald on the streets of Mobile, Alabama. They were seeking to retaliate after a largely black jury failed to convict a black man accused of murdering a white policeman. Hays and Knowles beat Donald, cut his throat, and left his body hanging from a tree branch in a racially mixed residential neighborhood. Arrested, charged, and convicted, Hays was sentenced to death – the first time in more than half a century that the state of Alabama had given that penalty to a white man for killing a black man.
Morris Dees, the cofounder of the Southern Poverty Law Center, saw the case as an opportunity to file a lawsuit against the UKA. His colleagues told him that  his lawsuit was impossible to win and a folly. But Dees had heard that before. On behalf of Michael's grieving mother, Mrs. Beulah Donald, Dees filed a first-of-its-kind civil suit and charged the Klan organization and its leaders with conspiracy. He proceeded to put the Klan leaders on trial, which produced some of the most audacious testimony of any civil rights trial – as well as a stunning and precedent-setting verdict. Dees destroyed the UKA and created a weapon that the SPLC used time and again against other racist organizations.
The Lynching  is a suspenseful true story that takes us into the heart of darkness, but in the end shows that Michael Donald and other civil rights martyrs did not die in vain.
Ink and Bone by Lisa Unger Twenty-year-old Finley Montgomery is rarely alone. Visited by people whom others can't see and haunted by prophetic dreams she has never been able to control or understand, Finley is terrified by the things that happen to her. When Finley's abilities start to become too strong for her to handle – and even the roar of her motorcycle or another dazzling tattoo can't drown out the voices – she turns to the only person she knows who can help her: her grandmother Eloise Montgomery, a renowned psychic living in The Hollows, New York.
Merri Gleason is a woman at the end of her tether after a ten-month-long search for her missing daughter, Abbey. With almost every hope exhausted, she resorts to hiring Jones Cooper, a detective who sometimes works with psychic Eloise Montgomery. Merri's not a believer, but she's just desperate enough to go down that road, praying that she's not too late. Time, she knows, is running out. 
As a harsh white winter moves into The Hollows, Finley and Eloise are drawn into the investigation, which proves to have much more at stake than even the fate of a missing girl. As Finely digs deeper into the town and its endless layers,s he is forced to examine the past, even as she tries to look into the future. Only one thing is clear: The Hollows gets what it wants, no matter what.
Every Little Step: My Story by Bobby Brown with Nick Chiles Bobby Brown, the singer, dancer, and all-around amazing performer, first became famous at the age of fourteen as a part of the Boston group New Edition. But it was his solo career and the release of his 1988 album, Don't Be Cruel, with its chart-topping title track, as well as hit songs "My Prerogative" and "Every Little Step," that made him infamous. As he toured the world, wowing fans, scoring hit after hit, earning millions, Brown found himself the fodder of tabloids. When he married the most celebrated singer in the world at the time, pop princess Whitney Houston, he began a life under a microscope. The couple's every move was tracked, and jaw-dropping stories were told about drug addiction, physical violence, and worse, with Brown always cast as the villain. Forever branded, Brown was trapped in a spiral of rage against the media and drug addiction, fighting for the will to get himself clean and keep his family together.
Now the man behind the misconception, rumors, and lies bares his soul. In this honest, raw, and at times heartbreaking account, Brown tells the truth of his life. Every Little Step is the story of a kid growing up in the projects of Boston, always on the move and always looking for an audience. Brown reveals what really happened when he left New Edition to launch his solo career and tales of his relationships with some of the most prominent pop divas in the world, including intimate details of his marriage to Houston that describe the purity of their love and the devastation he felt as it crumbled. Most poignantly, he finally speaks about losing his beloved daughter Bobbi Kristina. And through it all, Brown shows himself to be a family man, devoted to his children and his wife; a man who cared for both of his parents right up until their deaths; and a man who can admit where he faltered, but had the strength to stand up again.