The holidays are around the corner and we have some new books on the shelves, just in time for you to take home and enjoy over break! Of course, we also have a nice collection of holiday books and movies on display as well as some holiday craft ideas (complete with materials and directions) for making the perfect gift or home decoration.
Here is a sneak peak of some of the holiday DIY gifts and decor we have on display:
You can make any and all of the items above in our Makerspace! With the exception of the potholders (because sewing projects require that you bring your own fabric/batting), and the checkered knitted scarf (because you'll need to BYO knitting needles), everything above can be made with materials we already have in our Makerspace. So, the only cost to you is time! 🙂
When you've finished crafting with us, take home a holiday book or movie or check out some of our new arrivals:
Ranger's Apprentice: The Battle of Hackham Heath by John Flanagan The second in a new prequel series from John Flanagan, author of the worldwide bestselling Ranger's Apprentice series.
When the former Baron Morgarath escaped to avoid punishment for treason, an uneasy peace fell on the kingdom of Araluen. But Morgarath, now in hiding, is already planning his next move, recruiting an army of savage, overpowering beasts known as Wargals. Newly crowned King Duncan knows he must assemble his troops for battle.
To unveil the full extent of Morgrarath's plans, Halt prepares for a seemingly impossible task – climbing the deadly cliffs of the Mountains of Rain and Night and venturing deep into enemy territory to spy. After all, the winner of this war could be determined by one wrong move. The fate of a kingdom is at stake.
In this second prequel to The Ruins of Gorlan, the novel that introduced millions of readers to the Ranger's Apprentice epic, Halt and Crowley prepare for war against a near-unstoppable enemy.
Scythe by Neal Shusterman A world with no hunger, no disease, no war, no misery. Humanity has conquered all those things, and has even conquered death. Now scythes are the only ones who can end life – and they are commanded to do so, in order to keep the size of the population under control.
Citra and Rowan are chosen to apprentice to a scythe – a role that neither wants. These teens must master the "art" of taking life, knowing that the consequence of failure could mean losing their own.
Scythe is the debut of a thrilling new series by National Book Award-winning author Neal Shusterman in which Citra and Rowan learn that a perfect world comes only with a heavy price.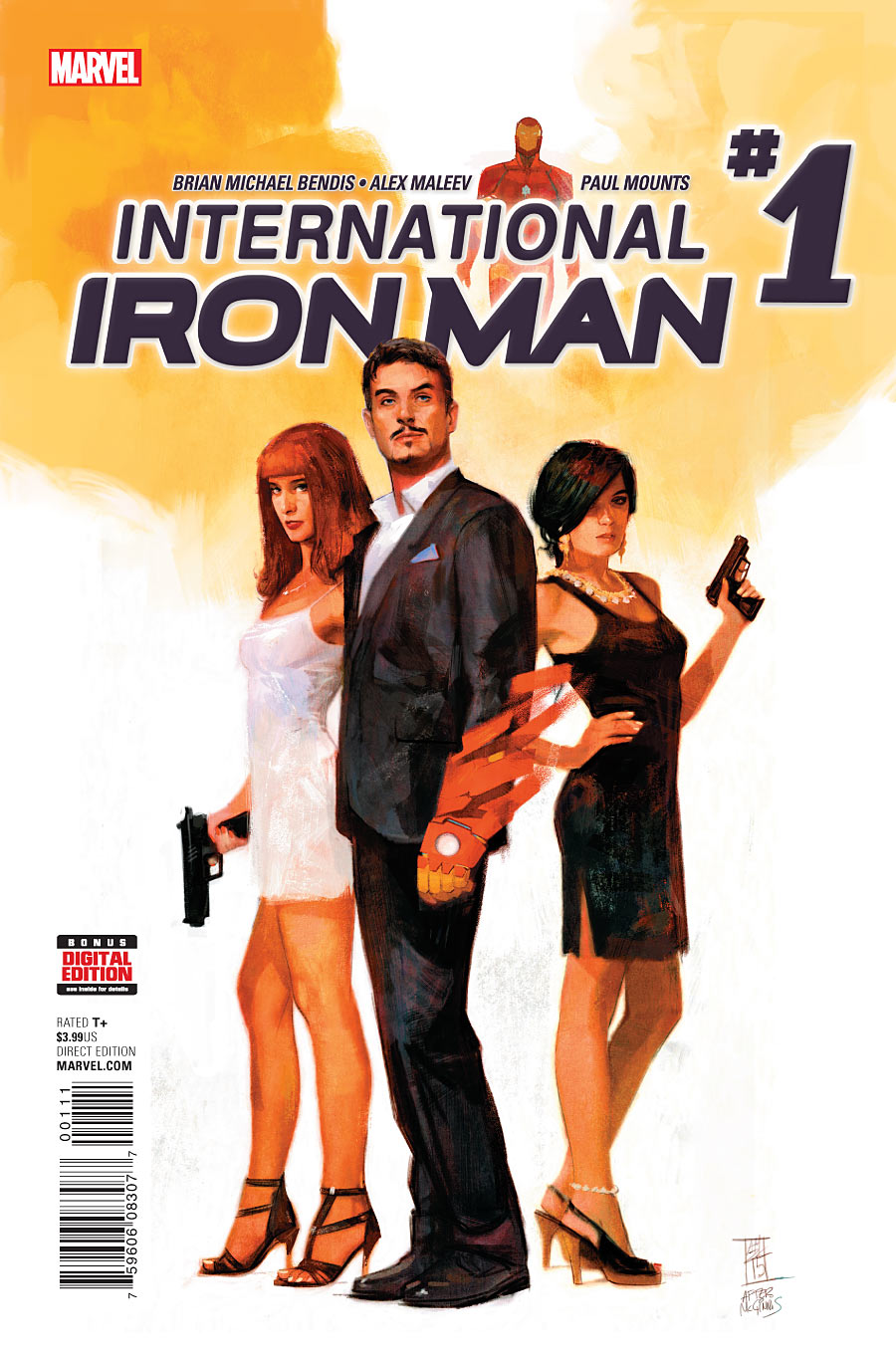 International Iron Man by Brian Michael Bendis, Alex Maleev, and Paul Mounts Who is Tony Stark? SInce learning he was adopted, this question has cast a shadow over his life. Now, it's time to uncover his true legacy – a journey that will carry Tony into new directions as both a man and an armored adventurer. But as a new international crime boss beats him at every turn, can Tony unravel the mystery of his past before deadly history repeats itself? Revelations will send him reeling – and even if Iron Man makes it out alive, his new standing in the Marvel Universe might be the death of him.
I Loved Her in the Movies by Robert J. Wagner with Scott Eyman In a career that has spanned more than sixty years Robert Wagner has witnessed the twilight of the Golden Age of Hollywood and the rise of television, becoming a  beloved star in both media. During that time he became acquainted, both professionally and socially, with the remarkable women who were the greatest personalities of their day. I Loved Her in the Movies is his intimate and revealing account of how they became stars, the charisma they displayed on film, and how their specific emotional and dramatic chemistries affected the choices they made as actresses as well as the choices they made as women.
Among Wagner's subjects are Joan Crawford, Bette Davis, Marilyn Monroe, Gloria Swanson, Norma Shearer, Loretta Young, Joan Blondell, Irene Dunne, Rosalind Russell, Dorothy Lamour, Debra Paget, Jean Peters, Linda Darnell, Betty Hutton, Raquel Welch, Glenn Close, and the two women whom he ultimately married, Natalie Wood and Jill St. John. In addition to offering perceptive commentary on these actresses, Wagner also examines such topics as the strange alchemy of the camera – how it can transform the attractive into the stunning – and how the introduction of color brought a new erotic charge to movies, one that empowered these actresses to become aggressively sexual beings in a way that black-and-white films had only hinted at.
Like Wagner's two previous bestsellers, I Loved Her in the Movies will be a privileged view behind the scenes at some of the most beloved women in show business, as well as an insightful look at the cinematic and romantic attraction that created their magic.
Butter: A Rich History by Elaine Khosrova It's a culinary catalyst, an agent of change, a gastronomic rock star. Ubiquitous in the world's most fabulous cuisines, butter is boss. Here, it finally gets its due.
After traveling across three continents to stalk the modern story of butter, award-winning food writer and former pastry chef Elaine Khosrova serves up a story as rich, textured, and culturally relevant as butter itself.
From its humble agrarian origins to its present-day artisanal glory, butter has a fascinating story to tell, and Khosrova is the perfect person to tell it. With tales about the ancient butter bogs of Ireland, the pleasure dairies of France, and the sacred butter sculptures of Tibet, Khosrova details butter's role in history, politics, economics, nutrition, and even spirituality and art. Readers will also find the essential collection of core butter recipes, including beurre manie, croissants, pate brisee, and the only buttercream frosting anyone will ever need, as well as pratical how-tos for making avrious types of butter at home – or shopping for the best.
The Princess Diarist by Carrie Fisher When Carrie Fisher recently discovered the journals she had kept during the filming of the first Star Wars movie, she was astonished to see what they had preserved – plaintive love poems, unbridled musings with youthful naivete, and a vulnerability that she barely recognized. Today her fame as an author, actress, and pop-culture icon is indisputable, but in 1976, Carrie Fisher was just a teenager with an all-consuming crush on her costar.
With these excerpts from her handwritten notebooks, The Princess Diarist is Fisher's intimate and revealing recollection of what happened on one of the most famous film sets of all time – and what developed behind the scenes. And today, as she reprises her most iconic role for the latest Star Wars trilogy, Fisher also ponders the joys and insanity of celebrity as well as the absurdity of a life spawned by Hollywood royalty whose lofty status has ultimately been surpassed by her own outer-space royalty. Laugh-out-loud hilarious and endlessly quotable, The Princess Diarist brims with the candor and introspection of a diary while offering shrew insight into the type of stardom that few will ever experience.
Doctor Who: A History of Humankind Robin Hood was just made up. Queen Elizabeth I never married. And nobody knows what happened to Jack the Ripper. Right?
WRONG. If you want to know the real story of human history, then this is the book for you.
The Doctor has corrected this Coal Hill School history textbook with his own notes and illustrations. Now packed full of real history (i.e. the the kind with Daleks and Silurians and time travel), it tells you everything you need to know about our very special planet.
It's history, but perhaps not quite as you know it.
COMING SOON (12/16/16):
Out of Bounds by Val McDermid Internationally bestselling author Val McDermid is one of our finest crime writers, whose gripping, impeccably plotted novels have garnered millions of readers worldwide. In her latest, Out of Bounds, she delivers a riveting novel featuring cold case detective Karen Pirie.
When a teenage joyrider crashes a stolen car and ends up in a coma, a routine DNA test reveals a connection to an unsolved murder from twenty-two years before. It's a cold case that should be straightforward. But it's as twisted as the DNA helix itself.
Meanwhile, Karen is mired in grief and guilt after the death of her partner. She finds herself irresistibly drawn to another mystery that she has no business investigating, a mystery that has its roots in a terrorist bombing two decades ago. Karen's intuition is telling her something doesn't add up. But is she onto something? Or has she, as her boss has been anticipating, gone too far this time?
An enthralling read that takes Karen into the vagaries of privacy law, the history of the Northern Irish Troubles, and right into the heart of power in London, Out of Bounds reaffirms Val McDermid's place as one of the most dependable professionals in the mystery and thriller business.
We'll see you soon! 🙂