It's Friday, DC3!! 🙂 In case you haven't heard, there's a BIG ice storm coming, this weekend. Afraid you're going to be stuck inside with nothing to read or watch? Have no fear. We've got you covered!
Here are our newest arrivals:
BOOKS:
Fate of Flames by Sarah Raughley Years ago, everything changed. Phantoms, massive beasts of nightmare, began terrorizing the world. At the same time four girls, the Effigies, appeared, each with the unique power to control a classical element. Since then, they have protected the world from the Phantoms. At the death of one Effigy, another is chosen, pulled from her normal life into the never-ending battle.
When Maia unexpectedly becomes the next Fire Effigy, she resists her new calling. A quiet girl with few firends and almost no family, she was much happier to admire the Effigies from afar. Never did she imagine having to master her ability to control fire, to protect innocent citizens from the Phantoms, or to try bringing together the other three Effigies.
But with the arrival of the mysterious Saul – a man who seems to be able to control the Phantoms using the same cosmic power previously only granted to four girls at a time – Maia and the other Effigies must learn to work together in a world where their celebrity is more important than their heroism.
But the secrets Saul has, and the power he possesses, might be more than even they can handle . . .
Waterlily by Ella Cara Deloria When Blue Bird and her grandmother leave their family's camp to gather beans for the long, threatening winter, they inadvertently avoid the horrible fate that befalls the rest of the family. Luckily, the two women are adopted by a nearby Dakota community and are eventually integrated into their kinship circles. Ella Cara Deloria's tale follows Blue Bird and her daughter, Waterlily, through the intricate kinship practices that created unity among her people.
Waterlily, published after Deloria's death and generally viewed as the masterpiece of her career, offers a captivating glimpse into the daily life of the nineteenth-century Sioux. This new Bison Books edition features an introduction by Susan Gardner and an index.
Ella Cara Deloria (1889-1971) was born on the Yankton reservation in South Dakota and grew up in a prominent family on the Standing Rock reservation during a disruptive time in her tribe's history. She studied at Columbia University with Franz Boas and became an ethnologist. She is the author of Dakota Texts and Speaking of Indians, (both available in Bison Books editions), Dakota Grammar, and many other works. Susan Gardner is an associate professor of English at the University of North Carolina, Charlotte, and is the author of several articles and forthcoming biography on Ella Deloria.
K
ill the Next One by Federico Axat Your life? Nearly over. Your family? In mortal danger. The solution? Kill a very bad man. The catch? Nothing is what it seems.
Ted McKay had it all: a beautiful wife, two daughters, a high-paying job. But after being diagnosed with a terminal brain tumor, he finds himself with a gun to his temple, ready to pull the trigger. Then the doorbell rings.
A stranger makes him a proposition: why not kill two deserving candidates before dying? The first target is a criminal, and the second is a man with terminal cancer who, like Ted, wants to die. After executing these kills, Ted will become someone else's next target: a kind of suicidal daisy chain. Ted understands the stranger's logic – it's easier for a victim's family to deal with a murder than with a suicide.
As Ted commits the murders, however, the crime scenes strike him as odd. The targets know him by name and possess familiar mementos. Even more bizarrely, Ted recognizes locations and men he shouldn't know. As his mind begins to crack, dark secrets from his past seep through the fissures.
Hailed throughout the world as "a perfect thriller," "a phenomenon," and reminiscent of the works of both Stephen King and Christopher Nolan, Kill the Next One announces the arrival of an exciting new voice in crime fiction.
Beyond the Body Farm by Dr. Bill Bass & Jon Jefferson A pioneer in forensic anthropology, Dr. Bill Bass created the world's first laboratory dedicated to the study of human decomposition – three acres on a hillside in Tennessee where human bodies are left to the elements. His research has revolutionized forensic science, but during a career that has spanned half a century, Bass and his work have ranged far beyond the gates of the "Body Farm."
In this riveting book, the renowned bone sleuth explores the rise of modern forensic science and takes readers deep into the real world of crime scene investigation. Beyond the Body Farm is an extraordinary journey through some of the most fascinating investigations of Dr. Bass's career – and a remarkable look at the high-tech science used to crack the most perplexing cases.

T
he Book of the Unnamed Midwife  by Meg Elison Surviving the apocalypse is only the beginning. In the wake of a fever that decimated the earth's population – killing women and children and making childbirth deadly for the mother and infant – the midwife must pick her way through the bones of the world she once knew to find her place in this dangerous new one. Gone are the pillars of civilization. All that remains is power – and the strong who possess it.
A few women like her survived, though they are scarce. Even fewer are safe from the clans of men, who, driven by fear, seek to control those remaining. To preserve her freedom, she dons men's clothing, goes by false names, and avoids as many people as possible. But as the world continues to grapple with its terrible circumstances, she'll discover a role greater than chasing a pale imitation of independence.
After all, if humanity is to be reborn, someone must be its guide.
The Secret Life of Fat by Sylvia Tara, Ph.D. Fat is an obsession, a dirty word, a subject of national handwringing – and, according to biochemist Sylvia Tara, the least-understood part of our body.
You may not love your fat, but your body certainly does. In fact, your body is actually endowed with many self-defense measures to hold on to fat. For example, fat can use stem cells to regenerate; increase our appetite if it feels threatened; and use bacteria, genetics, and viruses to expand itself. The secret to losing twenty pounds? You have to work with your fat, not against it. Tara explains how your fat influences your appetite and will-power, how it defends itself when attacked, and why it grows back so quickly.
The Secret Life of Fat brings cutting-edge research together with historical perspectives to reveal fat's true identity: an endocrine organ that, in the right amount, is critical to our health. Fat triggers puberty, enables our reproductive and immune systems, and even affects brain size.
Although we spend $60 billion annually fighting fat, our efforts are often misinformed and misdirected. Tara expertly illustrates the complex role that genetics, hormones, diet, exercise, and history play in our weight, and The Secret Life of Fat sets you on the path to beat the bulge once and for all.
Being a Dog by Alexandra Horowitz In Being a Dog, Alexandra Horowitz, a leading researcher in dog cognition, continues to unpack the mystery of a dog's nose-view, in order to more fully understand our irrepressibly charming companions. She follows the dog's nose – exploring not only its abilities but the incredible ways it is being put to use.
Because human noses are so inconsiderable in comparison – we have but six million olfactory receptor cells while dogs have hundreds of millions – we have difficulty conceptualizing what dogs can perceive. To a dog, there is no such thing as "fresh air." Every breath is full of information. Dogs, when trained, can identify drugs of every type, underwater cadavers, cancer, illicit cell phones in prison, bedbugs, smuggled shark's fins, dry rot, land mines, termites, invasive knapweed, underground truffles, and dairy cows in estrus. But they also know about the upcoming weather, earthquakes before they happen, how "afternoon" smells,  what you had for breakfast, and whether a cat touched your leg yesterday. And of course, they sniff their way home and know the distinctive odor of each spot of sidewalk as you travel there. In fact, what every dog – including that adorable pup lying next to you, snoring on the couch – knows about the world comes mostly through his nose.
But! the mysteries of the nose are not restricted to the dog alone. For Horowitz also delves into the abilities of expert human sniffers – from perfumers to sommeliers to animal trackers who use smell to search out their quarry. She also trains her own nose, smelling the streets of New York City and using experts' methods to hone the human ability we all have but rarely use to its full extent.
By observing everything from her own dogs to working detection dogs and human sniffers, Horowitz takes us along on her quest to make sense of scents, combining a personal journey of smelling with a tour through the cutting-edge science behind the olfactory powers of the dog. Writing with scientific rigor and her trademark wit, Horowitz changes our perspective on dogs forever. Readers will finish her charming and informative book feeling that they have smelled into a fourth dimension, literally broken free of human constraints and understood smell as never before; that they have, however fleetingly, been a dog.
The Lion in the Living Room by Abigail Tucker The correct reaction to a house cat isn't "Awwww." It's . . . awe.
Cats are incredible creatures: they can eat practically anything and live almost anywhere, ruling bedrooms and deserted Antarctic islands alike. But cats do humans very few favors – especially compared with dogs. So why do we feed and caress them and obsess over them online? How did these tiny felines become global overlords?
To better understand the furry strangers in our midst, science writer Abigail Tucker investigates the way house cats have used their relationship with humans to become one of the most powerful animals on the planet. Tracing their rise from prehistory to the modern cat craze, she meets (and pets) champion purebreds and the latest mutants, attends a cats' rights convention, and treks through the wilderness in search of house cats on the loose.
With keen reporting and lively wit, The Lion in the Living Room is an adventure through hsitory, natural science, and pop culture. IT's the fascinating story of how cats conquered the world – and the human heart.
The Looming Tower by Lawrence Wright A gripping narrative that spans five decades, The Looming Tower explains in unprecedented detail the growth of Islamic fundamentalism, the rise of al-Qaeda, and the intelligence failures that culminated in the attacks on the World Trade Center. Lawrence Wright re-creates  firsthand the transformation of Osama bin Laden and Ayman al-Zawahiri from incompetent and idealistic soldiers in Afghanistan to leaders of the most successful terrorist group in history. He follows FBI counterterrorism chief John O'Neill as he uncovers the emerging danger from al-Qaeda in the 1990s and struggles to track this new threat. Packed with new information and a deep historical perspective, The Looming Tower is the definitive history of the long road to September 11.
The Lost City of the Monkey God by Douglas Preston Since the days of conquistador Hernan Cortes, rumors have circulated about a lost city of immense wealth hidden somewhere in the Honduran interior, called the White City or the Lost City of the Monkey God. Indigenous tribes speak of ancestors who fled there to escape the Spanish invaders, and they warn that anyone who enters this sacred city will fall ill and die. In 1940, swashbuckling journalist Theodore Morde returned from the rainforest with hundreds of artifacts and an electrifying story of having found the Lost City of the Monkey God – but then committed suicide without revealing its location.
Three quarters of a century later, bestselling  author Doug Preston joined a team of scientists on a new quest. In 2012 he climbed aboard a rickety plane carrying the machine that would change everything: lidar, a highly advanced technology that could map the terrain under the densest rainforest canopy. IN an unexplored valley ringed by steep mountains, that flight revealed the image of a sprawling metropolis, tantalizing evidence of not just an undiscovered city but an enigmatic, lost civilization.
Venturing into this treacherous but breathtaking wilderness to confirm the discovery, Preston and the team battled torrential rains, quicksand, disease-carrying insects, jaguars, and deadly snakes. But it wasn't until they returned that tragedy struck: Preston and others found they had contracted in the ruins a horrifying, sometimes lethal – and incurable – disease.
Suspenseful and shocking, filled with colorful history, hair-raising adventure, and dramatic twists of fortune, The Lost City of the Monkey God is the absolutely true, eyewitness account of one of the great discoveries of the twenty-first century.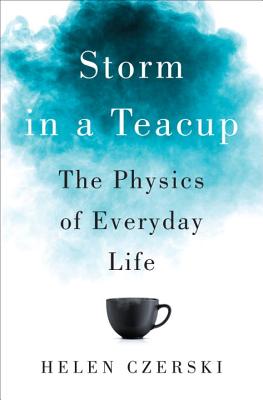 Storm in a Teacup by Helen Czerski Take a look up at the stars on a clear night and you get a sense that the universe is vast and untouchable, full of mysteries beyond comprehension. But did you know that the key to unveiling the secrets of the cosmos is as close as the nearest toaster?
Our home here on Earth is messy, mutable, and full of humdrum, things that we touch and modify without much thought every day. But these familiar surroundings are just the place to look if you're interested in what makes the universe tick. In Storm in a Teacup, Helen Czerski provides the tools to alter the way we see everything around us by linking ordinary objects and occurrences, like popcorn popping, coffee stains, and fridge magnets, to big ideas like climate change, the energy crisis, or innovative medical testing. She guides us through the principles of gases ("Explosions in the kitchen are generally considered a bad idea. But just occasionally a small one can produce something delicious"); gravity (drop some raisins in a bottle of carbonated lemonade and watch the whoosh of bubbles and the dancing raisins at the bottom bumping into each other); size (Czerski explains the action of the water molecules that cause the crime-scene stain left by a  puddle of dried coffee); and time (why it takes so long for ketchup to come out of a bottle).
Along the way, she provides answers to vexing questions: How does water travel from the roots of a redwood tree to its crown? How do ducks keep their feet warm when walking on ice? Why does milk, when added to tea, look like billowing storm clouds? In an engaging voice at once warm and witty, Czerski shares her stunning breadth of knowledge to lift the veil of familiarity from the ordinary. You may never look at your toaster the same way.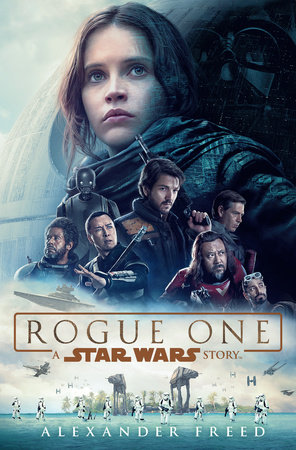 Rogue One: A Star Wars Story by Alexander Freed Go beyond the film with a novelization  featuring new scenes and expanded material.
As the shadows of the Empire loom ever larger across the galaxy, so do deeply troubling rumors. THe Rebellion has learned of a sinister Imperial plot to bring entire worlds to their knees. Deep in Empire-dominated space, a machine of unimaginable destructive power is nearing completion. A weapon too terrifying to contemplate . . . and a threat that may be too great to overcome.
If the worlds at the Empire's mercy stand any chance, it lies with an unlikely band of allies: a resourceful young woman seeking vengeance; a rebel commander on a mission of assassination; a defector from the Empire's military; a blind holy man and his crack-shot companion; and a deadly Imperial droid turned against its former masters. In their hands rests the new hope that could turn the tide toward a crucial Rebellion victory – if only they can capture the plans to the Empire's new weapon.
But even as they race toward their dangerous goal, the specter of their ultimate enemy – a monstrous world unto itself – darkens the skies. Waiting to herald the Empire's brutal reign with a burst of annihilation worthy of its dreaded name: Death Star.
The Final Day by William R. Forstchen Since the detonation of nuclear weapons above the United States more than two years ago, the small town of Black Mountain, North Carolina, has suffered famine, civil war, and countless deaths. Now, after defeating a new, tyrannical federal government, John Matherson and his community intend to restore their world to what it was before the EMP apocalypse.
For the most part, they are succeeding, but this period of relative stability doesn't last long. A new, aggressive government announces that it's taking over and ceding large portions of the country to China and Mexico. The Constitution is no longer in effect, and what's left of the U.S. Army has been deployed to suppress rebellion in the remaining states. John fears he and his town will be targets.
General Bob Scales, John's old commanding officer and closest friend from prewar days, is sent to bring John into line. Will John and his people accept the new, autocratic regime? Or will revolution rip the fledgling nation apart at the seams?
Months before publication, William R. Forstchen's novel One Second After was cited on the floor of Congress as a book all Americans should read. This third book in the series immerses readers once more in the story of our nation's struggle to rebuild itself after an electromagnetic pulse wipes out all electricity and plunges the country into darkness, starvation, and death.
American Hookup by Lisa Wade The hookup is now part of college life. Yet the drunken encounter we always hear about tells only a fraction of the story. Rising above misinformation and moralizing, Lisa Wade offers the definitive account of this new sexual culture and demonstrates that the truth is both more heartening and more harrowing than we thought.
Offering invaluable insights for parents, educators, and students, Wade situates hookup culture within the history of sexuality, the evolution of higher education, and the unfinished feminist revolution. Using new research, she maps out a punishing emotional landscape marked by unequal pleasures, competition for status, and sexual violence. She discovers that the most privileged students tend to like hookup culture the most, and she considers its effects on racial and sexual minorities, students who "opt out," and those who participate ambivalently.
Accessible and open-minded, compassionate and honest, American Hookup explains where we are and how we got here, asking not "How do we go back?" but "Where do we go from here?"
Guardians of the Galaxy: New Guard Wanted by Brian Michael Bendis Is the Marvel universe big enough for two Star-Lords? Find out as the Guardians face a new Galactic order! The Thing might miss some things about Earth, but he does admit that space has its perks. Like riding alien horses into action as Ben Grimm: Space Barbarian! Venom and Groot get in way over their heads fighting Skrulls – and everyone knows when Bendis writes Skrulls, it's bad news! The galaxy's two deadliest warriors, Gamora and Drax, take the fight to the Badoon! And Angela makes her dramatic return! They're the galaxy's most wanted, but they'll still guard it all the same!
Four Perfect Pebbles by Lila Perl and Marion Blumenthal Lazan Marion Blumenthal Lazan's unforgettable memoir recalls the devastating years that shaped her childhood. 
Following Hitler's rise to power, the Blumenthal family – father, mother, Marion, and her brother, Albert – were trapped in Nazi Germany. They managed eventually to get to Holland, but soon thereafter it was occupied by the Nazis. For the next six and a half years the Blumenthals were forced to live in refugee, transit, and prison camps that included Westerbork in Holland and the notorious Bergen-Belsen in Germany. Though they all survived the camps, Walter Blumenthal, the father, succumbed to typhus just after liberation.
It took three more years of struggle and waiting before Marion, Albert, and their mother at last obtained the necessary papers and boarded ship for the United States. Their story is one of horror and hardship, but it is also a story of courage, hope, and the will to survive.
The Romanovs 1613-1918 by Simon Sebag Montefiore This is the intimate story of twenty tsars and tsarinas, some touched by genius, some by madness, but all inspired by holy autocracy and imperial ambition. Simon Sebag Montefiore's gripping chronicle reveals their secret world of unlimited power and ruthless empire-building, overshadowed by palace conspiracy, family rivalries, sexual decadence, and wild extravagance, with a global cast of adventurers, courtesans, revolutionaries and poets, from Ivan the Terrible to Tolstoy and Pushkin, to Bismarck, Lincoln, Queen Victoria, and Lenin.
To rule Russia was both imperial-sacred mission and poisoned chalice: six of the last twelve tsars were murdered. Peter the Great tortured his own son to death while making russia an empire, and dominated his court with a dining club notable for compulsory drunkenness, naked dwarfs, and fancy dress. Catherine the Great overthrew her own husband (who was murdered soon afterward), enjoyed affairs with a series of young male favorites, conquered Ukraine and fascinated Europe. Paul I was strangled by courtiers backed by his own son, Alexander I, who in turn faced Napoleon's invasion and the burning of Moscow, then went on to take Paris. Alexander II liberated the serfs, survived five assassination attempts, and wrote perhaps the most explicit love letters ever composed by a ruler. The Romanovs climaxes with a fresh, unforgettable portrayal of Nicholas II and Alexandra, the rise and murder of Rasputin, war and revolution – and the harrowing massacre of the entire family.
Dazzlingly entertaining and beautifully written from start to finish, The Romanovs brings these monarchs – male and female, great and flawed, their families and courts – blazingly to life. Drawing on new archival research, Montefiore delivers an enthralling epic of triumph and tragedy, love and murder, encompassing the seminal years 1812, 1914, and 1917 that is both a universal study of power and a portrait of empire that helps define Russia today.
Other new books include: Butler's Lives of the Saints (Full Set) by Paul Burns; The Forager's Feast by Leda Meredith; It Was the War of the Trenches by Jacques Tardi; The American Physical Therapy Association Book of Body Maintenance and Repair by Marilyn Moffat, P.T., Ph.D., FAPTA, and Steve Vickery; The Book of Massage by Lucinda Lidell; Hot Stone and Gem Massage by Dagmar Fleck and Liane Jochum; Trigger Point Therapy for Myofascial Pain by Donna Finando, L.Ac., L.M.T., and Steven Finando, Ph.D., L.Ac.; A Teacher's Pocket Guide to School Law: Second Edition by Nathan L. Essex; Foundations of Assessment in Early Childhood Special Education by Effie P. Kritikos, Phyllis L. LeDosquet, and Mark E. Melton; Multicultural Education of Children and Adolescents by M. Lee Manning and Leroy G. Baruth; Master the ASVAB Basics: Targeted Test Prep to Jump-Start Your Career; Mental Retardation: Historical Perspectives, Current Practices, and Future Directions by Ronald L. Taylor, Stephen B. Richards, and Michael P. Brady; Sod-House Days: Letters from a Kansas Homesteader 1877-78 by Howard Ruede; 9/11 The Simple Facts: Why the Official Story Can't Possibly Be True by Arthur Naiman; The 9/11 Report: A Graphic Adaptation by Sid Jacobson and Ernie Colon; The Eleventh Day: The Full Story of 9/11 by Anthony Summers and Robbyn Swan
MOVIES:
Stay safe and we'll see you soon!! 🙂