Happy March, DC3!! To start off the month right, grab one of our new games for a little family game night or get-together with your friends! If you're in the mood for something new to read, we've got you covered, there, too! Here are our latest titles:
NEW BOOKS:
Dodge City by Tom Clavin Dodge City, Kansas, is a place of legend. The town that started as a small military site exploded with settlers, and various entrepreneurs passing through to populate the expanding West. Before long, Dodge City's streets were lined with saloons and brothels and its populace was thick with gunmen, horse thieves, and desperadoes of every sort. By the 1870's, Dodge City was known as the most violent and turbulent town in the West.
Enter Wyatt Earp and Bat Masterson. Young and largely self-trained, the lawmen led the effort that established frontier justice and the rule of law in the American West, and did it in hte wickedest place in the United States. When they moved on, Wyatt to Tombstone and Bat to Colorado, a tamed Dodge was left in the hands of Jim Masterson. But before long, Wyatt and Bat, each having had a lawman brother killed, returned to that threatened western Kansas town to team up to restore order again in what became known as the Dodge City War before riding off into the sunset.
Number one New York Times bestselling author Tom Clavin's Dodge City tells the true story of their friendship, romances, gunfights, and adventures, along with the remarkable cast of characters they encountered (including Wild Bill Hickok, Jesse James, Doc Holliday, Buffalo Bill Cody, John Wesley Hardin, Billy the Kid, and Theodore Roosevelt) that has gone largely untold – lost in the haze of Hollywood films and Western fiction until now.
Rise of Fire by Sophie Jordan A love that binds. A kingdom that divides.
Luna and Fowler may have fled the kingdom of Relhok, but darkness still prevails. When a battle against the dark dwellers mortally injures Fowler, Luna is faced with a choice: put their fate in the hands of mysterious strangers or risk losing Fowler forever.
Desperate to keep the one bright part of her life alive, Luna accepts the help of soldiers from a nearby kingdom. Lagonia's mountainside castle offers reprieve from the dangerous outside world – until the king discovers both Fowler's and Luna's true ties to Relhok and their influence over the throne.
Now pawns in each kingdom's political game, Luna and Fowler are more determined than ever to escape and build the life they've been dreaming of. But their pasts have a tight hold on their hearts and their destinies. Luna must embrace the darkness and fire within her before she loses not only Fowler, but the power she was destined to inherit.
#famous by Jilly Gagnon Rachel Ettinger has flown under the radar for most of high school, exactly as planned. She'd rather focus on getting to New York City, where being the arty playwright is a bonus, not a drawback. Her googly-eyed crush on Kyle Bonham is embarrassing but unimportant. After all, there's no way she'd ever end up with the King of Apple Prairie High, anyway.
Kyle does make a grease-splattered Burger Barn uniform look dreamy. But aside from flipping patties – and riding the tide of steady drama from his on-again, off-again girlfriend – everything about his life is fairly predictable. 
So when Rache's jokey picture of Kyle winds up going viral, they're both taken by surprise. Suddenly Kyle is insta-famous and everyone on the planet knows about Rachel's silly crush . . . including Kyle. 
Just as they think their lives couldn't get any more complicated, their fifteen minutes of fame spirals out of control. And what starts out with an innocent photo becomes a whirlwind adventure full of fangirls, haters, and french-fry bouquets that forces them both to question whether fame – and love – is worth the price.
Told in alternating points of view, #famous is is a modern-day love story about the out-of-control thrill ride of falling for someone in front of everyone.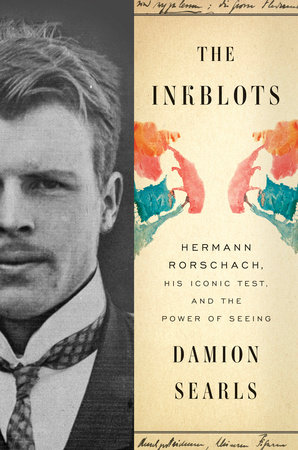 The Inkblots by Damion Searls The captivating, untold story of Hermann Rorshach and his famous inkblot test.
In 1917, working alone in a remote Swiss asylum, psychiatrist Hermann Rorschach devised an experiment to probe the human mind: a set of ten carefully designed inkblots. For years he had grappled with the theories of Freud and Jung while also absorbing the aesthetic movements of the day, from Futurism to Dadaism. A visual artist himself, Rorschach had come to believe that who we are is less a matter of what we say, as Freud thought, than what we see.
After Rorschach's early death, his test quickly made its way to America, where it took on a life of its own, Co-opted by the military after Pearl Harbor, it was a fixture at the Nuremberg trials and in the jungles of Vietnam. It became an advertising staple, a cliche in Hollywood and journalism, and an inspiration to everyone from Andy Warhol to Jay Z. The test was also given to millions of defendants, job applicants, parents in custody battles, and people suffering from mental illness or simply trying to understand themselves better. and it is still used today.
In this first-ever biography of Rorschach, Damion Searls draws on unpublished letters and diaries and a cache of previously unknown interviews with Rorschach's family, friends, and colleagues to tell the unlikely story of the test's creation, its controversial reinvention, and its remarkable endurance – and what it all reveals about the power of perception. Elegant and original, The Inkblots shines a light on the twentieth century's most visionary synthesis of art and science.
Star Wars, Aftermath: Empire's End by Chuck Wendig The Battle of Endor shattered the Empire, scattering its remaining forces across the galaxy. But the months following the Rebellion's victory have not been easy. The fledgling New Republic has suffered a devastating attack from the Imperial remnant, forcing the new democracy to escalate their hunt for the hidden enemy.
For her role in the deadly ambush, Grand Admiral Rae Sloane is the most wanted Imperial war criminal – and one-time rebel pilot Norra Wexley, back in service at Leia's urgent request, is leading the hunt. But more than just loyalty to the New Republic drives Norra forward: Her husband was turned into a murderous pawn in Sloane's assassination plot, and now she wants vengeance as much as justice. 
But Sloane, too, is on a furious quest: pursuing the treacherous Gallius Rax to the barren planet Jakku. As the true mastermind behind the Empire's devastating attack, Rax has led the Empire to its defining moment. The cunning strategist has gathered the powerful remnants of the Empire's war machine, preparing to execute the late Emperor Palpatine's final plan. As the Imperial fleet orbits finish what began at Endor. Norra and her crew soar into the heart of an apocalyptic clash that will leave land and sky alike scorched. And the future of the galaxy will finally be decided.
L
ong May She Reign by Rhiannon Thomas Freya was never meant to be queen. Twenty-third in line to the throne, she never dreamed of a life in the palace, and would much rather research in her laboratory than participate in the intrigues of the court. However, when an extravagant banquet turns deadly and the king and those closest to him are poisoned, Freya suddenly finds herself on the throne.
She may have escaped the massacre, but she is far from safe. The nobles don't respect her, her councillors want to control her, and with the mystery of who killed the king still unsolved, she knows that a single mistake could cost her the kingdom – and her life.
Freya is determined to survive, and that means uncovering the murderers herself.  Until then, she can't trust anyone. Not her advisers. Not the king's dashing and enigmatic illegitimate son. Not even her own father, who always wanted the best for her but also wanted more power for himself.
As Freya's enemies close in and her loyalties are tested, she must decide if she is ready to rule and, if so, how far she is willing to go to keep the crown.
Unshakeable by Tony Robbins What would it be like if you knew that no matter what happened in the economy, the stock market, or real estate, you and your family would not only survive but thrive – that you could not only protect yourself, but actually profit from the very environment that causes so many to live in fear?
In a world of such uncertainty, millions of people no longer believe that it's even possible for them to achieve true financial security and independence. Yet a select few, the experts with a track record of successfully navigating every economic environment, have proven that there's no reason to fear. They know that tough economic times are those rare lifetime opportunities where even an average person can leapfrog from financial struggle to financial freedom. In this book, Tony Robbins reveals their strategies with simple step-by-step instructions, inspiring stories, and compelling insights.
Unshakeable will not only help you take advantage of the opportunities, but keep you from making the mistakes that cause people to settle for a life of far less than they deserve.
NEW GAMES:
COMING SOON (MARCH 7th):
Lies We Believe About God by William Paul Young In his wildly popular novels, The Shack, Cross Roads, and Eve, Wm. Paul Young portrayed the Triune God in ways that challenged and enlightened our thinking – sometimes upending long-held beliefs, but always centered in the eternal, all-encompassing nature of God's love.
Now, in Paul Young's first nonfiction book, he again invites us to revisit our assumptions about God – this time using the Bible, theological discussion, and personal anecdotes. Paul encourages us to think through beliefs we've presumed to be true and consider whether some might actually be lies.
In these pages, you are invited to consider again the wonder and love of our eternal God. Below are just a few of the "lies" reviewed in this book:
God is not good.
God blessed by politics.
God is disappointed in me.
God created (my) religion.
God is not involved in my suffering.
God is One alone.
The goal of this book is not controversy but conversation. Mostly, it's about the unconditional, relentless, and everlasting love of God.
The Roanoke Girls by Amy Engel After her mother's suicide, fifteen-year-old Lane Roanoke moved in with her grandparents and fireball cousin, Allegra, on their vast estate in rural Kansas. Lane knew little of her mother's mysterious family but quickly embraced life as one of the rich and beautiful Roanoke girls until she discovered the dark truth at the heart of the family and ran . . . fast and far away.
Eleven years later, Lane is adrift in Los Angeles when her grandfather calls to tell her Allegra has gone missing. Did she run too? Or something worse? Unable to resist his pleas, Lane returns to help search and to ease her guilt at having left Allegra behind. Her homecoming may mean a second chance with summer, but it also means facing the devastating secret that made her flee, one she might not be strong enough to run from again.
As it weaves between Lane's first Roanoke summer and her return, The Roanoke Girls shocks and tantalizes, exploring the secrets families keep and the fierce and terrible love that both binds them together and rips them apart.
How the Hell Did This Happen? by P.J. O'Rourke This election cycle was so absurd that celebrated political satirist, journalist, and die-hard Republican P.J. O'Rourke endorsed Democratic candidate Hillary Clinton. As P.J. put it, "America is experiencing the most severe outbreak of mass psychosis since the Salem witch trials of 1692. So why not put Hillary on the dunking stool?"
In his latest book, P.J. brings his critical eye and inimitable voice to some seriously risky business. Starting in June 2015, he asks, "Who are these jacklegs, highbinders, wire-pullers, mountebanks, swellheads, buncombe spigots, boodle artists, four-flushers, and animated spittoons offering themselves as worthy of America's highest office?" and surveys the full cast of presidential candidates including everyone you've already forgotten (Lincoln Chafee – "Fresh Ideas for America," George Pataki – "People Over Politics") and everyone you wish you could forget.
P.J. offers a brief history of how our insane process for picking who will run for president evolved, from the very first nominating convention (thanks Anti-Masonic Party) through the reforms of the Progressive era (because there's nothing that can't be worsened by reform) to the present, concluding: "Consistency is not a hallmark of American politics, but exceptions are made when the constant is stupidity. Today's primaries are as stupid as they've always been." He takes us through the debates and key primaries and analyzes everything from the campaign platforms (or lack thereof) to presidential style ("Trump's appearance – indeed, Trump's existence – is a little guy's idea of living large. A private plane! A swell joint in Florida! Gold-plated toilet handles!). And he rises from the depths of despair to come up with a better way to choose a president (start by asking "Which candidate would I go on a road trip with?"). Following his come-to-Satan moment with Hillary and the Beginning of End Times in November, P.J. reckons with a new age: "America is experiencing a change in the nature of leadership. We're getting rid of our leaders. And we're starting at the top."
We'll see you soon!