We have a handful of new books coming out, to brighten up your week! Also, don't forget to mark your calendars for Saturday, April 29th, from 12:00 PM to 6:30 PM when we will be partnering with Nerd Union to bring you International Tabletop Day! We have over 50 games to choose from, ranging from classic to contemporary. There's sure to be something for everyone! All students, faculty, staff, and community members ages 16+ are invited to attend.
St
ar Wars: Thrawn by Timothy Zahn One of the more cunning and ruthless warriors in the history of the Galactic Empire, Grand Admiral Thrawn is also one of the most captivating characters in the Star Wars universe. From his introduction in bestselling author Timothy Zahn's classic Heir to the Empire through his continuing adventures in Dark Force Rising, The Last Command, and beyond, Grand Admiral Thrawn has earned an iconic status among the greatest Star Wars villains. But Thrawn's origins and the story of his rise in the Imperial ranks have remained mysterious. Now, in Star Wars: Thrawn, Timothy Zahn chronicles the fateful events that launched the blue-skinned, red-eyed master of military strategy and lethal warfare into the highest realms of power – and infamy.
After Thrawn is rescued from exile by Imperial soldiers, his deadly ingenuity and keen tactical abilities swiftly capture the attention of Emperor Palpatine. And just as quickly, Thrawn proves to be as indispensiable to the Empire as he is ambitious; as devoted as its most loyal servant, Darth Vader; and a brilliant warrior never to be underestimated. On missions to rout smugglers, snare spies, and defeat pirates, he triumphs time and again – even as his renegade methods infuriate superiors while inspiring ever greater admiration from the Empire. As one power, he schools his trusted aide, Ensign Eli Vanto, in the arts of combat and leadership, and the secrets of claiming victory. But even though Thrawn dominates the battlefield, he has much to learn in the arena of politics, where ruthless administrator Arihnda Pryce holds the power to be a potent ally or a brutal enemy.
All these lessons will be put to the ultimate test when Thrawn rises to admiral and must pit all the knowledge, instincts, and battle forces at his command against an insurgent uprising that threatens not only innocent lives but also the Empire's grip on the galaxy – and his own carefully laid plans for future ascendancy.
Drain the Swamp by Ken Buck Lavish parties, Committee chairmanships for sale. Pay-to-play corruption. Backroom arm-twisting. Votes on major legislation going to the highest bidder.
Congressman Ken Buck blows the whistle on the real-life House of Cards that is our nation's capital.
Elected in 2014 in one of the largest Republican freshman classes ever, Buck quickly discovered why nothing gets done in Congress – and it isn't because of political gridlock.
In fact, Republicans and Democrats work together all too well to fleece taxpayers and plunge America deeper into debt.
Buck has witnessed first-hand how the unwritten rules of Congress prioritize short-term political gain over principled leadership. When he tangled with Washington power brokers like former Speaker John Boehner, he faced petty retaliation. When he insisted Republicans keep their word to voters, he was berated on the House floor by his own party's leaders. When other members of Congress dared to do what they believed to be right for American instead of what the party bosses commanded, Buck saw them stripped of committee positions and even had to defend his position as freshman class president. 
In Drain the Swamp, you'll learn:
What really goes on behind congressional closed doors – and Buck names names.
How committee chairmanships are bought
Why one-third of the discretionary spending in the federal budget is actually illegal – and could be cut immediately
The constitutional remedy just waiting to be used that could drain the swamp of Washington corruption faster than anything else.
BONUS: Why you're not powerless – what you, the American voter, can do to make your voice heard.
Shocking in its revelations, but practical in its plans for reform, Ken Buck's book Drain the Swamp is the one book you need to understand how President Trump's campaign slogan could become a reality.
The Gatekeepers by Chris Whipple Since George Washington, presidents have depended on the advice of key confidants. But it wasn't until the twentieth century that the White House chief of staff became the second most powerful job in government. Unelected and unconfirmed, the chief serves at the whim of the president, hired and fired by him alone. He is the president's closest adviser and the person he depends on to execute his agenda. He decides who gets to see the president, negotiates with Congress, and – most crucially – enjoys unparalleled access to the life-and-death decision , often the chief of staff is the only other person in the room. Each chief can make or break an administration, and each president reveals himself by the chief he picks.
Through extensive, intimate interviews with all  seventeen living chiefs and two former presidents, award-winning journalist and producer Chris Whipple pulls back the curtain on this unique fraternity, whose members have included Rahm Emanuel, Dick Cheney, Leon Panetta, and Donald Rumsfeld. In doing so, he revises our understanding of presidential history, showing us how James Baker and Panetta skillfully managed the presidencies of Ronald Reagan and Bill Clinton, ensuring their reelections – and, conversely, how Jimmy Carter never understood the importance of a chief, crippling his ability to govern. From Watergate to Iran-Contra to the Monica Lewinsky scandal to the Iraq War, Whipple shows us how the chief of staff can make the difference between success and disaster. 
As an outsider president tries to govern after a bitterly divisive election, The Gatekeepers could not be more timely. Filled with shrewd analysis and never-before-reported details, it is a compelling history that changes our perspective on the presidency.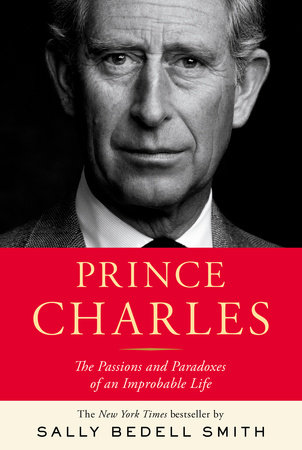 Prince Charles by Sally Bedell Smith Sally Bedell Smith returns once again to the British royal family to give us a new and authoritative look at Prince Charles, the oldest heir to the throne in more than three hundred years. This vivid, eye-opening biography – the product of four years of research and hundreds of interviews with palace officials, former girlfriends, spiritual gurus, and more – is filled with fresh insights into Charles's life, in and out of the public eye.
Prince Charles brings to life the real man, with all of his ambitions, insecurities, and convictions. It begins with his lonely childhood, in which he struggled to live up to his father's expectations and sought companionship from the Queen Mother and his great-uncle Lord Mountbatten. It follows him through difficult years at school, his early love affairs, his intellectual quests, his entrepreneurial pursuits, and his intense search for spiritual meaning. It tells of the tragedy of his marriage to Diana; his eventual reunion with his true love, Camilla; and his relationship with William, Kate, Harry, and his grandchildren.
Ranging from his glamorous palaces to his country homes, from his globe-trotting travels to his local initiatives, Smith shows how Prince Charles possesses a fiercely independent spirit and yet has spent more than six decades waiting for his destined role. His life is dictated by protocol, yet he often struggles to obey it. He seeks influence and authority, yet he lives perpetually in the shadow of his mother and the beloved next generation of royals. With keen insight and the discovery of unexpected new details, Smith lays bare the contradictions of a man who is more complicated, tragic, and compelling than we knew, until now.
This is the first authoritative treatment of Charles's life that shed light on the death of Diana, his marriage to Camilla, and his preparations to take the throne one day. Drawing upon hundreds of sources, many of whom are speaking on the record for the first time, Prince Charles is the surprising and definitive portrait of the man who will be king.
My Fellow Soldiers From the New York Times bestselling author of War Letters and Behind the Lines, Andrew Carroll's My Fellow Soldiers draws on a rich trove of both little-known and newly uncovered letters and diaries to create a marvelously vivid and moving account of the American experience in World War I, with General John Pershing featured prominently in the foreground.
Andrew Carroll's intimate portrait of General Pershing, who led all of the American troops in Europe during World War I, is a revelation. Given a miltary force that, on the even of its entry into the war, was downright primitive compared with the European combatants, the general had to surmount enormous obstacles to build an army and ultimately command millions of U.S. soldiers. But Pershing himself – often perceived as a harsh, humorless, and wooden leader – concealed inner agony from those around him: almost two years before the United States entered the war, Pershing suffered a personal tragedy so catastrophic that he almost went insane with grief and remained haunted by the loss for the rest of his life, as private and previously unpublished letters he wrote to family members now reveal. Before leaving for Europe, Pershing also had a passionate romance with George Patton's sister, Anne. But once he was in France, Pershing fell madly in love with a young painter named Micheline Resco, whom he later married in secret.
Woven throughout Pershing's story are the experiences of a remarkable group of American men and women, both the famous and the unheralded, including Harry Truman, Douglas MacArthur, William "Wild Bill" Donovan, Teddy Roosevelt, and his youngest son, Quentin. The chorus of these voices, which begins with the first Americans who enlisted in the French Foreign Legion as well as those who flew with the Lafayette Escadrille, makes the high stakes of this epic American saga piercingly real, demonstrating the war's profound impact on the individuals who served – both during the conflict and in the years after – with extraordinary humanity and emotional force.
We'll see you soon! 🙂