We hope you are enjoying your summer, DC3! Beat the heat by coming into the Library and checking out one of our new books!
Undoctored by William Davis, MD In his New York Times bestseller Wheat Belly, Dr. William Davis changed the lives of millions of people by teaching them to remove grains from their diets to reverse years of chronic health damage. Now, he goes beyond cutting grains to help you take charge of your own health in Undoctored. This groundbreaking expose reveals how millions of people are given dietary recommendations crafted by big business, are prescribed unnecessary medications, and undergo unwarranted procedures to feed revenue-hungry healthcare systems.
With Undoctored, the code to health care has been cracked – Dr. Davis will help you create a comprehensive program to reduce, reverse, and cure hundreds of common health conditions and break your dependence on prescription drugs. By applying simple strategies while harnessing the collective wisdom of new online technologies, you can break free of a healthcare industry that puts profits over health.
Undoctored is the spark of a new movement in health that places the individual, not the doctor, at the center. His plan contains features like:
A step-by-step guide to eliminating prescription medications
Tips on how to distinguish good medical advice from bad.
42 recipes to guide you through the revolutionary 6-week program
Undoctored gives you all the tools you need to manage your own health and sidestep the misguided motives of a profit-driven medical system.
Women Who Work by Ivanka Trump Our grandmothers fought for the right to work. Our mothers fought for the choice to be in an office or to stay at home. Our generation is the first to fully embrace and celebrate the fact that our lives are multidimensional. Thanks to the women who came before us and paved the way, we can create the lives we want to lead- which look different for each of us.
I've been fortunate to be able to build my career around my passions, from real estate to fashion. But my professional titles only begin to describe who I am and what I value. I have been an executive and an entrepreneur, but also – and just as importantly – a wife, mother, daughter, and friend. To me, "work" encompasses my efforts to succeed in all of these areas.
After appearing on The Apprentice years ago and receiving a flood of letters from young women asking for guidance, I realized the need for more female leaders to speak out publicly in order to change the way society thinks and talks about "women who work." So I created a forum to do just that. This book evolves the conversation that started on IvankaTrump.com, where so many incredible women (and men!) have shared their exdperiences, advice, ambitions, and passions.
Women who work lead meetings and train for marathons. We learn how to cook and how to code. We inspire our employees and our children. We innovate at our current jobs and start new businesses.
Women Who Work will equip you with the best skills I've learned from some amazing people I've met, on subjects such as identifying opportunities, shifting careers smoothly, negotiating, leading teams, starting companies, managing work and family, and helping change the system to make it better for women – now and in the future. I hope it will inspire you to redefine success and architect a life that honors your individual passions and priorities, in a way only you can.
D
inner with DiMaggio by Dr. Rock Positano and John Positano Dinner with DiMaggio is the story of the remarkable friendship between American icon Joe DiMaggio and Dr. Rock Positano, who became DiMaggio's most trusted friend in New York in the last decade of the Yankee Clipper's life.
In 1990, Positano, a foot and ankle specialist at New York's Hospital for Special Surgery, was awed to meet a new patient, Joe DiMaggio. Botched surgery on DiMaggio's right heel had contributed to his early retirement, and that heel had continued to bother him for decades. After Positano successfully treated DiMaggio, the relationship between the two men deepened beyond doctor and patient. Both from working-class Italian families, the men shared similar values and greatly respected each other's work ethic.
Even though Positano was too young to have seen DiMaggio play baseball, he became Joe's confidant. When Joe was in town, Positano escorted him around New York and helped him to enjoy the city as he could not have done at the height of his career. Over frequent dinners, the very private DiMaggio opened up about some of the happiest – and darkest – moments of his life, from his playing days with the Yankees to his brief marriage to Marilyn Monroe to his troubled relationship with his son. Many of the stories Joe told Positano are little known. Joe became a father to Positano and trusted his young friend to protect him from unwanted intrusions.
As close as they were, Positano, like everyone else, had to respect Joe's rules: jacket and tie at dinner and public events, strangers forbidden at the table unless Joe had cleared them in advance, no unexpected deviations from a plan, and, most important, no questions about his personal life. Positano saw up close how celebrity had led the start to compartmentalize his life so that no one person knew everything about him. He fiercely guarded his image. Only children seemed to melt Joe's icy reserve, perhaps because of his regrets about his estrangement from his only son and his fondness for his granddaughters and great-granddaughters.
Dinner with DiMaggio is an intimate account of how a celebrated icon overcame his suspicions that people always wanted something from him to forge a trusting relationship, as told by the friend who came to know him as well as anyone could.
Deadmen Walking by Sherrilyn Kenyon To catch evil, takes evil.
Enter Devyl Bane – an ancient warlord who has absolutely no love of humanity. Yet to return to the human realm as one of the most notorious pirates in the Spanish Main for the sake of vengeance, he makes a bitter bargain with Thorn – an immortal Hellchaser charged with battling the worst monsters the ancient gods ever releasedinto our world. Monsters and demons Bane himself once commanded against Thorn and the humans.
For aeons, those demons have been locked behind enchanted gates . . . which are starting to buckle. Now, Bane, with a vicious crew of Deadmen at his command, is humanity's last hope to restore the gates and return the damned to their eternal prisons.
But things are never so simple. And one of his biggest vexations, aside from keeping his crew from killing one another before they have a chance to save humanity, is the very ship he sails upon. For Mara, the Sea Witch isn't just a vessel: she's also a woman born of an ancient race Bane helped to destroy. And sister to the possessed creature who is one of the worst of those trying to break through to claim his soul and retake the world. 
Mara's innate hatred of him makes the very fires of hell look like a sauna –  not that he blames her. Centuries of war and betrayal divide them. But if Mara can't find the humanity inside the Devyl and the Devyl can't teach Mara to embrace her darker side for the good of their crew and the world, the two of them will go down in flames and take us all with them.
Deadmen Walking is the first historical fantasy title in #1 New York Times bestselling author Sherrilyn Kenyon's Deadman's Cross series. It is a fiery tale of betrayal, loss, emotions that wound and heal . . . and ultimate redemption.
Silver Like Dust by Kimi Cunningham Grant Kimi Grant's Obaachan, her grandmother, had always been a silent presence throughout her youth. Sipping tea by the fire or preparing sushi for the family, Obaachan was a missing link to Kimi's Japanese heritage, something she had had a mixed relationship with all her life. Growing up in rural Pennsylvania, all Kimi ever wanted was to fit in, spurning traditional Japanese culture and her grandfather's attempts to teach her the language.
Yet one thing haunted Kimi – her gentle yet proud Obaachan was once a prisoner, along with 112,000 Japanese-Americans. Obaachan never spoke of those years. It was a source of haji, or shame. But what really happened to Obaachan, then a young woman, and the thousands of other men, women, and children like her?
From the turmoil, racism, and paranoia that sprang up after the bombing of Pearl Harbor, to the terrifying train ride to Heart Mountain, Silver Like Dust captures a vital chapter of the Japanese-American experience through the journey of one remarkable woman and the enduring bonds of family.
Keep Moving by Dick Van Dyke You don't have to act your age. You don't even have to feel it. And if it does attempt to elbow its way into your life, you do not have to pay attention. If I am out shopping and hear music playing in a store, I start to dance. If I want to sing, I sing. I read books and get excited about new ideas. I enjoy myself. I don't think about the way I am supposed to act at my age – or at any age. As far as I know, there is no manual for old age. There is no test you have to pass. There is no way you have to behave. There is no such thing as 'age appropriate.'
When people ask my secret to staying youthful at an age when getting up and down from your chair on your own is considered an accomplishment, you know what I tell them?
Keep moving.
Our Crime Was Being Jewish by Anthony S. Pitch In the shouted words of a woman bound for Auschwitz to a man about to escape from a cattle car, "If you get out, maybe you can tell the story! Who else will tell it?"
Our Crime Was Being Jewish contains 576 vivid memories of 358 Holocaust survivors. These are the true, insider stories of victims, told in their own words. They include the experiences of teenagers who saw their parents and siblings sent to the gas chambers; of starving children beaten for trying to steal a morsel of food; of people who saw their friends commit suicide to save themselves from the daily agony they endured. The recollections are from the start of the war—the home invasions, the Gestapo busts, and the ghettos—as well as the daily hell of the concentration camps and what actually happened inside.
Six million Jews were killed in the Holocaust, and this hefty collection of stories told by its survivors is one of the most important books of our time. It was compiled by award-winning author Anthony S. Pitch, who worked with sources such as the United States Holocaust Memorial Museum to get survivors' stories compiled together and to supplement them with images from the war. These memories must be told and held onto so what happened is documented; so the lives of those who perished are not forgotten—so history does not repeat itself.
Among the Enemy by Sam Genirberg  Sasha, a Jewish youth from Ukraine, runs from the Dubno ghetto in October of 1942, at the urging of his mother, who knows that any day the Germans will come for them and kill them. To survive, he uses falsified identity documents to join a transport of non-Jews conscripted for compulsory labor in Germany. In the homeland of his enemy, he hides in plain sight for almost three years.
He is repeatedly forced to flee when suspicions and rumors that he might be Jewish threaten his life. Each day he faces new challenges: whether he is being questioned by the Gestapo after running away from a job or being examined by a German physician who may well discover that he is circumcised.
He lives with the loneliness and isolation of not being able to share with anyone the secret of who he really is, as well as his daily fear of being discovered. He must constantly remain on guard with everyone: his co-workers, his German bosses, and even the woman who professes to love him.
This incredible memoir documents one young man's determination to remain alive during the Holocaust. It is a narrative of anguish, identity confusion, triumph over adversity, and ultimately a final escape to the West to reclaim the identity and ideals of his youth.
Giant of the Senate by Al Franken  This is a book about an unlikely campaign that had an even more improbable ending: the closest outcome in history and an unprecedented eight-month recount saga, which is pretty funny in retrospect.
It's a book about what happens when the nation's foremost progressive satirist gets a chance to serve in the United States Senate and, defying the low expectations of the pundit class, actually turns out to be good at it.
It's a book about our deeply polarized, frequently depressing, occasionally inspiring political culture, written from inside the belly of the beast.
In this candid personal memoir, the honorable gentleman from Minnesota takes his army of loyal fans along with him from Saturday Night Live to the campaign trail, inside the halls of Congress, and behind the scenes of some of the most dramatic and/or hilarious moments of his new career in politics.
Has Al Franken become a true Giant of the Senate? Franken asks readers to decide for themselves.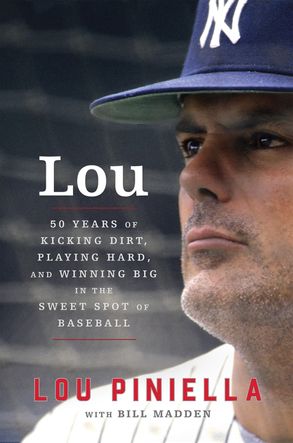 Lou by Lou Piniella with Bill Madden 
For over fifty years, Lou Piniella has been a fixture in Major League Baseball, making a name for himself first as a player on the legendary New York Yankees of the 1970s and later as a manager for five different teams: the Yankees, the Reds, the Mariners, the Rays, and the Cubs.
Now, in this raucous and entertaining memoir, Piniella opens up about his lifetime in the game, telling never-before-heard stories about electrifying wins, painful losses, and why sometimes your only option is to get in an umpire's face. Tracing his baseball life from its journeyman beginnings in the minors, he discusses how he came of age as a player during the wild years of the Bronx Zoo, when personalities like Reggie Jackson, Thurman Munson, Catfish Hunter, and Billy Martin made the Yankee locker room the most controversial and colorful place in baseball. With surprising  candor, he details his close yet often contentious reltionship with George Steinbrenner, offering a unique portrait of one of the game's most provocative figures, a man who mentored and supported Lou as a player and a manager while ultimately making life with the Yankees unsustainable for him. 
Stormy as his time in New York was, it was only the start of Lou's fiery career. From managing the Cincinnati Reds and their divisive owner, Marge Schott, to a World Series win, to transforming the perennially cellar-dwelling Seattle Mariners into one of the league's best teams, he recalls his experiences—both hilarious and heartbreaking—with some of the brightest stars from the last twenty-five years, including Ken Griffey Jr., Randy Johnson, and Ichiro Suzuki. For the first time, Lou also describes his important but little-known friendship with Alex Rodriguez, sharing how they formed a connection early in Alex's time with Seattle that spanned decades, teams, and scandals, as Lou  helped Alex through his most tumultuous episodes.
Whether facing the difficulties of managing his home team in Tampa Bay or helping the Cubs win back-to-back division championships, Lou brings an unforgettable and feisty voice to his rollercoaster ride of a career, going inside the fights, pranks, and seemingly impossible comebacks that defined every Lou Piniella team. Featuring a huge cast of Hall of Fame characters and uproarious stories from three generations of baseball, Lou offers a bridge to a rapidly disappearing era, a time when baseball was a bit more fun, when passion was a virtue, and when kicking a bit of dirt on an umpire was good for everyone.
Composed by Rosanne Cash For over three decades, Rosanne Cash has been one of the most compelling figures in popular music, having moved gracefully from Nashville stardom to acclaim as a singer-songwriter and author of essays and short stories. Her remarkable body of work has often been noted for its emotional acuity, its rich and resonant imagery, and its unsparing honesty. Those qualities have enabled her to establish a unique intimacy with her audiences, and it is those qualities that inform her long-awaited memoir.
Composed is the story of an artist finding her voice – both figuratively and literally – in the context of her family legacy, of the commercial imperatives of the music business, and of a desire to preserve some measure of privacy in a life that has been too often subjected to public scrutiny. Beginning with a childhood spent on an almost surreal, snake-infested Southern California hilltop, Cash traces her fraught relationship with her father, country legend Johnny Cash, whose frequent absences and struggles with drugs left her mother, Vivian, disappointed and bitter. She shares her memories of a comical stint at a job in London, a hapless twenty-year-old desperate to find her own style, and of cutting her own first record on a German label. She recalls gradually working her way to chart-topping success, her marriage to Rodney Crowell – a union that made them country music's premier couple – and the composition and recording of the landmark album Interiors. After leaving Nashville and Crowell for New York, she confronts the loss of her parents, charting the course of her mourning through music, and finds fulfillment in motherhood and in her husband and musical collaborator, John Leventhal.
As moving, disarming, and elusive as one of her classic songs, Composed is Rosanne Cash's luminous testament to the power of art, tradition, and love to transform a life.
Why the West Was Wild by Nyle H. Miller and Joseph W. Snell Nyle H. Miller and Joseph W. Snell's Why the West Was Wild is the unabridged and unsurpassed collection of material assembled on the famous and infamous personalities of Kansas cowtowns, including legendary figures such as "Wild Bill" Hickok, Bat Masterson, and Doc Holliday, and such locales as Abilene, Wichita, Caldwell, and Dodge City. First published by the Kansas State Historical Society, these portraits are based on research in newspapers, legal records, letters, and diaries contemporary to these legendary figures. This anniversary volume is the first complete edition to appear in forty years.
The Train to Crystal City by Jan Jarboe Russell From 1942 to 1945, secret government trains regularly delivered US civilians to Crystal City, a small desert town at the southern tip of Texas. The trains carried Japanese, German, and Italian immigrants and their American-born children. The vast majority were deeply loyal to the United States, were never charged with any crime, and did not understand why they had been forced to leave their homes. 
The only family internment camp during World War II, Crystal City was the center of a secret government prisoner exchange program. During the war, hundreds of prisoners in Crystal City, including their children, were exchanged for other, ostensibly more important Americans – diplomats, businessmen, soldiers, physicians, and missionaries – behind enemy lines in Japan and Germany.
Haunted by the story for decades, Jan Jarboe Russell interviewed more than fifty living internees from the camp and gained access to private journals, diaries, FBI files, camp administration records, and other documents. Focusing her story on two American-born teenage girls, Russell assembles a vivid reconstruction of their years spent in the camp, their families' subsequent respective journeys to war-devastated Germany and Japan, and their years-long attempt to survive and return to the United States. Their stories of day-to-day life at the camp, from the ten-foot-high security fence to the armed guards, daily roll call, and censored mail, have never been told.
The Train to Crystal City reveals the wartime hysteria against the Japanese and Germans in America, FDR's secret tactics to rescue POWs in Germany and Japan, how the definition of American citizenship changed under the pressure of war, and, above all, a tale of resilience and patriotism against overwhelming odds.
Survival in the Shadows by  Barbara Lovenheim In January 1943, unable to flee Germany, the four members of the Arndt family went underground to avoid deportation to Auschwitz. Ellen Lewinsky, and her mother, Charlotte, joined them; a year later, Bruno Gumpel arrived. Hiding in a small factory near Hitler's bunker, without identification cards or food-ration stamps, they were dependent on German strangers for survival.
When Russian soldiers finally rescued the group in April 1945, the families were near death from starvation. But their will to live triumphed and two months later, four of the survivors – Erich Arndt and Ellen Lewinsky, and Ruth Arndt and Bruno Gumpel – reunited in a double wedding ceremony.
Survival in the Shadows chronicles the previously untold story of the largest group of German Jews to have survived hiding in Berlin through the final and most deadly years of the Holocaust.
As told to author Barbara Lovenheim by three members of the group, this is a riveting and touching portrayal of the bravery of these seven Jews, and a heartfelt acknowledgement of the fortitude and humanity of the compassionate Germans who kept them alive.
Ernest Hemingway by Mary V. Dearborn His writing was taken up with notions of human dignity and worth, "the necessity of man's freedom, of personal honor," notions by which a man should live and die in a world that had lost the possibility of hope. ("In life, one must [first of all] endure," said Hemingway.)
Mary V. Dearborn's is the first full biography of Hemingway in more than fifteen years, the first to be written by a woman, the first to fully explore the causes of his suicide and to substantially deepen our understanding of the man, the artist, the self-created larger-than-life force who became Ernest Hemingway.
Drawing on newly available materials – among them, the vast collection of papers left behind when Hemingway fled Cuba in 1960; his medical records; his complete FBI file detailing his wartime experience; the newly opened files of the KGB; the papers of his mistress, and those of his sister revealing the profound turmoil of the Hemingway family, as well as the previously overlooked letters of his mother, Grace, opera singer and painter, whose startling and illuminating correspondence reveals her decades-long romantic attachment to a woman while married to Ed Hemingway – Dearborn gives us Hemingway the man who found it difficult to give and receive love and maintain friendships, unless it was "all for Hemingway."
We see the development of his writing (the self-proclaimed influences: from Mark Twain, Flaubert, and Stendhal to Bach, Mozart, Bruegel, and Cezanne, and, most crucial of all, "the [Gertrude] steining of Hemingway"); his emergence as a startlingly contemporary figure – not least in the gender experimentation and sexual role-playing that until now have been dismissed as "gender confusion."
And we see his four marriages, each one a reflection of how he saw himself: the first to the financially independent Hadley Richardson, the wife most like his mother, whose unadorned way of living mirrored his upbringing . . . his marriage to the chic Pauline Pfeiffer, writer for Paris Vogue, assistant to Main Bocher, the epitome of the glamorous world into which Hemingway was being welcomed and celebrated . . . his marriage to Martha Gellhorn, war correspondent, as Hemingway became politicized and went to fight against Fascism with Loyalists in Spain. Gellhron, as much of an artist as her husband, refused to give up her view of herself for Hemingway's demands and expectations. And Mary Welsh, the boyish writer, adventurer, correspondent, willing to keep up with Hemingway in his pursuits and become his caretaker, as he, from his forties on, became undone by alcohol and too many prescribed pills.
Hemingway's life is a large story – the giant personality, the hidden demons, the hard-core values left behind, and the carefree childhood that carried him along until "everything went to hell," as he said, and it all blew up. Here is the richest, most nuanced portrait to date of this complex American artist, whose darkness, drive, and vision of courage; whose ambition, self-control, and grace under pressure; and whose eleven novels (four published posthumously) and five short story collections, informed – and are still informing – fiction writing generations after his death.
Fallen Trees by Stan Finger Robbie Richten is at a crossroads, both personally and professionally. A promising relationship has faded. His freelance writing career in Kansas City is withering. He returns to his childhood home, a family farm in central Kansas, hoping to sort out his future.
While there, he crosses paths with a friend and former classmate who has suffered a devastating loss. They connect anew, prompting Robbie to wonder if something more is possible. But then Robbie's ex-girlfriend in Kansas City reaches out, seeking another chance.
As he struggles to revive his writing career, Robbie finds himself torn between two women.
Where will his heart lead him?
Other new books: A Time to Stand: The Epic of the Alamo by Walter Lord; Anne Frank Remembered: The Story of the Woman Who Helped to Hide the Frank Family by Miep Gies and Alison Leslie Gold; Behind the Fireplace: Memoirs of a Girl Working in the Dutch Resistance by Andrew Scott and Grietje Okma Scott; Mind Over Meds by Andrew Weil, MD; Un-American: The Incarceration of Japanese Americans During World War II by Richard Cahan and Michael Williams
We'll see you soon! 🙂