Summer has begun and we have new books just in time for you to add them to your summer reading list! From romantic classical reboots to action-packed fictional adventures, we've got a little something for everyone. Come see us!
Young Washington by Peter Stark Two decades before he led America to independence, George Washington was a flailing young soldier serving in the British Empire in the vast wilderness of the Ohio Valley. Naive and self-absorbed, the twenty-two-year-old officer accidentally ignited the French and Indian War – a conflict that opened colonists to the possibility of an American revolution.
With powerful narrative drive and vivid writing, Young Washington recounts the wilderness trials, controversial battles, and emotional entanglements that transformed Washington from a temperamental striver into a mature leader. Enduring terrifying summer storms and subzero winters imparted resilience and self-reliance, helping prepare him for what he would one day face at Valley Forge. Leading the Virginia troops into battle taught him to set aside his own relentless ambitions and strand in solidarity with those who looked to him for leadership. Negotiating military strategy with British and colonial allies honed his diplomatic skills. And thwarted in his obsessive, youthful love for one woman, he grew to cultivate deeper, enduring friendships.
By weaving together Washington's harrowing wilderness adventures and a broader historical context, Young Washington offers new insights into the dramatic years that shaped the man who shaped a nation.
The Age of Eisenhower by William I. Hitchcock Drawing on newly declassified documents and thousands of pages of unpublished material, The Age of Eisenhower tells the story of a masterful president guiding the nation through the great crises of the 1950's, from McCarthyism and the Korean War through civil rights turmoil and Cold War conflicts. This is a portrait of a skilled leader who, despite his conservative inclinations, found a middle path through the bitter partisanship of his era. At home, he affirmed the central elements of the New Deal, such as Social Security; fought the demagoguery of Senator Joseph McCarthy; and advanced the agenda of civil rights for African Americans. Abroad, he ended the Korean War and avoided new quagmire in Vietnam. Yet he also charged a significant expansion of America's missile technology and deployed a vast array of covert operations around the world to confront the challenge of communism. As he left office, he cautioned Americans to remain alert to the dangers of a powerful military-industrial complex that could threaten their liberties.
Today, presidential historians rank Eisenhower fifth on the list of great presidents, and William Hitchcock shows us why Ike's stock has risen so high. He was a gifted leader, a decent man of humble origins who used his powers to advance the welfare of all Americans. Now more than ever, Americans have much to learn from Dwight Eisenhower.
Courageous Women of the Vietnam War by Kathryn J. Atwood One of just a handful of women reporting on the Vietnam War, Kate Webb was captured by North Vietnamese troops and presumed dead – until she emerged from the jungle waving a piece of white parachute material after 23 days in captivity. Le Ly Hayslip enjoyed a peaceful early childhood in a Vietnamese farming village before war changed her life forever. Brutalized by all sides, she escaped to the United States, where she eventually founded two humanitarian organizations. Lynda Van Devanter was an idealistic young nurse in 1969 when a plane carrying her and 350 men landed in South Vietnam. Her harrowing experiences working in a combat zone hospital would later serve as inspiration for the TV series China Beach.
In these pages readers meet these and other brave women and girls who served in life-threatening roles as medics, journalists, resisters, and revolutionaries in the conflict in Vietnam. Author Kathryn J. Atwood presents a clear introduction to each of five chronological sections, guiding readers through the social and political turmoil that spanned two decades and the tenure of five US presidents. Each woman's story unfolds in a suspenseful, engaging way, incorporating plentiful original source materials, quotes, and photographs. Resources for further study, source notes, and a bibliography, and a helpful map and glossary round out this exploration of one of modern history's most divisive wars, making it an invaluable addition to any student's or history buff's bookshelf.
Star Wars: Han Solo by Marjorie Lie and Jason Aaron, illustrated by Mark Brooks and Stuart Immonen It is a period of unrest in the galaxy. While Princess Leia marshals the Rebel Alliance to stand against a resurgent Empire, reluctant hero Han Solo has returned to what he does best: smuggling. But when Leia has a problem only the Millennium Falcon can solve, Han and his right-hand Wookiee, Chewbacca, are drawn into their deadliest mission yet: hunting down a suspected traitor under the cover of competing in the Dragon Void, the galaxy's most notorious starship race! Han has dreamed of winning this tournament his whole life – but now that he finally has his shot at victory, can he keep his mind on finding the enemy spy? Or is failing Leia even worse than losing? With life-threatening hazards, the greatest pilots in the cosmos vying for glory and Imperial forces taking an interest in the Dragon Void, Han better fly fast – so it's a good thing the Falcon has got it where it counts! A spcae race like no other is about to begin – punch it! 
And in one of the most sensational story arcs from Marvel's Star Wars series, Han and Leia are in for the surprise of their lives. While hiding out from Imperial pursuers on a remote planet, and even more shocking threat emerges: Sana Starros! She's a smuggler who claims to be Han's wife, and she's more than happy to sell Leia to the Empire to get her husband back. With Luke Skywalker, Chewbacca and the droids all facing problems of their won, what will Sana's arrival mean for the fate of the rebel crew?
Romeo and Juliet by William Shakespeare, Story Adaptation by Crystal S. Chan, Art by Julien Choy Experience classic tales in Manga format! A classic Shakespearean tragedy, Romeo and Juliet is the tale of two star-crossed young lovers who dare to defy their feuding families, put aside all obstacles, and find happiness together – but at a tremendous cost. This grimly beautiful tale, set in Renaissance Italy, follows Romeo and Juliet from their fateful first meeting to their last.
Manga Classics™ brings you this incredible new manga version of William Shakespeare's most popular play, featuring the unaltered original text in its entirety. 
Three Days in Moscow by Bret Baier with Catherine Whitney In his acclaimed bestseller Three Days in January, Bret Baier illuminated the extraordinary leadership of President Dwight D. Eisenhower at the dawn of the Cold War. Now in his highly anticipated new book, Three Days in Moscow, Baier explores the gripping endgame of America's long struggle with the Soviet Union, and President Ronald Reagan's central role in shaping today's world.
On May 31, 1988, Reagan addressed a packed audience at Moscow State University with a remarkable – yet now largely forgotten – speech that capped his first visit to the Soviet capital. This fourth in a series of summits between Reagan and Soviet general secretary Mikhail Gorbachev, was a dramatic coda to their tireless efforts to reduce the nuclear threat. More than that, Reagan viewed it as "a grand historical moment": an opportunity to light a path for the Soviet people – toward freedom, human rights, and a future he told them they could embrace if they so chose. It was the first time an American president gave a speech about freedom and human rights on Russian soil. Reagan had once called the Soviet Union an "evil empire," but now, saying that depiction was from "another time," he beckoned the Soviets to join him in a new vision of the future. The importance of Reagan's Moscow speech was largely overlooked at the time, but the new world he spoke of was fast approaching; the following year, in November 1989, the Berlin Wall fell and the Soviet Union began to disintegrate, leaving the United States the sole superpower on the world stage.
Today, the end of the Cold War is perhaps the defining historical moment of the past half century, and must be understood if we are to make sense of America's current place in the world, amid the reemergence of US-Russian tensions during Vladimir Putin's tenure. Using Reagan's three days in Moscow to tell the larger story of the president's critical and often misunderstood role in orchestrating a successful, peaceful ending to the Cold War, Baier illuminates the character of one of our nation's most venerated leaders – and reveals the unique qualities that allowed Reagan to succeed in forming an alliance for peace with the Soviet Union, even when his predecessors had fallen short.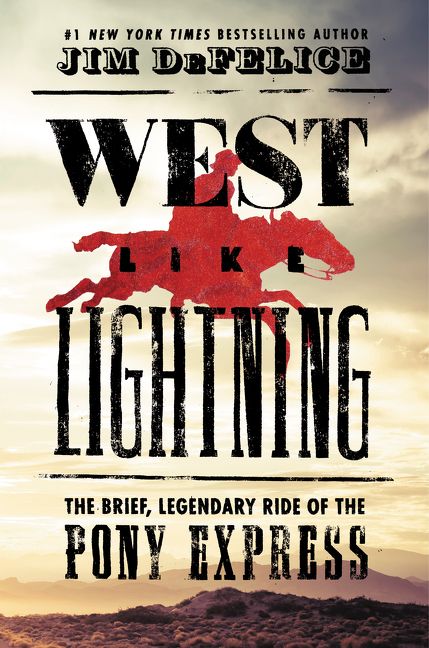 West Like Lightning by Jim DeFelice On the eve of the Civil War, three American businessmen launched an audacious plan to create a financial empire by transforming communications across the hostile territory between the nation's two coasts. In the process, they created one of the most enduring icons of the American West: the Pony Express. Daring young men with colorful names like "Bronco Charlie" and "Sawed-Off Jim" galloped at a speed over a vast and unforgiving landscape, etching an irresistible tale that passed into myth almost instantly.  Equally an improbable success and a business disaster, the Pony Express came and went in just eighteen months, but not before uniting and captivating a nation on the brink of being torn apart. Jim DeFelice's brilliantly entertaining West Like Lightning is the first major history of the Pony Express to put its birth, life, and legacy into the full context of the American story.
The Central Overland California and Pikes Peak Express Company – or "Pony Express," as it came to be known – was part of a plan by William Russell, Alexander Majors, and William Waddell to create the next American Express, a transportation and financial juggernaut that already dominated commerce bank east. All that stood in their way were almost two thousand miles of uninhabited desert, ice-capped mountains, oceanic plains roamed by Indian tribes, whitewater-choked rivers, and harsh, unsettled wilderness.
The Pony used a relay system of courageous horseback riders to ferry mail halfway across a continent in just ten days. The challenges the riders faced were enormous, yet the Pony Express succeeded, delivering thousands of letters at record speed. The service instantly became the most direct means of communication between the eastern United States and its far western territories, helping to firmly connect them to the Union.
Populated with a cast of characters including Abraham Lincoln (news of whose electoral victory the Express delivered to California), Wild Bill Hickock, Buffalo Bill Cody (who fed the legend of the Express in his Wild West Show), and Mark Twain (who celebrated the riders in Roughing It), West Like Lightning masterfully traces the development of the Pony Express and follows it from its start in St. Joseph, Missouri – the edge of the civilized world – west to Sacramento, the capital of California, then booming from the gold rush. Jim DeFelice, who traveled the Pony's route in his research, plumbs the legends, myths, and surprising truth of the service, exploring its lasting relevance today as a symbol of American enterprise, audacity, and daring.
Sh*tshow! by Charlie LeDuff In the fall of 2013, long before any sane person had seriously considered the possibility of a Trump presidency, Charlie LeDuff sat in the office of then Fox News CEO Roger Ailes and made a simple but prophetic claim: The American people were at a breaking point. The country was going broke and on high boil. No one in the bubbles of Washington, D.C., New York, or Los Angeles was talking about it – least of all the media. LeDuff wanted to go to the heart of the country to report what was really going on. Ailes balked. Could the hard-living and straight-shooting LeDuff be controlled? But then, perhaps on a whim, he agreed. And so LeDuff set out to record a TV series called The Americans, and along the way ended up bearing witness to the ever-quickening unraveling of the American dream.
For three years LeDuff traveled the width and breadth of the country with his team of production irregulars, ending up on the Mexican border crossing the Rio Grande on a yellow rubber kayak alongside undocumented immigrants, in the middle of Ferguson as the city burned, and in Flint watching the children get sick from undrinkable water. Racial, political, social, and economic tensions were escalating by the day. The inexorable effects of technological change and the globalization were being felt more and more acutely, at the same time as wages stagnated and the price of housing, education, and health care went through the roof. The American people felt defeated and abandoned by their politicians and those politicians seemed incapable of rising to the occasion. The old way of life was slipping away, replaced only by social media, part-time work, and opioid addiction.
Sh*tshow! is that true, tragic, and distinctively American story, told from the parts of the country hurting the most. A soul-baring, irreverent, and iconoclastic writer, LeDuff speaks the language of everyday Americans, and is unafraid of getting his hands dirty. He scrambles the tired old political, social, and racial categories, taking no sides – or prisoners. Old-school, gonzo-style reporting, Sh*tshow! is both a necessary confrontation with the darkest parts of American psyche and a desperately needed reminder of the country's best instincts.
The Road to Dawn by Jared A. Brock Josiah Henson overcame incredible odds  to escape from slavery and improve the lives of hundreds of freedmen throughout his long life. He found international fame – including visits to Windsor Castle and the White House  – as the real "Uncle Tom" in the novel that fueled the abolitionist  movement and ignited the Civil War. But his story has been mostly lost to history, until now.
A dynamic, driven man with exceptional intelligence and unyielding principles, Henson spent forty-one years in bondage before he was finally able to escape with his wife and four children, carrying the youngest two on his broken shoulders for 600 miles. He eventually settled with his family as a free man across the boarder in Canada. Once there, Henson agitated for racial equality, raised millions for the abolitionist cause, won a medal at the first World's Fair in London, and became a beloved preacher. He returned to America  and rescued 118 more slaves, including his own brother, and helped purchase land to build what would become one of the final stops on the Underground Railroad, a 500-person freedman settlement called Dawn.
The Road to Dawn retraces Henson's improbable journey from slavery to freedom and restores a hero of the abolitionist movement to his rightful place in history.
The Stars at Oktober Bend by Glenda Millard Alice is fifteen, with hair as red as fire and skin as pale as bone. Something inside Alice is broken: she remembers words but struggles to speak them. Still, Alice knows words are for sharing, so she pins them to posters in tucked-away places: railway waiting rooms, fish-and-chip shops, quiet corners.
Manny is sixteen, with a scar from shoulder to elbow. Something inside Manny is broken: he was one a child soldier, forced to do terrible, violent things. But in a new land with new people who will care for him, he spends time exploring on foot. And in his pocket, he carries a poem he scooped up. And he knows the words by heart.
Their relationship brings the beginning of love and healing, which for Manny and Alice, perhaps, will be enough.
A Court of Frost and Starlight by Sarah J. Maas Feyre, Rhys, and their close-knit circle of firends are still busy rebuilding the Night Court and the vastly changed world beyond. But Winter Solstice is finally near, and, with it, a hard-earned reprieve.
Yet even the festive atmosphere can't keep the shadows of the past from looming. As Feyre navigates her first Winter Solstice as High Lady, she finds that those dearest to her have more wounds than she anticipated – scars that will have a far-reaching impact on the future of their court.
Narrated by Feyre and Rhysand, this wondrous tale of hope and promise picks up after A Court of Wings and Ruin and sets the stage for the etrilling events in the future books.
Driving By Starlight by Anat Deracine Sixteen-year-olds Leena and Mishail are best friends. They delight in small rebellions against the Saudi cultural police: secret Western clothing, forbidden music, flirtations. But Leena wants college and independence – she wants a different life. Though their story is specific to their world, its themes of friendship, family, and freedom transcend cultural differences.
Tradition by Brendan Kiely This is Fullbrook Academy, an elite prep school where history looms in the leafy branches over its brick walkways. But the secret traditions that fester in its hallowed halls can be profoundly dangerous.
Jules Devereux just wants to keep her head down, avoid distractions, and get into the right college so that she can leave Fullbrook and its old-boy social codes behind. She wants freedom, and the power that comes with it, but ex-boyfriends and ex-best friends are determined to keep her in her place.
Jamie Baxter feels like an impostor at Fullbrook, but the hockey scholarship that got him in has given him a chance to escape his past and fulfill the dreams of his parents and coaches, whose mantra rings in his ears: Don't disappoint us.
When Jamie and Jules meet, they recognize in each other a shared instinct for survival. But as classmates  and teachers increasingly deride Jules, Jamie must learn to listen or his own demons could wreck their newfound friendship. As pressures intensify for them to play by the rules and keep the school's toxic secrets, they are faced with a powerful choice: Remain silent while others get hurt, or stand together against the ugly, sexist traditions of an institution that believes it can do no wrong.
The Trials of Apollo by Rick Riordan It's bad enough that my father, Zeus, turned me, the once divine Apollo, into a mortal teenager with acne, flab, and the unfortunate alias Lester Papadopoulos. On top of that, he has enslaved me to a pushy twelve-year-old named Meg, and he expects me to liberate five ancient Oracles from a trio of evil Roman emperors. (How, I ask you, when I have no godly powers?)
So far, I've managed to restore two Oracle and receive a prophecy about "mazes dark," "lands of scorching death, " and a "master of the swift white horse." Now Meg and I must journey through the Labyrinth, parts of which are venting hellfire, to find the third emperor. But is our cloven guide, Grover Underwood, up to the task? Are any of us? I have my suspicions about who the third emperor is . . . a villainous tyrant I never wanted to run into again.
Also – and I haven't told my travel companions this – I fear I'm growing weaker by the day. The longer I stay mortal, the less confident I am that I will ever be able to regain my place on Mount Olympus. It's time to call on Piper McLean and her boyfriend, Jason Grace, two of the seven demigods who sailed on the Argo 11, to see if they will defeat the emperor and free the Oracle for me.
Wait. Scratch that. I meant, of course, that they will help me do those things . . . Yes, that's what I meant, Father. Really.
Ruthless Tide by Al Roker Central Pennsylvania, May 31, 1889; After a deluge of rain – nearly a foot in less than twenty-four hours – swelled the Little Conemaugh River, panicked engineers watched helplessly as swiftly rising waters threatened to breach the South Fork dam, built to create a private lake for a fishing and hunting club that counted among its members Andrew Mellon, Henry Clay Frick, and Andrew Carnegie. Though the engineers telegraphed neighboring towns on this last morning in May warning of the impending danger, residents – factory workers and their families – remained in their homes, having grown used to false alarms.
At 3:10 P.M., the dam gave way, releasing 20 million tons of water. Gathering speed as it flowed southwest, the deluge wiped out nearly everything in its path and picked up debris – trees, houses, animals – before reaching Johnstown, a vibrant steel town fourteen miles downstream. Traveling 40 miles an hour, with swells as high as 60 feet, the deadly floodwaters razed the city – home to 20,000 people- in minutes. The Great Flood, as it would come to be called, remains the deadliest in U.S. history, killing more than 2,200 people and causing $17 million in damage.
In Ruthless Tide, Al Roker follows an unforgettable cast of characters whose fates converged because of that tragic day, including John Parke, the engineer whose heroic efforts failed to save the dam; the robber barons whose fancy sportfishing resort was responsible for modifications that weakened the dam; and Clara Barton, the founder of the American Red Cross, who spent five months in Johnstown leading one of the first organized disaster relief efforts in the United States. Weaving together their stories and those of many ordinary citizens whose lives were forever altered by the event. Ruthless Tide is testament to the power of the human spirit in times of tragedy and also a timely warning about the dangers of greed, inequality, neglected infrastructure, and the ferocious, uncontrollable power of nature.
The Geek's Cookbook by Liguori Lecomte Binge-watching your favorite season of Dexter, Breaking Bad, or The Walking Dead? Planning a Pokémon GO gaming party or a Harry Potter viewing party? Need sustenance to fuel your attempt to achieve the impossible and watch all the Star Wars movies in a row? Break out The Geek's Cookbook, your guide to cooking all sorts of treats and goodies to nourish your inner (or outer) geek.
Send your taste buds to another world with more than thirty recipes from your favorite series, TV shows, and video games. Experience the supreme taste of the Matrix Burger or the Sauron Tarts, succumb to the Dagobah Swamp with Herb Crust or the Los Pollos Hermanos Fried Chicken. Top it all off with some Minecraft Cookies or a Meringue Pokéball, and you've got yourself a meal fit for Geek royalty.
Featured inside are delicious, fun recipes inspired by:
Batman
The Big Bang Theory
Breaking Bad
Game of Thrones
Harry Potter
The Legend of Zelda
Lord of the Rings
Minecraft
Pokémon
Star Wars
War Storm by Victoria Aveyard Victory comes at a price. Mare Barrow learned this all too well when Cal's betrayal nearly destroyed her. Now determined to protect her heart—and secure freedom for Reds and newbloods like her—Mare resolves to overthrow the kingdom of Norta once and for all… starting with the crown on Maven's head.
But no battle is won alone, and before the Reds may rise as one, Mare must side with the boy who broke her heart in order to defeat the boy who almost broke her. Cal's powerful Silver allies, alongside Mare and the Scarlet Guard, prove a formidable force. But Maven is driven by an obsession so deep, he will stop at nothing to have Mare as his own again, even if it means demolishing everything—and everyone—in his path.
War is coming, and all Mare has fought for hangs in the balance. Will victory be enough to topple the Silver kingdoms? Or will the little lightning girl be forever silenced?
In the epic conclusion to Victoria Aveyard's stunning series, Mare must embrace her fate and summon all her power… for all will be tested, but not all will survive.
Shelter in Place by Nora Roberts From #1 New York Times bestselling author Nora Roberts comes Shelter in Place—a powerful tale of heart, heroism . . . and propulsive suspense.
It was a typical evening at a mall outside Portland, Maine. Three teenage friends waited for the movie to start. A boy flirted with the girl selling sunglasses. Mothers and children shopped together, and the manager at the video-game store tending to customers. Then the shooters arrived.
The chaos and carnage lasted only eight minutes before the killers were taken down. But for those who lived through it, the effects would last forever. In the years that followed, one would dedicate himself to a law enforcement career. Another would close herself off, trying to bury the memory of huddling in a ladies' room, hopelessly clutching her cell phone–until she finally found a way to pour her emotions into her art.
But one person wasn't satisfied with the shockingly high death toll at the DownEast Mall. And as the survivors slowly heal, find shelter, and rebuild, they will discover that another conspirator is lying in wait–and this time, there might be nowhere safe to hide.
We'll see you soon! 🙂