Happy Friday the 13th, DC3! Despite the date, you're in luck! 🙂 We have some new books coming out, today. Stop by and see our display!
The Rules of Magic by Alice Hoffman For the Owens family, love is a curse that began in the 1600s, when Maria Owens was accused of witchery for loving the wrong man.
Hundreds of years later, in New York City at the cusp of the sixties, when the whole world is about to change, Susuanna Owens knows that her three children are dangerously unique. Difficult Franny, with skin as pale as milk and blood-red hair; shy and beautiful Jet, who can read other people's thoughts; and charismatic Vincent, who began looking for trouble on the day he could walk.
From the start Susanna sets down rules for her children: No walking in the moonlight, no red shoes, no wearing black, no cats, no crows, no candles, no books about magic. And most importantly, never, ever, fall in love. But her children will never adhere to rules, and all three are desperate to uncover who they really are. When they visit their aunt Isabelle in the small Massachusetts town where the Owens family has been blamed for everything that has ever gone wrong, they begin to understand the truth of who they are. The siblings discover there are family secrets to uncover, as well as secrets they have kept hidden from each other. When they move to 44 Greenwich Avenue in New York City, each begins a risky journey as they try to escape the family curse. 
The Rules of Magic is both a fairy tale and a very practical story of real life, as lyrical as it is matter-of-fact. If you belong to the Owens family, desire is everywhere, but so are the dangers of human entanglements. You cannot escape love even if you try, just as you cannot escape the pains of the human heart. The two beautiful sisters will grow up to be the revered, and sometimes feared, aunts in Practical Magic, while Vincent, their beloved brother, will leave an unexpected legacy. Thrilling and exquisite, real and fantastical, here is a story about the power of love. Told in dreamy prose, with unforgettable characters and a world that is rife with enchantment, The Rules of Magic reminds us that the only remedy for being human is to be true to yourself.
Star Wars: From a Certain Point of View by Ben Acker, et al. On May 25, 1977, the world was introduced to Han, Luke, Leia, a pair of droids, a Wookiee, an old wizard, a villain in black, and a galaxy full of possibilities. Forty years on, Star Wars remains an unparalleled cultural phenomenon, having inspired and influenced generations of fans and creators. Decades of rich storytelling were sparked by one film, in part because the Star Wars galaxy feels alive. Strange and wonderful characters fill the edges of the screen and make us wonder:
What are their stories?
This unique anthology celebrates that legacy, as more than forty contributors lend their vision to this retelling of the original Star Wars film. Each of the forty short stories reimagines a moment from the film through the eyes of a supporting character. From a Certain Point of View features contributions by bestselling authors, trendsetting artists, and treasured voices from the literary history of Star Wars.
Star Wars: Leia, Princess of Alderaan by Claudia Gray A long time ago in a galaxy far, far away . . . there was a princess who became a legend.
Sixteen-year-old Princess Leia Organa faces the most challenging task of her life so far: proving herself in the areas of body, mind, and heart to be formally named heir to the throne of Alderaan. She's taking rigorous survival courses, practicing politics, and spearheading relief missions to worlds under Imperial control. But Leia has worries beyond her claim to the crown. Her parents, Breha and Bail, aren't acting like themselves lately; they are distant and preoccupied, seemingly more concerned with throwing dinner parties for their allies in the Senate than they are with their own daughter. Determined to uncover her parents' secrets, Leia starts down an increasingly dangerous path that puts her right under the watchful eye of the Empire. And when Leia discovers what her parents and their allies are planning behind closed doors, she finds herself facing what seems like an impossible choice: dedicate herself to the people of Alderaan – including the man she loves – or to the galaxy at large, which is in desperate need of a rebel hero . . . .
Origin by Dan Brown Robert Langdon, Harvard professor of symbology and religious iconology, arrives at the ultra-modern Guggenheim Museum Bilbao to attend a major announcement – the unveiling of a discovery that "will change the face of science forever." The evening's host is Edmond Kirsch, a forty-year-old billionaire and futurist whose dazzling high-tech inventions and audacious predictions have made him a renowned global figure. Kirsch, who was one of Langdon's first students at Harvard two decades earlier, is about to reveal an astonishing breakthrough – one that will answer two of the fundamental questions of human existence. 
As the event begins, Langdon and several hundred other guests find themselves captivated by an utterly original presentation – which Langdon realizes will be far more controversial than he ever imagined. But the meticulously orchestrated evening suddenly erupts into chaos, and Kirsch's precious discovery teeters on the brink of being lost forever. Reeling, and facing an imminent threat, Langdon is forced into a desperate bid to escape Bilbao. With him is Ambra Vidal, the elegant museum director who worked with Kirsch to stage the provocative event. Together they flee to Barcelona on a perilous quest to locate the cryptic password that will unlock Kirsch's secret.
Navigating the dark corridors of hidden history and extreme religion, Langdon and Vidal must evade a tormented enemy whose all-knowing power seems to emanate from Spain's Royal Palace itself . . . and who will stop at nothing to silence Edmond Kirsch. Following a trail illuminated by modern art and enigmatic symbols, Langdon and Vidal uncover clues that ultimately bring them face-to-face with Kirsch's shocking discovery . . . and the breathtaking truth that has long eluded us.
Origin is stunningly inventive – Dan Brown's most brilliant and entertaining novel to date.
One Dark Throne by Kendare Blake The battle for the crown has begun, but which of the three sisters will prevail?
With the unforgettable events of the Quickening behind them and the Ascension Year underway, all bets are off. Katharine, once the weak and feeble sister, is stronger than ever before. Arsinoe, after discovering the truth about her powers, needs to figure out how to make her secret talent work in her favor without anyone finding out. And Mirabella, the elemental sister thought to be the certain Queen Crowned, faces attacks that put those around her in danger she can't seem to prevent. 
In this enthralling sequel to Kendare Blake's New York Times bestselling Three Dark Crowns, Fennbirn's deadliest queens must confront the one thing standing in their way of the crown: each other.
What the Qur'an Meant And Why It Matters by Garry Willis There was a time when ordinary Americans did not have to know much about Islam, but that is no longer the case. We blundered into the longest war in our history without knowing basic facts about the Islamic civilization we were dealing with, and we are constantly fed false information about Islam – claims that it is essentially a religion of violence, that its sacred book is a handbook for terrorists. There is no way to assess these claims unless we have at least some knowledge of the Qur'an. 
Pulitzer Prize-winning historian and New York Times bestselling author Garry Wills has spent a lifetime thinking and writing about Christianity. In What the Qur'an Meant, Wills invites readers to join him as he embarks on a timely and necessary reconsideration of the Qur'an, leading us through perplexing passages with insight and erudition. As a non-Muslim with an open mind, Willis reads the Qur'an with sympathy but with rigor, trying to discover why other non-Muslims, like Pope Francis – find it an inspiring book, worthy to guide people down through the centuries. Wills shows parallels between the Qur'an and other sacred books, including the Old Testament and the New Testament. There are also parallel difficulties of interpretation, which call for patient exploration – and which offer some thrills of discovery. What the Qur'an Meant is the opening of a conversation with one of the world's most widely practiced religions.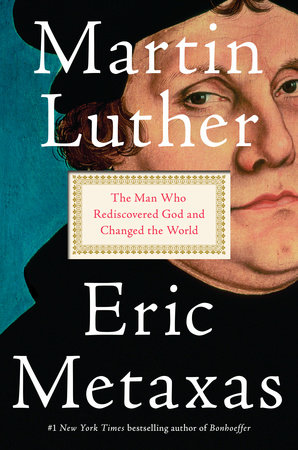 Martin Luther by Eric Metaxas On All Hallow's Eve in 1517, a young monk named Martin Luther posted a document he hoped would spark an academic debate, but which instead ignited a conflagration that would forever destroy the world he knew. Five hundred years after Luther's now famous Ninety-five Theses appeared, Eric Metaxas, acclaimed biographer of the bestselling Bonhoeffer: Pastor, Martyr, Prophet, Spy and Amazing Grace: William Wilberforce and the Heroic Campaign to End Slavery, paints a startling portrait of the wild figure whose adamantine faith cracked the edifice of Western Christendom and dragged medieval Europe into the future. Written in riveting prose and impeccably researched, Martin Luther tells the searing tale of a humble man who, by bringing ugly truths to the highest seats of power, caused an explosion the sound of which is still ringing in our ears. Luther's monumental faith and courage gave birth to the ideals of liberty, equality, and individualism that today lie at the heart of all modern life.
The Death of an Heir by Philip Jett In the 1950's and '60's, the Coors dynasty reigned over Golden, Colorado, seemingly invincible. When rumblings about labor unions threatened to destabilize the family's brewery, Adolph Coors, Jr., the septuagenarian president of the company, drew a hard line, refusing to budge. They had worked hard for what they had, and no one had a right to take it from them. What they'd soon realize was that they had more to lose than they could have imagined.
On the morning of Tuesday, February 9, 1960, Adolph "Ad" Coors, III, the forty-four-year-old CEO of the multi-million-dollar Colorado beer empire, stepped into his car and headed for the brewery twelve miles away. At a bridge he stopped to help a man in a yellow Mercury sedan. On the backseat lay handcuffs and leg irons. The glove compartment held a ransom note ready to be mailed. His coat pocket shielded a loaded pistol.
What happened next set off the largest manhunt in the United States since the Lindbergh kidnapping. State and local authorities, along with an FBI investigation personally spearheaded by its director, J. Edgar Hoover, burst into action as they attempted to locate Ad and his kidnapper. The dragnet spanned a continent. All the while, Ad's grief-stricken wife and children waited, tormented by the unrelenting silence. The Death of an Heir reveals the true story behind the tragic murder of Colorado's favorite son.
The Chicago Cubs: Story of a Curse by Rich Cohen When Rich Cohen was eight years old, his father took him to see a Cubs game. On the way out of the park, his father asked him to make a promise. "Promise me you will not become a Cubs fan. Because the Cubs do not win. And because of that, a Cubs fan will have a diminished life determined by low expectations . . . That team will screw up your life."
Cohen became not just a Cubs fan, but one of the most fanatical Cubs fans in the world. In The Chicaco Cubs, he captures the story of the team, its players, and its crazy days. Billy Sunday and Ernie Banks, Three Finger Brown and Ryne Sandberg, Bill Buckner, the Bartman Ball, Kris Bryant, Anthony Rizzo – the early dominance followed by a 108-year trek across the wilderness. It's all here – not just what happened, but what it felt like and what it meant.
Cohen searches for the cause of the famous curse; Was it the billy goat, kicked out of Wrigley Field in Game 4 of the 1945 World Series? Or does it go back further, to the very origins of the franchise? Driven mad with futility, he goes on the road with the team in search of answers; interviews great players present and past; researches in libraries but also in the bleachers, double-fisted, a frosty malt in each hand, demanding answers. Cohen comes to see the curse as a burden, but also a blessing. Cubs fans are unique, emissaries from a higher realm, warning of hubris and vanity. The blue cap with the red C said, "My kingdom is not of this world."
He interviews the architects of the 2016 Cubs, the team that broke the curse. Here's what he asks: How the hell did you do it? He's at (almost) every game of the 2016 playoff run – a run that culminated in (maybe) the single greatest baseball game ever played. He's excited but also terrified. Losing is easy. What would it mean to win? Wearing a Yankees hat means corporate excellence. Wearing a Mets hat means miracles. But wearing a Cubs hat means loving the game on its most humdrum afternoon – September 13, 1979, say, fourteen games out of first place, Larry Biittner driving in Ivan DeJesus. Would we lose that? Would being a Cubs fan become ordinary?
A captivating mix of memoir, reporting, history, and baseball theology, The Chicago Cubs, forty years in the making, has never been written because it never could be, until now. Only with the 2016 World Series can the true arc of the story finally be understood.
Code Girls by Liza Mundy Recruited from small Southern towns and posh New England colleges, 10,000 American women served the U.S. Army and Navy as code breakers during World War II. While their brothers and husbands took up arms, these women moved to Washington and, under strict vows of secrecy, learned the meticulous work of breaking German and Japanese military codes.
Poring over reams of encrypted messages, the women worked tirelessly in makeshift facilities in Washington, D.C.; Arlington, Virginia; and Dayton, Ohio. Their code-breaking triumphs shortened the war, saved countless lives, and gave them access to careers previously denied to them. In the process, many got their first taste of the big city, made lifelong friends, and fell in and out of love amid the heartbreak of war.
Ordered never to reveal the details of their wartime work, these women were all but written out of history. Now, through her dazzling archival research and interviews with surviving code breakers, Liza Mundy has brought to life this vital story of American courage, service, and science.
At the heart of Code Girls is Dot Braden, a feisty Virginia schoolteacher who, in 1943, leapt at the chance to take a mysterious job with the Army at a place called Arlington Hall. With Cod Girls, the children and grandchildren of Dot and those of thousands of other women will finally learn the complete story of their accomplishments.
The Last Castle by Denise Kiernan Orphaned at a young age, Edith Stuyvesant Dresser claimed lineage from one of New York's best-known families. She grew up in New York, Newport, and Paris, and her engagement and marriage to George W. Vanderbilt was one of the most-watched events of Gilded Age society.
But none of this prepared her to be mistress of Biltmore House, George's spectacular European-style estate on 125,000 isolated acres of North Carolina wilderness. Built by celebrated architect Richard Morris Hunt and set among gardens and vistas designed by the legendary landscape architect Frederick Law Olmstead, Biltmore Estate comprised a 175,000-square-foot chateau filled with priceless art and antiques, a charming village beyond its gates, and the site of the nation's first attempt at scientific forestry. When fortunes shifted and changing times threatened her family, her home, and her community, it was up to Edith to save Biltmore and preserve her husband's legacy.
The story of Biltmore spans World Wars, the Jazz Age, and the Depression and features a captivating cast of real-life characters, including F. Scott Fitzgerald, Thomas Wolfe, Teddy Roosevelt, John Singer Sargent, James Whistler, Henry James, and Edith Wharton. The Last Castle is the uniquely American story of a man who realized his impossible dream and the woman who saved it. It is a saga of unimaginable excess, devastating tragedy, inspiring generosity, and unlikely endurance.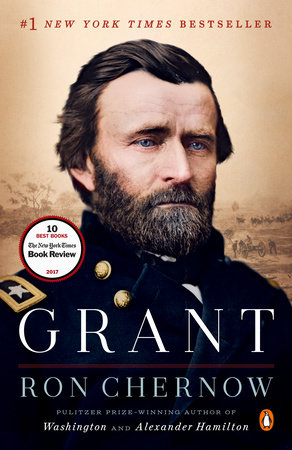 Grant by Ron Chernow Ulysses S. Grant's life has typically been misunderstood. All too often he is caricatured as a chronic loser and an inept businessman, or as the triumphant but brutal Union general of the Civil War. But these stereotypes don't come close to capturing him, as Ron Chernow shows in his masterful biography, the first to provide a complete understanding of the general and president whose fortunes rose and fell with dizzying speed and frequency.
Before the Civil War, Grant was flailing. His business ventures had ended dismally, and despite distinguished service in the Mexican War he ended up resigning from the army in disgrace amid recurring accusations of drunkenness. But in war, Grant began to realize his remarkable potential, soaring through the ranks of the Union army, prevailing at the battle of Shiloh and in the Vicksburg Campaign, and ultimately defeating the legendary Confederate general Robert E. Lee. Along the way, Grant endeared himself to President Lincoln and became his most trusted general and the strategic genius of the war effort. Grant's military fame translated into a two-term presidency, but one plagued by corruption scandals involving his closest staff members.
More important, he sought freedom and justice for black Americans, working to crush the Ku Klux Klan and earning the admiration of Frederick Douglass, who called him "the vigilant, firm, impartial, and wise protector of my race." After Grant's presidency, he was again brought low by a dashing young swindler on Wall Street, only to resuscitate his image by working with Mark Twain to publish his memoirs, which are recognized as a masterpiece of the genre.
With lucidity, breadth, and meticulousness, Chernow finds the threads that bind these disparate stories together, shedding new light on the man whom Walt Whitman described as "nothing heroic . . . and yet the greatest hero." Chernow's probing portrait of Grant's lifelong struggle with alcoholism transforms our understanding of the man at the deepest level. This is America's greatest biographer, bringing movingly to life one of our finest but most underappreciated presidents. The definitive biography, Grant is a grand synthesis of painstaking research and literary brilliance that makes sense of all sides of Grant's life, explaining how this simple midwesterner could be at once so ordinary and so extraordinary.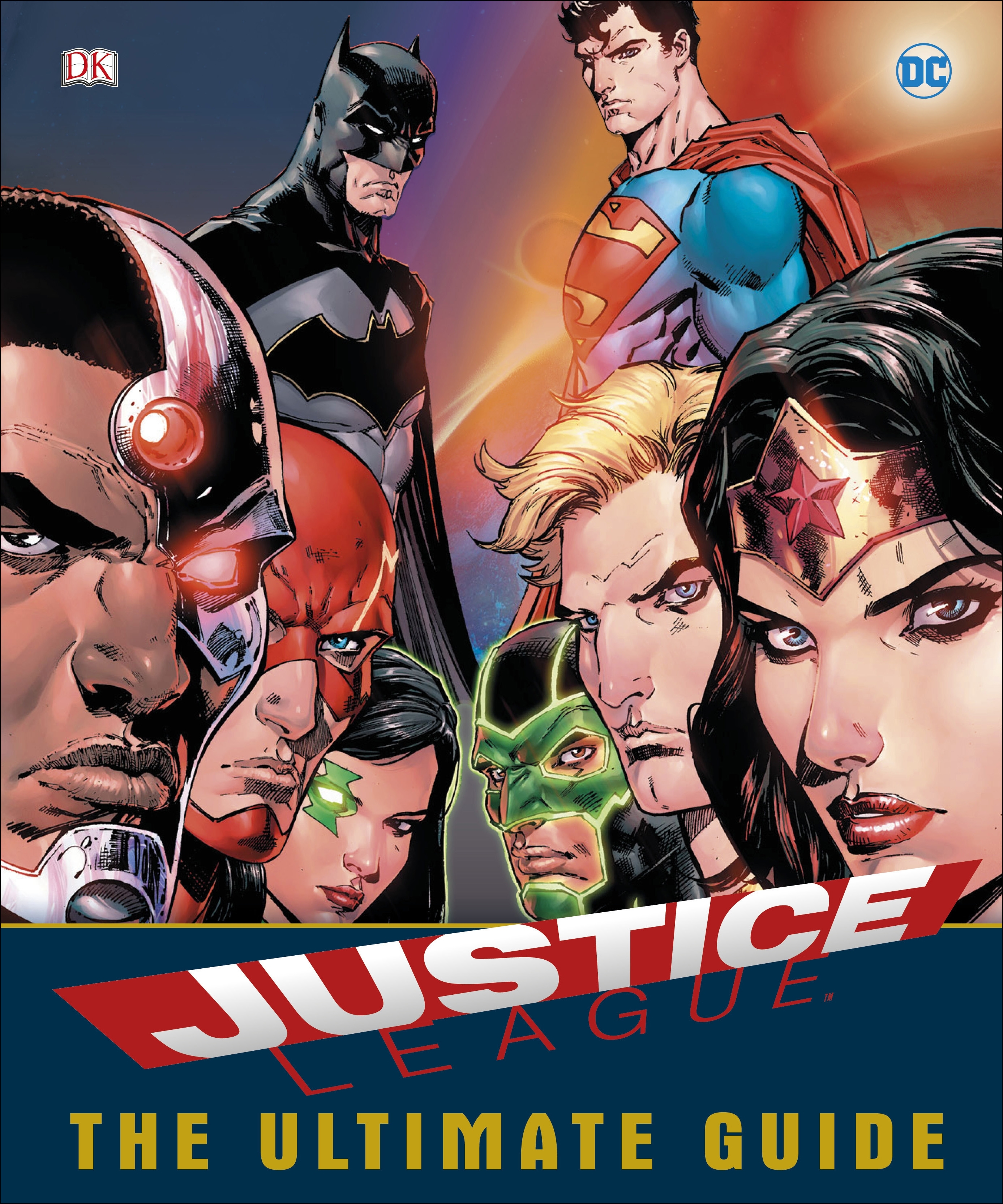 Justice League: The Ultimate Guide by Landry Q. Walker 
This comprehensive guide celebrates the exciting world of the iconic Justice League Super Heroes, a roster that includes SUPERMAN(TM), BATMAN(TM), WONDER WOMAN(TM), GREEN LANTERN(TM), THE FLASH(TM), AQUAMAN(TM), and CYBORG(TM). A must-have for fans, this book showcases major in-world events in the Justice League's pulsating story, spanning nearly 60 years of comic book history, and is packed with info on the team's allies, enemies, bases, origins, and more. Includes artwork from the first Justice League comic book in March 1960 to the crucial Rebirth issues and beyond. The stunning design contains lots of in-world information, including in-depth profiles of characters, key comic book issues, and special features on the Justice League's greatest adventures.
We'll see you soon! 🙂