We have a handful of new books coming out on this cold, blustery day. Stop by the library, warm up, and check out one of our new titles:
The Mapmaker's Children by Sarah McCoy When Sarah Brown, daughter of abolitionist John Brown, realizes that her artistic talents may be able to help save the lives of slaves fleeing north, she becomes one of the Underground Railroad's leading mapmakers, taking her cues from the Slave Quilt codes and hiding her maps within her paintings. As the country steers toward civil war, Sarah faces difficult sacrifices that could put all she loves in peril.
A century and a half later, Eden Anderson, reeling from personal disappointment, moves with her husband to an old house in suburban Washington, D.C., a last-ditch effort to save their marriage and start a family. In the house's cellar, she discovers a long-hidden porcelain doll that holds extraordinary secrets from the days of the Underground Railroad. Sarah and Eden's connection soon bridges the past with the present, forcing each of them to define courage, family, love, and legacy in a new way, illustrating the ways in which history and destiny are interconnected on one enormous, intricate map.
Brotherband: The Caldera by John Flanagan In Hallasholm, Stig is contesting the annual Maktig competition to decide Skandia's greatest warrior. But a late-night knock on the door brings someone Stig never expected to see again, along with a request the Herons are hard-pressed to refuse: a rescue mission of epic proportions.
Across the ocean, the southern city-state of Byzantos is plagued by a crew of pirates who've kidnapped the son of Empress Justina. Slipping out of Hallasholm under the cover of darkness, the brotherband sets sail to recover the boy from his kidnappers, heading south to the island of Santorillos, where a near-impenetrable fortress stands atop a cliff, surrounded by a lagoon – a caldera – formed by the crater of a volcano.
In this explosive seventh book in the action-packed Brotherband Chronicles, the Herons battle pirates amid stormy seas as the fate of an empire rests on their shoulders.
Alive in Shape and Color edited by Lawrence Block Even before Lawrence Block could rest on his laurels from In Sunlight or in Shadow, a question arose. What would he do for an encore?
Any number of artists have produced evocative work, paintings that could trigger a literary response. But none came to mind who could equal Hopper in turning out canvas after canvas. If no single artist could take Hopper's place, how about a full palette of them? Suppose each author was invited to select a painting from the whole panoply of visual art – from the cave drawings at Lascaux to a contemporary abstract canvas on which the paint has barely dried.
And what a dazzling response! Joyce Carol Oates picked Le Beaux Jours by Balthus. Warren Moore chose Salvador Dali's The Pharmacist of Ampurdam Seeking Absolutely Nothing. Michael Connelly, who sent Harry Bosch to Chicago for a close look at Nighthawks, now turns to The Garden of Earthly Delights by Hieronymus Bosch. S.J. Rozan finds a story in Hokusai's The Great Wave, while Jeffery Deaver's "A Significant Find" draws its inspiration from – yes – those prehistoric cave drawings at Lascaux. And Kristine Kathryn Rusch moves from painting to sculpture and selects Rodin.
In artists ranging from Art Frahm and Norman Rockwell to Rene Magritte and Clifford Still, the impressive concept goes on to include Thomas Pluck, Sarah Weinman, David Morrell, Joe R. Lansdale, Jill D. Block, Justin Scott, Jonathan Santlofer, Gail Levin, Nicholas Chirostpher, and Lee Child, with each story accompanied in color by the work of art that inspired it.
Almost Gone by John Baldwin and Mackenzie Baldwin In this intensely gripping, yet intimately personal true story, you will get an inside look into the minds and actions of a bewildered father and a deceived but determined teenage daughter. Raised in a solid Christian home in Plano, Texas, Mackenzie Baldwin was seduced online by a charming young man from Kosovo. She was deftly manipulated by this handsome stranger to secretly leave her family, friends, and home country to be his bride in a strict Muslim environment. 
In these pages you'll read the riveting parallel experiences of John Baldwin and his daughter, Mackenzie – each candidly sharing the harrowing fourteen-month experience that almost tore their family apart and placed a naive high school senior in a position where she could have been lost to herself and her family forever.
When the FBI became involved, Mackenzie was confronted with the reality and danger of her situation. You'll feel the desperation, the despair, the hope, and the joy of this family that finally reunited and courageously stepped froward to tell the truth. More than a cautionary tale, this is the compelling story of unconditional love and unwavering commitment to a daughter . . . no matter what.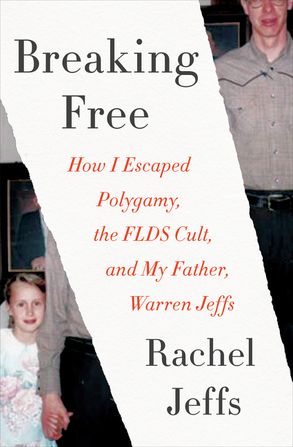 Breaking Free by Rachel Jeffs Rachel Jeffs grew up at her father's side as he attained power and ultimate control of the FLDS Church, a strict patriarchal culture where the women are subordinte to the men, and everyone is at the mercy of an increasingly unstable Prophet. Living outside mainstream Mormonism and federal law, Warren Jeffs established a cult in which members are brainwashed to do his bidding; underage girls are married to men they don't know; parents are separated from their children; and people are cast out forever at the Prophet's merest whim. Even after the FBI placed Warren Jeffs on its Ten Most Wanted List and he received a life sentence for child sexual assault, Jeffs's iron grip on the church remains firm and his edicts to his followers grow increasingly restrictive and bizarre.
In Breaking Free, Rachel Jeffs offers a stunning look at life inside this notorious cult from the unique perspective of being both the favorite of Warren Jeffs's more than fifty children and the object of his most depraved "revelations." Compelled into an arranged polygamous marriage, locked away in "houses of hiding" as punishment for perceived transgressions, and physically separated from her children, Rachel – Jeff's first plural daughter by the second of his more than seventy wives – eventually faced a terrible decision: should s he stay in this hell, or should she leave everything and everyone she'd ever known?
A shocking and mesmerizing story of faith, abuse, and courage, Breaking Free is both an expose of religious extremism and a portrait of extraordinary resilience. 
Victoria & Albert: A Royal Love Affair by Daisy Goodwin and Sara Sheridan More than sixteen million viewers watched the first season of the MASTERPIECE presentation of Victoria, created and written by Daisy Goodwin – one of the highest-rated PBS dramas in twenty years, second only to Downton Abbey. But what happened after the Queen married her handsome prince? Did they live happily ever after, or did their marriage, like so many royal marriages past and present, fizzle into a loveless round of duty?
This all-new companion book by Daisy Goodwin and Sara Sheridan transports us to the private world of Victoria and Albert. Though first cousins, they could not have been more different: Victoria was impulsive, emotional, and capricious, Albert cautious, self-controlled, and logical. But together they forged a bond – with each other and with their people – that would change the world. Drawing on letters and diaries and fresh insights into royal history, this gorgeous book charts the constant ebb and flow of power within the couple's surprisingly ardent and modern marriage.
Sumptuously illustrated and full of rich insider detail, Victoria and Albert takes us behind the scenes of the magnificent TV drama, including fascinating, in-depth information on the actors, the props, and the costumes – and bringing an extraordinary royal marriage even more fully to life.
Dollars and Sense by Dan Ariely and Jeff Kreisler We think of money as numbers, values, and amounts, but when it comes down to it, when we actually use our money, we engage our hearts more than our heads. Emotions play a powerful role in shaping our financial behavior, often making us our own worst enemies as we try to save, access value, and spend responsibly. In Dollars and Sense, bestselling author and behavioral economist Dan Ariely teams up with financial comedian and writer Jeff Kreisler to challenge many of our most basic assumptions about the precarious relationship between our brains and our money. In doing so, they undermine many of personal finance's most sacred beliefs and explain how we can override some of our own instincts to make better financial choices. 
Exploring a wide range of everyday topics – from the lure of pain-free spending with credit cards to the pitfalls of household budgeting to the seductive power of holiday sales – Ariely and Kreisler demonstrate how our misplaced confidence in our spending habits frequently leads us astray, costing us more than we realize, whether it's the real value of the time we spend driving forty-five minutes to save $10 or our inability to properly assess what the things we buy are actually worth. Together Ariely and Kreisler reveal the emotional forces working against us and how we can counteract them. Mixing case studies and anecdotes with concrete advice and lessons, they cut through the unconscious fears and desires driving our worst financial instincts and teach us how to improve our money habits.
The result not only reveals the rationale behind our most head-scratching financial choices but also offers clear guidance for navigating the treacherous financial landscape of the brain. Fascinating, engaging, funny, and essential, Dollars and Sense provides the practical tools we need to understand and improve our financial choices, save and spend smarter, and ultimately live better.